2013 Ski-Doo Freeride Review – Video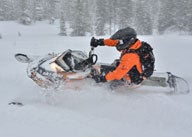 A backcountry snow burner with 800 E-TEC power
"Progression not recession," a positive mental attitude statement I saw on a business sign not long ago, reminded me of BRP for its looking-forward attitude. Here's an example, for model-year 2013 (MY13), Ski-Doo progressed its Summit, far ahead of any Summit it has built before. Does this mean Ski-Doo's Freeride is a forgotten backcountry realist? Has it recessed? No. The Freeride is for the free thinker who believes everything is legal…until they get caught.
Fast Facts
Engine Type:Horizontal In-line
Cylinders:2
Engine Stroke:2-Stroke
Valve Configuration:Reed Valve
Displacement:799.5 / 48.8
Starter:Pull
Turbocharged:No
View Full Spec
The 2013 Freeride is a different kind of mountain snowmobile that beckons non-traditional mountain riders to ride it; it is not old school. As I tell many friends, the Freeride is a snowmobile for baggy pants set who distance themselves from the 40-and-older club.
For 2013 the Freeride is virtually the same Freeride as MY12. For 2013 it comes in a military green color called Squadron Green that matches a rider's Metal Mulisha out-of-bounds thinking.
The Freeride is juiced by Ski-Doo's highly reliable 800 E-TEC. The Rotax-built 799.5cc E-TEC twin cylinder two-stroke with electronic direct fuel injection freely rolls out about 164 horsepower. It comes in several track lengths, 137, 146 and 154.
2013 Ski-Doo Freeride Features
* REV-XP RS chassis
* Wide and ultra-reinforced runningboards
* SC-5MR-2 rising rate rear suspension with reinforced rails and a fourth idler wheel (The rising rate suspension will take the big hits an extreme rider might encounter.)
* Non-ported Powder Max II track, 16-inches wide with 2.5-inch lugs (This track, as used on the XM Summit X, is a fantastic track. For the 137, it can be ordered with the 2.25-inch or 1.75-inch Powder Max track.)
* Lightweight chromoly front suspension with quick-disconnect sway bar
* KYB Pro 40 aluminum piggyback front and rear shocks with new single knob compression adjuster; same shock package as on the MX Zx (These shocks fight heat fade, are strong, and can be easily tuned for rider need.)
* Pilot DS skis with adjustable ski stance; 38.4-inches or 40.1-inches (Running the Freeride with a narrow ski-stance makes the sled agile in the trees.)
* Quick disconnect swaybar (For tree picking and boondocking, leaving the swaybar disconnected helps the Freeride navigate through the trees, especially when the slopes are at an angle of 20- to 30-degrees. This, combined with a 38.4-inch ski-stance, helps the Freeride be boondocker-specific.)
* Brembo brake with racing pad
* Multi-function digital gauge w/display and three-minute recording
* Aluminum tapered handlebar with mountain strap (This mates well with hand, shoulder and arm movement.)
* Rotax Electronic Reverse (RER)
* REV-XP X Narrow seat with storage
* Dual air intake
The Freeride's ability to carve in the powder and around trees comes from its excellent handlebars that match hand and arm curve, and are at a width that nearly matches shoulder width.
The narrow and rounded REX-XP X seat is grippy, comfortable and at a height that allows an easy transition from sitting to standing. Its length does not stop a rider's leg from swinging side-to-side.
The Freeride's REV-XP RS chassis with its SC-5MR-2 rising rate rear suspension gives the vehicle the stamina to soak moguls, drops, and jumps; also give credit to its high end shocks. Though Ski-Doo declares the Freeride as an extreme backcountry mountain snowmobile, it is not an XM Summit. It does not come equipped with the XM's tMotion rear suspension, flex edge track and open foot wells. The Freeride is built for riders who use a machine in an extreme way where a wide snocross style front end is needed for stable jumping, and a heavy and highly reinforced rear suspension is needed to absorb impact energy from long drops off a mountain cornice.
I do not want to give the impression the XM is not an extreme powder sled. By all means, the XM Summit X and SP are in their own way and birthright, "extreme."
The 146 and 137 Freerides are quick in the trees, especially when the powder is ultra-deep; the 16-inch wide tracks do not cut down the Freeride's agility. However, we learned the longer 154 lacks the whip-it attitude the shorter Freeride's have, but makes up mojo by being a deep-powder floater. If I were to settle on a Freeride, I would gravitate to the 146 first, the 137 second, then the 154 last. That is me and my simple preference – there is no right or wrong here. To me, short and tall is fun.
The E-TEC 800R engine is smooth and is sneaky in calling out its horsepower.
The drive and driven clutches respond well to motor speed (RPM) and track load. When snow conditions and elevations change, Freeride drivers can easily tune the QRS driven clutch for such.
The wide runningboards give a wide boot the needed platform to rest. The boards, though wide, do not flex down when an inordinate amount of weight and pressure are applied. They are strong. Yet, with increased width, wide runningboards, when crammed into a sidehill may keep the track from collecting the needed traction to maintain forward momentum. We noticed on more than one happenstance, Freeride's wide runningboard chassis kept the track from cutting deep into a slope.
Ski-Doo trumps the Freeride as an extreme backcountry snowmobile. Well, Ski-Doo's XM Summit SP and X will challenge that mantra. In our opinion, the Freeride and XM Summit are both extreme backcountry rompers. You must decide which extreme camp you reside from. As for me, well I come from….
Ride Impressions From Test Rider Kevin Allred
The Freeride concept is to appeal to the younger rider – that freestyle rider that likes to jump, drop off cornices and perform extreme maneuvers, such as high-flying whips. A new generation of snowmobilers has emerged that likes to push body, snowmobile and gravity to the limit.
The Freeride's mission is to compete with Polaris' Assault and Arctic Cat's HCR. Sleds designed for the same appeal, but also with the agenda to compete in the Rocky Mountain Snowmobile Hillclimb Association (RMSHA) stock class.
Several years ago, RMSHA struck a ground rule: "stock is stock." Two such tenets are no factory ski-stance widening kits on mountain sleds or rear skid changes. Thus the specialty mountain sled emerged as a high performance beefed-up suspension sled designed with a two-fold mission: ride and compete.
If you are a rider who likes to fly a sled, the Freeride is a blast. It has a characteristic, almost trademark-like, in that it flies flat and straight, which gives a rider confidence. The SC-5MR-2 rising rate rear suspension and REV-XP RS chassis never gives up a challenge.
The 2013 graphics and green military colors indicate it has attitude.
In closing, I look forward to the next Freeride model-year to see if some XM Summit engineering finds a home on the next generation Freeride. The current version is fun to ride but, as noted, it may not be the only extreme mountain sled in BRP's mountain arsenal. The XM Summit X is also quite extreme in its own, albeit, traditional way.
2013 Ski-Doo Freeride
Engine
Rotax E-TEC 800R 799.5cc, liquid-cooled twin; direct injection; 3-D RAVE
Horsepower
164 (Claimed) — Requires Premium unleaded
Drive
TRA VII with QRS secondary
Brake
Brembo racing brake with stainless-steel braided brake line
Front Suspension
Dual A-arm; KYB Pro 40 gas shocks with coil over springs; 8.3-in travel
Rear Suspension
SC-5 parallel rail; KYB Pro 40R easy-Adjust gas shocks; up to 16-in travel
Length
122.4 in
Width
44.9 to 46.4
Height
51.2 in
Ski Stance
Adjustable: 38.4 or 40.1 in
Track
16 wide x 137 (146 or 154) long PowderMax with either 1.75 or 2.5 lug profile
Weight
483 lbs (claimed)
Fuel Capacity
10.6 US Gal
Features
Electronic reverse; chromoly A-arm suspension; multi-function gauge; aluminum tapered handlebar; REV XP "X" narrow seat with storage; Pilot DS skis; J-hooks and mountain strap; various optional "wrap" graphic packages
MSRP
US$13,499
Related Reading
2013 Ski-Doo Summit X Review – Video
2012 Ski-Doo Summit 800 Review – Video
2009 Arctic Cat M8 HCR Preview
2011 Polaris 800 Switchback Assault 144 Review: Mountain Test