2013 Ski-Doo Renegade X 1200 Review – Video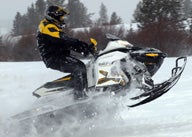 Ski-Doo adds rMotion suspension to 4-stroke Renegade
Let's be honest here, if we were going to opt into Ski-Doo's stretch track Renegade family, we'd spec out an 800cc E-TEC two-stroke. It has greater power and the latest "XS" sport chassis with the rounded edges, which would let us move better through off-trail snows. But, for overall everyday versatility, it would be hard to beat the solid performance of Ski-Doo's Rotax-powered 1200 4-TEC triple. What's not to like about an engine that can push close to 20 miles per gallon on the trail and offers extremely smooth low end and midrange performance?
Fast Facts
Engine Type:Horizontal In-line
Cylinders:3
Engine Stroke:4-Stroke
Valve Configuration:DOHC
Displacement:1170.7 / 71.4
Starter:Electric
Turbocharged:No
View Full Spec
The 2013 Ski-Doo Renegade X sits atop the stretch-track four-stroke hierarchy. It enjoys a claimed 130-horsepower ranking from its 1170.7cc triple cylinder engine. Designed and built by Ski-Doo's longtime engine partner (and subsidiary) Rotax, the four-stroker has proven itself to be one of the best all-around engines in the snowmobile line up. It has ample torque, which works well in the Renegade as a hard-charger out of the corners and equally as well when breaking trail. Drive away power at its 2500-rpm engagement is smooth with strong midrange performance. It's at the top end that you feel the limits being reached, although the engine always seems willing to race up to its 7800-rpm maximum engine speed.
Just about anyone who has ridden a pre-2013 4-TEC will note this season's improved drivetrain. Ski-Doo has gone away from the conventional two-stroke drive clutch in favor of what it calls the eDrive 2, a brawnier version based on the original eDrive seen in the fan-cooled and 600 ACE four-stroke powered sleds. With the huge differences in torque and the way power pulses from a four-stroke versus a two-stroke motor, it has always seemed a bit naïve to think that a two-stroke clutch system was the best answer to fit to a four-stroke motor. That's not to say that a conventional clutch can't handle the job, but it is to say that better ways have to exist.
If you've ever driven one of those lawn mower engined go-karts, you had to feel the unwieldy kick that went along with a simple clutch and slow turning four-stroke. Now, we're not saying that today's four-stroke drivetrains are anywhere near that hopeless. Quite the opposite as we've been amazed at how efficient modern four-stroke snowmobile drive systems have become since the earliest attempts at clean burning four-strokes appeared. Anyone recall Polaris' Frontier with its ATV-oriented power system? Or Arctic Cat's Yellowstone Special that almost single-handedly saved snowmobile travel in Yellowstone Park? Those sleds were underpowered with adequate drives that were anything but smooth, when compared to today's four-stroke models. Arctic Cat and Yamaha offer some very smooth running four-strokers. And, while the previous drive in the Ski-Doo 4-TEC models was good, we feel that the four-stroke specific design of the new eDrive 2 clutching works much, much better.
The original eDrive drew inspiration from BRP's CanAm ATVs. While the basic eDrive is sufficient for the 60 horsepower engines, it could not handle the torque from a 130-hp triple and live reliably. Look at the stout construction of the eDrive 2 and you realize that Rotax engineers have endowed the drive with ample strength. On the trail we noted immediately the added smoothness at initial engagement and the seamless pull up to midrange. Backshifts came in smoothly giving the 4-TEC a very pleasant on-trail character. This also comes into play when you drop off from a hardpack, groomed trail to a crusted over, unplowed fire road. The combination of engine torque and controlled clutching keeps your revs at the right range to transition from one snow condition to another.
Let's be upfront here, though, because the Renegade X 1200 4-TEC is not the same sled as the two-stroke versions. Those come with the new XS platform, while the 1200 retains the bigger XR chassis, which was designed to accommodate the wider, heavier four-stroke triple. A two-stroke 800cc Renegade will be about 40-pounds lighter overall. We doubt that buyers of the MXZ-looking, longer tracked Renegade 1200 four-stroke care as much about that as they do the basic attributes of the Rotax 4-TEC engine. Most likely these buyers will be aggressive groomed trail riders who want the ability to explore off trail about 20 to 40 percent of the time. This XR-based sled will be perfectly suited to that buyer. It will be exceedingly smooth on the trail. It will be relatively quiet, except for that deliberately sporty exhaust note that lets others know that this is, after all, a true sport sled.
What will really appeal to buyers of the 2013 Ski-Doo Renegade X 1200 comes under the saddle. For 2013 Ski-Doo corrected its mistake and adds rMotion to the Renegade series. Corporate executives admitted they misread the desire for the new suspension trickery last season when it was only offered on select MXZ sport track sleds. They will capture new sales in the Renegade market as the rMotion comes in both the basic set up as well as the optional Quick Adjust system with adjusting knobs mounted on the rear of the runningboards. Is it worth the additional US$400 or so for the visible Quick Adjust knobs? Yeah, if you want to show off your new ride to your buddies. If ego isn't a problem, you can easily save the dollars and buy some add-ons like the new LinQ accessory cargo system that lets you carry spare fuel or extra gear. Truth is, once you set up the rMotion to your riding preferences, you wouldn't be spinning knobs anymore — except to show off to a buddy with a Polaris ProRide Rush or Switchback!
We know that all of us are the greatest and best riders and we all feel that stiffer settings are best. But, really? The rMotion offers a softer ride position setting that would be the best all around for virtually all riders. Keep in mind that the "X" package comes standard with premium shocks, which means to get the best action out of them, most riders should tune them to softer settings to get maximum stroke action. Up front on the dual A-arm suspension, the "X" offers HPG Plus R front shocks with rebound adjustment. The rMotion slide rail suspension package features a rearmost KYB Pro 36 shock with high/low speed knob to make compression adjustments. The center-mounted shock is a high-pressure gas HPG Plus aluminum bodied design. The result is a highly tunable, fade-resistant racer-style suspension that can take all the abuse you want to dish out.
In traveling the test trails of West Yellowstone, the 2013 Ski-Doo Renegade X 1200 proved its versatility. As expected it's very smooth as a groomed trail runner. But it surprised a bit with how adept it was in fresh, off-trail semi-bottomless snows. The 16-inch wide by 137-inch long Ripsaw track has plenty of grip to keep the 500-pound sled maneuvering for a tankful of play in the open meadows. This is where the combination of ample track and ample torque really shines to make the 1200 4-TEC a truly versatile on- or off-trail performance sled.
We expect the addition of the rMotion suspension package will attract buyers to this smoothly powered Ski-Doo four-stroke. But there is much more to this Renegade than supple ride. It is quiet, efficient and extremely capable of helping you enjoy long days of riding. And if that's not enough, there is always the 800cc E-TEC option!
2013 Ski-Doo Renegade X 1200 4-TEC Specs
Engine
Rotax 4-TEC 1200, 1170.7c, 4-stroke, liquid-cooled, triple; Double overhead cam with counter balancer; electronic fuel injection
Horsepower
130+
Drive
Ski-Doo eDrive 2 primary drive with QRS secondary
Brake
Brembo Hydraulic
Front Suspension
Ski-Doo double A-arm suspension; HPG Plus R High Pressure Gas shocks; 9.0-in maximum travel
Rear Suspension
Ski-Doo rMotion parallel rail slide with HPG Plus High Pressure Gas shock on front arm and KYB Pro 36 Easy-adjust shock on rear suspension arm; 16-in maximum travel
Length
122.4 in
Width
47.9 in
Height
44.5 in
Ski Stance
42.4-inches in
Track
16 x 137.0x 1.25 RipSaw
Weight
522 lbs (claimed)
Fuel Capacity
10.6 US Gal
Features
Standard: electric start; handguards; reverse; J-hooks; analog/digital display; Brembo disc brake. Optional: rearview mirrors; tunnel bag
MSRP
US$11,899
Related Reading
2013 Ski-Doo Snowmobile Lineup Unveiled
2011 Ski-Doo Renegade X 1200 Review
2012 Ski-Doo Renegade Adrenaline 1200 vs. 2012 Yamaha RS Vector LTX