2011 Ski-Doo Renegade X 1200 Review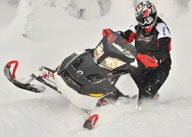 4-stroke "X" hill basher impresses
In our snowmobiling world, snowflakes are mostly dominated by two-stroke power. But technology shapes how we punish the little H2O crystallites and four-stroke motor technology may be ready to take a serious run at the two-strokes.
Fast Facts
Engine Type:Horizontal In-line
Cylinders:3
Engine Stroke:4-Stroke
Valve Configuration:DOHC
Displacement:1170.7 / 46.9
Starter:Electric
Turbocharged:No
View Full Spec
Bombardier Recreational Products (BRP) Ski-Doo snowmobile line has developed a fine array of sleds in its Renegade nameplate. The crossover line, generally, is the blend of mountain and trail with this hybrid-type snowmobile gaining a stronger grip on the buying market. To that, many 'bilers who burn trail and meadow are looking for four-stroke motor simplicity. You know, simply top 'er off with gas, roll the key over and spur on your steed.
Ski-Doo's big four-stroke Renegade X is a fast, stable and wicked ride. And one sweet-looking corner killer too. Today's snowmobiler, per current demographics and psychographics, is affluent and aging. With that comes the desire for simple trouble-free riding — meaning automobile-like reliability is bucket list crucial for the geezer trail and meadow blaster. However, lurking inside this aged and affluent rider is the memory chip of a 20-something competitor. The Renegade X 1200 is bullish on the trails, where speed and handling is spot on.
Studying the Renegade X package reveals a chassis that's shared with the 600 E-TEC and 800 E-TEC Renegade Xs. However, it's bigger to accommodate the larger four-stroke, three-cylinder double overhead cam motor.
Under the tunnel, the Renegade X uses the trail smart SC-5 rear suspension with KYB Pro 36 aluminum piggyback rear shock with dual-speed compression adjusters. The 1200 power plant throws its torque to a 16 x 137 x 1.25-inch Camoplast Ripsaw track.
Under the motor, lightweight chromoly front suspension and HPG Plus R aluminum front shocks keep the fast sled in control. "Whoa girl" is brought to you by a Brembo racing brake.
X-package amenities such as a REV-XP X seat and multi-function digital display with electric fuel gauge keep all vitals in your face.
Mechanical reverse is standard since you can't spin a four-stroke motor backwards, so…the two-strokers' RER won't work here.
The electronic fuel-injected triple four-stroke has a true displacement of 1170.7 cubic centimeters (CCs) with a bore and stroke of 91mm X 60mm. Ski-Doo publishes the 1200 Renegade X's dry weight at 517 pounds, roughly 60 pounds greater than that of its 800cc Twin-cylinder two-stroke sister ship.
The Renegade X 1200 takes on Yamaha's Nytro XTX and Cat's powerful four-stroke turbo Z1 Sno Pro.
Each of these three competitor four-stroke snowmobiles has its own characteristics. Cat's Z1 Turbo hits hard when boost is built, the Yamaha Nytro XTX has snocross-like handling and Ski-Doo's Renegade X feels assured and planted and also is very much snocross like in its mogul handling
For us, Ski-Doo's Rotax-built three-cylinder 1200 in the Renegade X is electric motor smooth. Its torque-built speed felt more linear than the Nytro XTX, although the Nytro pulled out of its starting blocks in sprinter fashion. The Renegade X though, pulled hard and true, but its rapid power build wasn't neck snapping out of the hole. Is this good or bad? We really don't care. But we must interject; the 1200 Renegade X is fast.
Also, and much appreciated, is the Brembo brake. When the afterburner is chopped closed, and the trail you are taming comes to an abrupt end into a gravel pit, the squeeze the Brembo piston places on the brake disc is much appreciated. To that also, are the Renegade X Pilot 5.7 skis, which, with the 1200 motor's weight placed over them, give tight-lipped cornering. The handlebars have end hooks, which are greatly appreciated. Also appreciated are the hand guards that keep the wind off the knuckles.
Through the sloppy chops the 137-inch SC-5 rear skid, handled the guffaws excellently; its longer track floated over the swells with comfort, clipping the tops with efficiency. The 16-inch wide Ripsaw track did not bully the front end into a washout.
But unlike its two-stroke twin-cylinder siblings, the 1200 is not as nimble in tree-pocked meadows where the powder is deep. Its weight worked against it. Oh, we could get it to work, but it took masterful skill on the throttle to keep afloat. Also, unlike the two-stroke Renegades, we could not get the 1200 to roll up onto one ski and carve out a slice of Earth with ease and with any long distance.
The big three-cylinder felt much like Yamaha's Apex when the fuel was thrown to the motor, but its snocross heritage made it more refined; much of its light and narrow feel came from the Renegade X not having Apex-like girth from its fuel tank.
We would not recommend this crossover snowmobile (nor most of them for that matter) for deep-powder busting, unless you are adept at throttle control. But, for long distance hauling, with great comfort, the Renegade X is built to deliver. It has excellent feel through the bars, and its handlebar swing make it easy to dive left and right. The" X" style seat gives support to the back and torso area that decreases fatigue. Hand and leg positioning are ergonomically correct for aggressive leaning and hour-after-hour riding. Color for the 1200 is white accented with black and red.
Ski-Doo historically is known as a two-stroke snowmobile company. Its eco-friendly two-stroke motors are ahead of the engineering curve. But, we must point out that BRP is a leading four-stroke company as well. The company's personal watercraft (PWC), ATV, Spyder and lightweight aircraft motors are respected, tough and sought after. Ski-Doo shows that BRP is a four-stroke company too; and you too can discover it on the seat of the Renegade X.
2010 Ski-Doo Renegade X 1200 4-TEC Specs
Engine
Rotax 1200cc liquid-cooled 4-TEC triple with electronic fuel injection
Horsepower
130+
Drive
Ski-Doo proprietary TRA drive with QRS driven
Front Suspension
Dual A-Arm with HPG Plus R shocks; 9-in travel
Rear Suspension
SC-5 parallel rail; KYB Pro 36 shock rear shock with HPG Plus center shock; 16-inch travel
Length
122.4 in
Width
47.9 in
Height
44.5 in
Ski Stance
32.4 in
Track
16 x 137 x 1.25
Weight
N/A
Fuel Capacity
10.6 US Gal
MSRP
US$11,899 (Limited build/early season order model for 2011)
Related Reading
2011 Ski-Doo Renegade Backcountry X 800 Review
2010 Ski-Doo GSX LE 1200 4-TEC Review
2010 Ski-Doo 800 Summit and Everest Review
2011 Arctic Cat Z1 Sno Pro Review
2011 Yamaha FX Nytro XTX Review