2014 Polaris 600 Switchback vs. 2014 Ski-Doo Renegade 600 E-TEC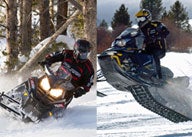 Two popular crossovers that are similar but different
Whether you end up purchasing a 2014 Ski-Doo Renegade 600 ETEC or a 2014 Polaris 600 Switchback, rest assured that you're getting a great snowmobile with either model.  We can't say that these models are so closely related you could simply swap brand decals. Similar they are. The same they are not!
Fast Facts
Engine Type:Horizontal In-line
Cylinders:2
Engine Stroke:2-Stroke
Valve Configuration:Reed Valve
Displacement:594.4 / 36.3
Starter:Electric
Turbocharged:No
View Full Spec
Both feature excellent 600cc two-stroke motors, unique long travel rear suspensions with more than a foot of bump absorbing travel, a tall-in-the-saddle riding position, similar weight and footprint. On the snow the two sleds acquit themselves equally well: adept in corners, comfy over rough trails and quite capable off trail.
These two sleds appear similar; yet remain different in how they achieve their end results. And, still, regardless of your choice, both represent excellent value for you.
One thing that Ski-Doo parent BRP does well is create a high quality image for its products, backed up with frills and nice-to-haves. Years ago we bought a Sea-Doo personal watercraft because we were smitten by its outward appearance and the fact that it had an off-throttle steering system to maneuver into our dock. Our second choice had been a Yamaha, not quite as sexy looking, but possessing that company's rugged, reliable drive system. A couple of years went by and the Sea-Doo, as do most all plastic watercraft, looked old and haggard. It didn't age well as some of those things that we thought were so nice to have didn't work or had suffered breakage all too easily. We can't say how a Yamaha PWC would have fared, but we've noted that sometimes clever and gimmicky just doesn't hold up even it does look strikingly appealing at the time of purchase. It's a lesson learned.
Ski-Doo snowmobiles engender the BRP philosophy and strike quite the pose on the showroom floor, even in the Renegade Adrenaline's all black livery. Few companies give their products the showroom sheen of Ski-Doo. Polaris' 600 Switchback comes in a distant second in showroom appeal. While it certainly isn't a 4×8 sheet of plywood cutting through the snow, it's wedge shape and industrial styling can't capture the eye like the swooping, stealthy curves of Ski-Doo's latest REV-XS bodywork that uses cuts of yellow to accent its lines. Give Ski-Doo designers a big plus in creating first impressions.
2013 Polaris 600 Switchback Review – Video
One thing that we find amazing in the styling of this new breed of longer tracked trail sport sleds is how they seem to look smaller than they really are. These sleds are nearly a foot longer than their 120-inch tracked siblings, yet they give the impression that they are about the same. Indeed, the Ski-Doo Renegade's main bodywork seems almost truncated versus the Polaris Switchback, which gets very busy mechanically behind the Polaris Pro-Ride Adventure seat. Polaris' little U-shaped rear seat brace doesn't help. By comparison, the Ski-Doo Renegade, which houses all of its rMotion rear suspension inside the slide rail and under the tunnel, simply seems to flow off its REV-XP X seat.
Setting looks aside, straddling the sleds provides a surprise as the "cockpit feel" and over the handlebar down the trail view is unsettlingly similar. You sit high and forward. That's all thanks to Ski-Doo's REV setting the new standard for riding a sled. Sitting forward with knees flexed ready for action has been the norm only since 2003. In the past 10 snow seasons Ski-Doo led while the others, Polaris included, followed. But now we find the 2014 Switchback the Renegade's equal in ride position.
The drivetrains are similar in on-trail performance. Supposedly the Ski-Doo's direct injected Rotax twin is down about five horsepower to the Polaris-engineered and built semi-direct fuel injected motor. The advantage in fuel consumption should go to the Rotax, which is said to be able to achieve something in the low 20s for mileage. Of course, Polaris counters that claim by estimating that a rider might save less than US$50 over a season of riding, or about a single tankful of fuel. That's your call as we are not about to be concerned with mileage since people we ride with are more concerned about wide open throttle performance across a lake and roosting a snow cloud off a berm. Neither of those conditions hints at fuel economy!
Polaris connects its engine's power to the track via its own system of pulleys, a P85 driver and a P2 secondary. Ski-Doo matches the Rotax to a tuned TRA III driver and QRS driven. Both companies give their sleds ample stopping power with a hydraulic disc brake system. Polaris features its Phantom brake system while Ski-Doo relies on Italy's Brembo disc braking expertise.
2013 Ski-Doo Renegade X 800 Review
You'll find that both companies have their own ideas of how best to get their sleds through rough trails. Polaris exhibited outside the slide rail thinking in developing its Pro-Ride long travel suspension. Currently this is the only full production uncoupled, progressive rate suspension. Originally designed for the shorter length Rush series, the longer 136-inch version of the Pro-Ride rear suspension rides better, seems easier to fine tune and handles those niggling ripple bumps better than about anything on the market. Suspension set up is relatively simple with an externally mounted shock and spring arrangement located at the confluence of the seat and tunnel. The Walker Evans equipped versions of the Polaris Pro-Ride are outstanding, but that requires a $700 step up in price to the 600 Switchback Pro-R at US$11,299.
Ski-Doo attacks rough trails with inside the skid frame engineering. The rMotion, introduced for some top of the line 2012 models, has worked its way to the Adrenaline and actually offers two more inches of travel range than the Pro-Ride. The rMotion sports 16 inches of maximum travel versus a claimed 14 inches on the Pro-Ride. More expensive Renegades offer the rMotion with Quick Adjust external knobs mounted on the runningboards to facilitate tuning. Not to worry, this Ski-Doo rising rate design offers ample degrees of tunability. Once it's set, you can almost forget it. The lack of external adjusters may be a good thing as you won't be tempted to fiddle with your setting once you find the ride that satisfies.
Interestingly, the slightly heavier Polaris uses a 15-inch wide by 136-inch long Ripsaw track that represents 2,040 square inches of flotation. That compares to the 2,192 square inches represented by the 16-inch wide by 137-inch long Ski-Doo track. Each sled's track comes with a 1.25-inch lug profile for good on- or off-trail grip.
We note that both sleds compare favorably in most things. The weight should be a non-issue as the Polaris comes in at 484 pounds, three pounds more than the Ski-Doo.
| | | |
| --- | --- | --- |
| | 2014 Polaris 600 Switchback | 2014 Ski-Doo Renegade Adrenaline 600 E-TEC |
| Engine | Polaris Liberty Cleanfire 599cc, twin cylinder, two-stroke liquid-cooled; Cleanfire electronic fuel injection | Rotax 594.4cc, two-stroke twin; liquid-cooled; E-TEC electronic direct injection; RAVE exhaust |
| Horsepower | 125+ | 120 |
| Drive | Polaris P-85 drive; P2 driven with PERC electronic reverse | Ski-Doo/Rotax TRA III drive with QRS driven; RER electronic reverse |
| Front Suspension | Polaris Pro-Ride double A-arm; 9-in maximum travel; Fox internal floating piston gas shocks; Pro-Steer skis | Ski-Doo dual A-arms with spring over HPG Plus gas shock; up to 9-in travel; Pilot 5.7 skis |
| Rear Suspension | Polaris 136-in Progressive Pro-Ride parallel rail; 14-inches of travel; Fox internal floating piston gas shocks | Ski-Doo rMotion parallel slide rail with HPG shocks center & rear; up to 16-in travel |
| Length | 115.0 in | 122.4 in |
| Width | 48.0 in | 47.9 in |
| Height | 46.0 in | 47.6 in |
| Ski Stance | 42.5 in | 42.4 in |
| Track | 15x136x1.25 RipSaw | 16x137x1.25 RipSaw |
| Weight | 484 lbs (claimed) | 481 lbs (claimed) |
| Brake | Polaris Phantom hydraulic with lightweight disc | Brembo hydraulic disc with stainless steel braided brake line |
| Features | Standard: Fixed 4.5-in riser; Multifunction gauge; curved handlebar; Pro-Ride Adventure seat Optional: 12v-DC outlet; varied height and/or colored windshields; storage bags | Standard: REV-XS chassis; aluminum handlebar with J-hooks; multi-function gauge; REV-XP X seat with rear storage; 4.5 riser block; RER electronic reverse; electric start; 15-inch windshield with integrated hand wind deflectors Optional: rearview mirrors; storage bags |
| Fuel Capacity | 11.0 US Gal | 10.6 US Gal (91 octane fuel recommended) |
| MSRP | $10,599 | $11,099 |