2014 Ski-Doo Grand Touring SE & LE Review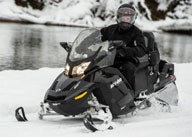 Ski-Doo luxury touring buyers have a choice of the 1200 triple or the all-new ACE 900
Pricewise there's not a lot of difference between the cost of a top of the line luxury touring sled and a top line sport model. But the purpose of each could not be further away. When it comes to Ski-Doo, you can get the hottest MXZ for about US$13,500 or settle on a plush two-up all-weekend touring sled like the Grand Touring SE for just under US$13,000. While the cost is close, the sleds are not.
In the history of snowmobiling, no other snowmobile manufacturer does luxury two-up touring as well as Ski-Doo. It must have something to do with the company's proximity to the famed Quebec trail system. Whatever the reason, Ski-Doo consistently has introduced plush riding snowmobiles to the trails dating back to the 1960s and its Nordic line of sleds for the snowmobiler "…who wanted luxury." Or, at least that was how the advertising copy read back then. Move ahead four decades or so and Ski-Doo still maintains a luxury edge with its Grand Touring series of plus trail sleds.
Prior to this season consumers had an easy choice if they wanted the top creature comfort sled. Model year 2014 makes that choice a bit more difficult. At the top of the Ski-Doo two-up line you'll still find the Grand Touring SE with its 4-TEC 1200 four-stroke triple. It remains mostly unchanged except for the addition of the rMotion rear suspension to its air-controlled ride.
COMPARISON: 2014 Ski-Doo MXZ TNT ACE 900 Review – Video
Now Ski-Doo brings along another very strong option in its Grand Touring LE ACE 900. It gives you a high miler option as its all-new 900cc liquid-cooled four-stroke engine features three performance modes, of which one is an "economy" mode. In our opinion, the three modes of Standard, Sport and Economy don't mean much to sport riders, but long haul riders are different. These are serious mileage makers who make consistent speed in a day's travel and really don't care to make frequent fuel stops. One of the ACE 900's claimed strengths is its economy. And we believe Ski-Doo in this regard. Plus, our experience with the drive system has shown us that this power package is not only economical but very well suited for low- to mid-speed touring. It's smooth on takeoffs, powers up to midrange operating speeds easily and holds cruising speeds well. For a long-range rider, the two-up Grand Touring LE is nearly perfect. And it's less money than the SE.
Both of these Grand Touring models share features like the REV-XR platform. That's Ski-Doo's widened REV chassis, designed to accommodate the wide triple cylinder profile of the Rotax 4-TEC 1200 with its three-in-a-row 91mm bore and 60mm stroke cylinders. The ACE 900 triple features a more squared engine at 74mm bore with 69.7 stroke. And while the two engines may be four-stroke triples, the SE's 4-TEC produces an extra 40 horsepower.
In the past virtually all snowmobile makers tied their two-stroke drive systems to an evolving line of four-stroke engines. Trying to get a smooth drive from two inherently different engine types never really worked. Two-stroke engine power delivery is quite different from a smoother, more torque friendly four-stroke. That's why you see Ski-Doo transitioning away from the TRA two-stroke clutch system to a more four-stroke friendly eDrive delivery. The latest version of that drive is the eDrive2, which works very well with both the 90 hp 899cc ACE 900 and the 130 hp 1170cc 4-TEC 1200. We have no complaints with the touring-oriented drive systems in either sled. However, when you put this same set up in a sport sled such as the MXZ TNT, we get prickly. Sport sled riders and two-up touring riders are different, they expect different things.
COMPARISON: 2013 Yamaha Venture GT vs. Yamaha Venture
The two-up plush sled rider expects smooth power transitions and smooth and quiet ride. As well, he expects above average wind protection that comes from side panel wind deflectors and a tall windshield. And he gets them.
The Grand Touring SE comes with air-controlled suspension that can be adjusted as you ride along by rocking the handlebar-mounted switch. There are five pre-established settings on the rear air spring. The addition of the rMotion rear suspension means that there is even more adjustability to tune a long distance ride.
When you opt for the SE version of the 2014 Ski-Doo Grand Touring models, you automatically gain tilt steering, which can be set at any of four pre-determined settings. Rearview mirrors, electric start and reverse make this sled quite the snow car. There's even the luxury of a heated seat, with two heat settings. Side cases and a tunnel bag make the base SE as ready for the trail as you can get. But, if you need more, the sled can be equipped with more long distance gear.
While not quite as well outfitted, the Grand Touring LE takes full advantage of its new ACE 900 motor with its unique-to-snowmobiling intelligent throttle control – otherwise known as throttle-by-wire. The throttle response is good as there is little thumb pressure required to get this sled underway. Ski-Doo claims up to 23 miles per gallon in the economy mode, which limits upshifts and restricts top speed.
The LE also showcases a new SilentDrive technology that features new drivers and a raised center section in the track's interior. The result is a claimed 65 percent noise reduction at cruising speeds and 70 percent less vibration through the runningboards.
COMPARISON: 2013 Arctic Cat TZ 1 LXR Review
As you can see, the technologies designed to suit maximum mile touring riders differs substantially from what sport riders would demand. Smooth and quiet ride with substantive fuel economy gains are not as important to an MXZ or Renegade hard charger. Ski-Doo understands that as well as any company in the snowmobile-building business dating back to the 1960s.
| | | |
| --- | --- | --- |
| | 2014 Ski-Doo Grand Touring LE ACE 900 | 2014 Ski-Doo Grand Touring SE 4-TEC 1200 |
| Engine | Rotax 899cc, liquid-cooled three-cylinder 4-stroke; Advanced Combustion Engine with EFI 46mm throttle body; triple engine mapping modes (standard, sport or ECO) | Rotax 1170.7cc, liquid-cooled double overhead cam three-cylinder 4-stroke; EFI; dry sump |
| Horsepower | 90 (claimed) | 130 (claimed) |
| Drive | Ski-Doo/Rotax eDrive2 with QRS | Ski-Doo/Rotax eDrive2 with QRS |
| Front Suspension | Dual A-arm with HPG gas shocks; up to 9.0 inches of travel | Dual A-arm with HPG gas shocks; up to 9.0 inches of travel |
| Rear Suspension | rMotion parallel slide rail with Motion Control center shock and HPG shock rear; up to 13.0-inches of travel | rMotion parallel slide rail with HPG center shock and air spring rear; up to 13.0-inches of travel |
| Length | 127.0 in | 127.0 in |
| Width | 47.9 in | 47.9 in |
| Height | 53.9 in | 53.9 in |
| Ski Stance | 42.4 in | 42.4 in |
| Track | 15 x 137 x 1.0 Ripsaw Silent Drive | 15 x 137 x 1.0 Ripsaw SilenTrack |
| Weight | 537 lbs | 604 lbs |
| Brake | Brembo hydraulic brake system with braided stainless steel line | Brembo hydraulic brake system with braided stainless steel line |
| Features | 2-up seating; electric start; reverse; multifunction gauge; three engine performance modes; learning key; rack and hitch; backrest | 2-up heated seating; electric start; reverse; rearview mirrors; tilt steering; backrest |
| Fuel Capacity | 10.6 US Gal (87 Octane Regular fuel) | 10.6 US Gal (87 Octane Regular fuel) |
| MSRP | $11,149 | $12,949 |