2014 Ski-Doo MXZ X-RS Review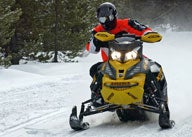 The serious big banger for hard charging Ski-Doo riders
The 2014 Ski-Doo MXZ X-RS with the Rotax 600cc E-TEC twin affords pretend racer status to serious berm blasters. While it's not a true race sled, it comes close enough.
Fast Facts
Engine Type:Horizontal In-line
Cylinders:2
Engine Stroke:2-Stroke
Valve Configuration:Reed Valve
Displacement:799.5 / 48.8
Starter:Pull
Turbocharged:No
View Full Spec
The real Ski-Doo MX Zx 600RS race sleds ran the snocross and terrain circuits of 2012-2013. This 2014 X-RS replicates that sensation for 2013-2014 riders while a new Ski-Doo race sled has evolved for the upcoming season. But, don't fret, X-RS owners aren't getting shortchanged.
When we say that this 2014 replica-racer brings the real-deal to the snows, just peruse the particulars:
• Race sled chassis
• Forward steering post
• rMotion rear suspension
• Extreme capacity racing shocks
• Brembo racing brake
• Steel braided brake line
• Racing style skis
COMPARISON: Read our review of the 2012 Ski-Doo MXZ X-RS 800
Last year's Zx 600RS brought a beefed up version of the 2013 "XS" platform to the racetrack. Perhaps, it might be better said that the race sled evolved the "flowing edge" body style and revamped next generation XS chassis for a racer's edge. Whichever way you prefer to look at, the very limited production 2014 X-RS brings that effort to the trails. This beefier rendition includes the chassis reinforcements common to race sleds that help them withstand those brutal high-speed big air landings that cause X-Games viewers to gasp in amazement. You'll also find wide and sturdy runningboards for those bangers to plant their feet when not heel-clicking in midair.
If you watch snocrossers ride, you have to admire how adroitly they can turn into a corner from a standing position. An aggressive forward steering post location lets them manage that technique. But, since not all serious ditch pounding stand-up types will ride on the wild side 100 percent of the time, Ski-Doo engineers provide for a less aggressive reach by allowing a two-inch rearward position of the straight aluminum handlebar. It's still more aggressively set than a standard MXZ, so a hard charger can answer the call when spotting a deep set of moguls.
If you look back at Ski-Doo history, you'll note that the pioneering company frequently brought race sled inspired models to the hot rod set early on. The original TNT models morphed from racer to trail sleds in the late 1960s, when the full-race factory-backed Blizzards replaced them into the 1970s. This whole replica racer thing has been used to sell performance snowmobiling for decades and Ski-Doo is very good at it. By 2006, even the fan-cooled MXZ 550 came in a pseudo racer trim complete with Ski-Doo racer Blair Morgan's official factory look.
The main difference between that 2006 designer racer and today's MXZ X-RS lies in the functionality. This one has the heart of the racer, coming with a high output 594.4cc two-stroke twin that shares a direct heritage to the actual racing model. For day-to-day living ease, the Rotax-inspired and manufactured "600" engine is fitted with electric start, not something a real racer would add. But it adds convenience, although the E-TEC motor is an easy pull-start design.
We rate the Rotax E-TEC as one of the most significant designs in snowmobile history. Just when everyone – except the Ski-Doo and Rotax engineers – figured that snowmobiling's future would be powered by four-stroke engines, the BRP/Ski-Doo minions introduced its direct-injected two-strokes. This resulted in allowing loyal two-stroke riders to continue with lighter weight powerplants that were able to mimic the "green" and fuel efficiencies of four-strokes. Of course, as we know, Ski-Doo and Rotax continued to hedge their bets by introducing new four-stroke engines as well. But, the reality is that the MXZ retains its best-selling popularity because those who prefer the two-stroke advantages of lighter weight and high revving power can do so without feeling guilty of eradicating the environment. Ski-Doo claims the 600 E-TEC engine can achieve up to 21 miles per gallon of trail fuel economy. Of course, that's likely not a major concern to a serious MXZ X-RS rider.
What the race-replica rider expects is race sled-like handling and big thump-busting ride. Up front the X-RS satisfies that criteria with "real-deal" 40mm KYB race-type shock absorbers designed to handle bump after bump after bump with little to no shock fade. Ski-Doo's top of the line KYB PRO 40 piggyback shock offers extreme durability and serious adjustability for compression and rebound settings. You can expect 22 clicks of adjustability to personalize your ski suspension. This no-nonsense shock set up complements Ski-Doo's straightforward double A-arm design.
COMPARISON: Read our review of the 2013 Arctic Cat XF1100 Turbo Sno Pro High Country
As you would expect, the X-RS rear suspension is the latest rMotion complete with the same KYB shocks. Ordinarily, we would not bother with the US$400 upgrade to the external Quick Adjust system, but in this case, we'd say go for it! As an X-RS owner, you will frequently fiddle with suspension set up. The easy to reach adjusters on the ski shocks allow that, but unless you add the quick adjust system to the rMotion, rear suspension changes won't be as easy. Plus, since we figure that these KYB shocks are equivalent to the Walker Evans designs that we like and that are used on top line Polaris models, you'll want a similar, if not better, degree of tunability.
Although we tend to come from the "set it and forget it" school of snowmobile setup, that is not what we or an X-RS owner will want with this sled. Part of the fun and challenge of an X-RS is getting it to work at peak performance. Playing with the suspension and dialing in the handling and ride is one very big reason to own this sled.
Think of this sled as one big, well-fashioned big boy toy. If you want more than the 600cc power limits, you can spend about a grand more for the 800cc E-TEC. If you look at the specifications, you may seriously consider that money well spent, especially when you see that its 164 horsepower rating actually propels nearly 20 fewer pounds than the 600 E-TEC. The X-RS 800 does not have electric start, which gives it a power-to-weight ratio advantage. We were not math scholars in high school, but our old-time math lets us extrapolate a power-to-weight ratio of 4.01 pounds to one horsepower for the 600 and a 2.83 ratio of weight to power with the 800. That's what 40 more horses and 20 fewer pounds does for you!
If we were half the AARP age, single and unencumbered, the Ski-Doo MXZ X-RS would fulfill our wants. But we're beyond our bullet bike, high-performance Z-series sports car days and know our knees and back can't take long term abuse from landing a triple – heck a double – jump in a rutted out roadside ditch. But if we were, this would be a serious sled that we'd covet. And that doesn't even account for the civilized aspects Ski-Doo adds to this model.
COMPARISON: Read our comparison of the Polaris 600 Rush Pro-R and Ski-Do MXZ X 600
The seat works very well with the extreme ride-forward steering position and wide running boards. Heck, it's even got a place to store things – not many, but at least it's a thought! The hand and thumb warmer controls are now more like Yamaha's with an up-down cycling action. And give applause for the carbon fiber look around the multi-function gauge package.
All in all, although the 2014 Ski-Doo MXZ X-RS may not be an actual racer, we think it's better. You get to play with this sled in ways that can keep your tinkering skills tuned. Set up the front and rear suspensions for virtually any conditions on any day's ride. Adjust the steering to your needs. And count on this sled hitting those berms and road approaches with consistent reactions thanks to its well-engineered balance characteristics. If you are a serious rider looking to bust berms, bang in the rough and handle the big whoops, you owe it to yourself to find a 2014 Ski-Doo MXZ X-RS.
2014 Ski-Doo MXZ X-RS Specs
Engine
Rotax 799.5, liquid-cooled two-cylinder 2-stroke with electronic direct injection; tuned power valve exhaust
OPTIONAL X-RS 600:Rotax 594.4cc, liquid-cooled two-cylinder 2-stroke with electronic direct injection; tuned power valve exhaust)
Horsepower
164 (800 E-TEC); 120+ (600 E-TEC)
Drive
Ski-Doo/Rotax TRA III drive with QRS
Brake
Brembo racing hydraulic brake system with braided stainless steel line
Front Suspension
Dual A-arm with KYB Pro 40R easy-adjust aluminum bodied gas shocks; up to 9.5 inches of travel
Rear Suspension
rMotion parallel slide rail with aluminum body KYB Pro 40R easy-adjust aluminum bodied gas shocks; up to 15.5-inches of travel
Length
114.4 in
Width
47.9 in
Ski Stance
42.4 in
Track
15 x 120 x 1.25 RipSaw
Weight
463 (800); 481 (600 w/electric start)
Fuel Capacity
10.6 US Gal (91 Octane premium fuel)
Features
Straight aluminum handlebar with J-hook ends; 5.1-inch riser block; electric start standard on 600 (optional on 800 versions), multi-function gauge; push button electronic reverse; REV-XP X narrow seat with storage area
MSRP
US$13,499.00 (800) — US$12,599.00 (600)