2015 Ski-Doo Freeride 154 Review + Video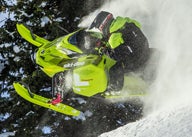 More than a deep powder mountain slayer
Ski-Doo has fast become known as a mountain snowmobile company. Ski-Doo is also known as a company that builds wicked-fast and tight-handling trail snowmobiles, sno-crossers and cross-country burners. Ski-Doo also builds some stout trail cruisers and utility snowmobiles. If a rider can't find a Ski-Doo snowmobile that meets their particular riding need and pleasure, then they are not familiar with Ski-Doo's many models.
Fast Facts
Engine Type:Horizontal In-line
Cylinders:2
Engine Stroke:2-Stroke
Valve Configuration:Reed Valve
Displacement:799.5 / 48.8
Starter:Pull
Turbocharged:No
View Full Spec
One Ski-Doo snowmobile that's popular among the flip-it crowd is the Freeride 154. Yes, we know mountain riding on a Ski-Doo is all about the Summit SP, Summit X and Summit X T3. These are highly sought and highly popular mountain snowmobiles. But, in this mix of Ski-Doo mountain snowmobiles is the REV XM RS Freeride; one bona fide mountain crusher that is steroid pumped on a chassis and suspension that's made for the "oh-my-heck-what-did-they-just-do" crowd.
The Freeride has a loyal fan base, riders who wear loud onesie suits that need a volume control to quiet down radical colors. And with that, the Freeride too is a color statement-maker coming in Manta Green and Black, or Manta Green and Magenta. Yes, it is an in-your-face snowmobile built for the man or woman who is secure in their man- or womanhood. Nah, let's say they are secure in their skill set.
So, the Freeride is all XM Summit X, plus a little bit more. Well, more than a little bit more. Besides its wild day glow lime green color accented with black or magenta, the Freeride is a reinforced XM Summit X that has a second acronym "RS." Hence, it is the XM RS Freeride.
COMPARISON: Read our review of the 2015 Ski-Doo 800 Summit X 174 with T3 + Video
The Freeride 154 also has sister mountain-specific Freeride, the 146. Ski-Doo also offers a 137 Freeride that is more of a deep-powder crossover snowmobile than all-out mountain master. The 137 uses rMotion as its rear suspension. Thus, the 154 and 146 are deep-powder bloodhounds that go about their work sniffing out the deepest snow, the tallest drops and the longest rainbow flights over a mountain crest. What we provide here are our impressions of the Freeride 154 with technical information.
Supplying power to the Freeride is the reliable electronic direct injection Rotax-built E-TEC 800 R twin-cylinder two-stroke which Ski-Doo reports its horsepower at 163.9 – call it 164. This motor is quiet, but don't let its whisper deceive; the motor is strong. The Freeride's drive clutch is the TRA VII and the driven clutch is the QRS. Gear ratio for the 154 Freeride is 19/51 (small sprocket/large sprocket).
Now, Ski-Doo offers the Freeride 154 in an optional sea-level model, known as SL. The Freeride 154 SL's gear ratio is set at 21/49.
The 154 Freeride uses the XM-specific tMotion rear suspension with the FlexEdge Powder Max 2 track. The track is 16 inches wide, a proven Ski-Doo tradition, and has a lug height of 2.5 inches. This rear suspension and track technology is also found on the Summit X and SP. For the Freeride, the tMotion rear suspension manages bump hits with KYB 40R Easy Adjust shocks on the rails' front and rear. Rear suspension travel is 15 inches or 381mm.
The Freeride's ski stance is an adjustable 38.4 to 40.1 inches and has a quick disconnect sway bar to uncouple the front suspension, which soaks up trail chatter and moguls with KYB 40R Easy Adjust shocks. These Easy Adjust shocks mean just that, dial in or dial out resistance (load). With an adjustable ski stance, Easy Adjust shocks and a couple/uncouple swaybar, the Freeride can be set flat and stiff for uphill carves on a speed course, or narrowed-up, softened and loosened for runs through the trees or on a steep slope. The front suspension's travel is 8.3 inches or 210mm.
Pilot DS 2 skis help the Freeride track through the snow and provide good floatation. There are times though we found the 154 bullied the ski through the powder.
COMPARISON: Read our review of the 2014 Arctic Cat M8000 HCR 153 + Video
BRP reinforced the Freeride in key areas where hillclimb competitions and hardcore backcountry freeriders challenge chassis integrity. A reinforced XM chassis where the tunnel meets bulkhead does add some weight, but we learned the minimal weight gain did not make the Freeride bulky and difficult to maneuver; it remained nimble as an XM chassis is.
With so many mountain snowmobiles in Ski-Doo's arsenal, why would you want a Freeride 154? Well, to be a different kind of mountain rider.
Ski-Doo's Summit X T3 gained all the attention in 2015 from the media and public, overshadowing the Summit X, Summit SP and Freeride. But, speaking wholly for myself, not consensus of the Snowmobile.com Mountain Team, I would pick this as my Ski-Doo mountain ride. I like the adjustability the front end gives. However, I would miss the RAS 2 front end, which the Summit X T3 has. Perhaps for 2016, the Freeride 154 will be dressed out with the RAS 2 front end. Sweet, right? We'll have to see. To choose a Freeride 154 over a Summit X 154 of same track length is matter of deciding if a wide ski stance, piggyback KYB shocks, and chassis reinforcements are best for your riding needs.
The Freeride 154 competes against Polaris' RMK Assault 155 and Arctic Cat's HCR 8000 153, which both are prepped for backcountry freestyle riding, or hillclimb competition use.
COMPARISON: Read our review of the 2015 Polaris 800 RMK Assault 155 + Video
Ski-Doo'sFreeride has some nice mountain-rider amenities, such as excellent running boards that are narrow. These foot platforms do not push out the XM RS chassis when cutting a sidehill. The boards evacuate snow, are rigid, and are just wide enough for a snowmobile boot.
Other goodies include a seat that is rounded and not overly tall to allow riders to swing their legs around or up and over with ease. The seat has limited storage and could use more. Like the Summit X, the Freeride has minimalist controls on the handlebars and cockpit for the handlebar and throttle lever heaters and lights. A goggle warmer behind the instrument pod is a welcome must for powder riders. Curved handlebars with hooks at the ends and a semi-rigid mountain strap round out some perfect ergos. Also, the painted tunnel reduces snow flash-freeze, thus keeping weight down when in the deep powder.
Sr. Mountain Test Rider, Kevin Allred, adds these thoughts: "The Freeride 154 has all the great features we've come to know from the Summit REV XM platform. But with the Freeride, there is more. More in the sense that engineered-in toughness is built into the chassis for the extreme backcountry rider. The reinforcements set this chassis with its own identity, in more ways than one: the REV XM RS platform.
"The reinforced chassis, KYB 40 Easy Adjust shocks, wider ski stance with swaybar quick-disconnect makes this chassis-package designed for both freestyle abuse and powder fun. For those riders who drop off cornices, perform high-flying jumps, fast attack rough trails, or compete in hillclimb competitions, the Freeride 154 is the snowmobile built for you.
"I have a mind set on the Freeride that its wide front end will dampen my backcountry riding experience. Yet, like my brother Matt, I found that by disconnecting the front swaybar, the Freeride becomes a 'no problem at all' mountain snowmobile – the Freeride works very well."
To understand the Ski-Doo Freeride is to understand that BRP is committed to building a snowmobile that fits the mountain backcountry freestyle rider. Furthermore, Ski-Doo wants the freestyle mountain rider to easily pilot a deep powder snowmobile with no concern, though it is designed with a wide front-end ski-stance.
To close this down, Ski-Doo invests deeply into market research, building what the snowmobile public demands. Ski-Doo's vast model lineup proves this. The Freeride 154 is a snowmobile that meets the needs of powder riders, mountain climbers, trail burners and freestyle backcountry stars alike. It is a quadruple threat snowmobile.
2015 Ski-Doo Freeride 154 Specs
Engine
Rotax 799.5cc, two-stroke twin; liquid-cooled; Electronic direct injection
Horsepower
160+
Drive
Ski-Doo/Rotax TRA VII with QRS driven; electronic reverse
Brake
Brembo racing brake with stainless steel braided brake line
Front Suspension
Ski-Doo dual A-arms with spring over KYB Pro 40R Easy Adjust gas shock; up to 8.3-in travel
Rear Suspension
Ski-Doo tMotion parallel slide rail with KYB Pro 40 Easy Adjust gas shocks; up to 15.0-in travel
Length
131.3 in
Width
44.9 to 46.6 in
Ski Stance
Adjustable 38.4 to 40.1 in
Track
16 x 154 x 2.5 in PowderMax 2 FlexEdge
Weight
489 (claimed weight)
Fuel Capacity
10.6 US Gal (91 octane)
Features
Standard: REV-RS chassis; Pilot DS2 skis; aluminum handlebar with J-hooks; multi-function gauge; REV-XM lightweight seat with rear storage; 5.1-inch riser block; electronic reverse; 6-inch windshield
Optional: storage bags; electric start
MSRP
US$13,949.00 – C$15,149