2015 Polaris 800 RMK Assault 155 Review + Video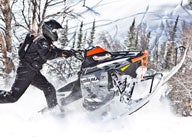 Tough in the Rumble
The Polaris 800 RMK Assault 155 exists In the deep-powder world dominated by long tracks, narrow front ends, light chassis and motor displacement near 800cc. It stars in a smaller niche where a mountain-specific 800-class snowmobile meets the needs of competitive hillclimbers and backcounty freestylists. Such niche-filling snowmobiles are Ski-Doo's XM RS Freeride 800, Arctic Cat's M8000 HCR and the 800 RMK Assault.
Polaris' highly popular RMK Pro 155 is the company's most popular and largest selling (by volume) snowmobile in its line. Its popularity comes mostly from the RMK Pro's light and agile chassis and its Quick Drive Low Inertia belt drive system.
Polaris builds its RMK Assault without the Low Inertia Quick Drive belt drive system. This does not make the RMK Assault less than that RMK. The RMK Assault is true to Polaris' Pro Ride RMK Pro heritage. It retains the sturdy chaincase system where above average strength is needed to take big rock impacts when the track drivers hit granite objects, or when the driver spools up motor and track after launching off a cornice, or bring the track to a sudden stop after dropping to ground zero from high atop a cornice.
COMPARISON: Read our review of the 2015 Polaris 800 Switchback Pro-X + Video
High speed free air launches unload caged up energy that challenges gear and tooth. Smackdowns from a cornice drop sudden and momentarily stop the track, then under full throttle, quickly catches up to the motor's speed; this can tear up the drive chain or a sprocket. Likewise, the sudden halt to track speed followed by nano-second acceleration from the impact can snap a chain in two. These free flights, drops and crushing blows by rocks convinced Polaris' RMK engineers to rely on what they already knew and trusted – the steady-as-she-goes chain and sprocket system.
Not only is the Assault designed for backcounty drops, whips and stupid people tricks, it is built for the rock gardens that surface on many Rocky Mountain Snowmobile Hillclimb Association (RMSHA) events. It is a race sled. Born and bred for such.
Customers can order the RMK Assault with one of two tracks, the 2.125-inch competition track or the Series 5.1 powder track.
The 2.125 competition track has a stiff durometer (measure for lug stiffness), giving it strength to be robust for hillclimb competition use. While the stiff track can take on hardpacked snow, the track will trench in deep powder conditions. Drivers must be feathery light on the throttle when playing in bottomless snow. Also, when descending a hill on hardpacked snow, the track's braking ability is not as sweet as the Pro's track. Competition tracks are just that. They are made for hard, crappy snow and rocks.
The Series 5.1 powder track with 2.4-inch lugs is the same track the RMK Pro and RMK use. Track length for the RMK Assault, regardless of track style, is 155. No other lengths are available.
2015 Snowmobiles of the Year: Best of The West
To absorb impacts, the Assault's front and rear suspension is all about taking hits and turning tight. The front end runs a wider ski-stance, adjustable from 41.5 to 43.5 inches. This helps the pilot lay down tight switches and quick times around the gates when ascending a competition-hill. Wider is better in that it helps the competitive driver throw down tight and crisp turns when chasing the timing lights up a much rutted course that weaves between gates.
A competition-specific Pro Ride front end with stiffly sprung and valved compression adjustable Walker Evans piggyback shocks is found on the RMK Assault. These are the same shocks that came on the limited build and Spring-buy only 2015 Terrain Domination RMK Pro 800. Yes!
Unlike other hillclimb race sleds, the RMK Assault Pro Ride front end does not use a swaybar, as the stiffly-valved Walker Evans shocks and wide front end keep the skis planted. The front end has a vertical travel of 10 inches.
The rear skid is Polaris' RMK coil-over with high-end Walker Evans Needle shocks. Vertical travel for the RMK coil over is 16 inches.
Like the RMK Pro, the RMK Assault comes equipped with PowderTrac running boards, the over-the-motor carbon fiber overstructure and Pro Lite seat, which we favor for its narrow and short profile. Though the RMK Assault has heavier shocks and a chaincase, its dry weight is 435 pounds – 18 pounds more than the 155 RMK Pro. The difference between the two is small. To that, the RMK Assault fits in nicely with its competitors' lightest mountain snowmobiles.
The RMK Assault 800 uses the Liberty Cleanfire 800 twin, which is a Polaris-engineered and manufactured Liberty 795cc two-stroke, liquid-cooled twin with Cleanfire fuel injection and rated at 150-plus horsepower. Bore and stroke measures 85mm X 70mm. The motor comes complete with throttle position sensors, detonation sensors and PERC – Polaris Electronic Reverse Control. This motor is crisp and delivers stable power throughout its powerband.
COMPARISON: Read our review of the 2015 Yamaha RS Viper M-TX Turbo + Video
With the RMK Assault's multi function gauge, riders can choose either the tachometer or speedometer. Users can record hours and temperature, as well as trip distance and overall distance, and it has a built-in recorder that documents up to three minutes of run time; this information can be played back.
The RMK Assault is competition-made, that is true. But with Series 5.1 powder track it is truly deep powder compatible. Polaris designed the RMK Assault to be defined as an RMK for hillclimb competitions. Yet, it is not for the racer only. It is designed for any deep mountain canyon explorer who likes to take a hit on the chin. The Assault with its large-volume Walker Evans piggyback shocks is configured to be a kid who can take it when slammed to ground zero from a 20-foot or more drop.
2015 Polaris 800 RMK Assault 155 Specs
Engine
Polaris Cleanfire two-stroke high-performance 795cc; bore/stroke of 85mm/70mm; two-cylinder, liquid-cooled; Cleanfire electronic fuel injection system; dry sump lubrication
Horsepower
150+
Drive
Polaris P85 driver and TEAM driven
Front Suspension
Pro-Ride double A-arm; Walker Evans shocks; up to 10-in of travel
Rear Suspension
Polaris parallel slide rail RMK Coil-Over; Walker Evans piggyback adjustable gas shocks; up to 16-inches of travel
Length
129.0 in
Width
48.0 in
Width
51.0 in
Ski Stance
Adjustable from 41.5-43.5 in
Track
15 x 155 x 2.125 Competition (15x155x2.4 Series 5.1)
Weight
435 (claimed)
Brake
Polaris RMK Cyclone hydraulic disc brake
Features
Optional storage bags, windshields
Fuel Capacity
11.5 US Gal
MSRP
$12,699