2015 Ski-Doo 800 Summit X 174 with T3 Review + Video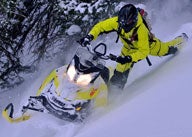 A longer and leaner Summit X
Since its inception in 2013, the Ski-Doo XM Summit (X and SP) has hooked up with a wide fan base. The XM Summit's contenders, Polaris' RMK Pro and Arctic Cat's M8000 Sno Pro, have had a tough smack down on mountains tall. Ski-Doo makes it tougher still for both Polaris and Cat in snow season 2015.
Ski-Doo's T3 Summit X 163 and 174 with its new 16-inch wide PowderMax3 track sporting three-inch paddles is a statement maker. Normally, Snowmobile.com's veteran mountain riders acquire ample seat time on a snowmobile such as the 2015 Summit X 174 with the T3 package. Our time on this game-changing mountain mauler was limited to less than an hour. Thus, what we report is based on witnessing a factory Ski-Doo rider perform some amazing side hill cuts, stop-and-start accelerations up a steep incline, and over-the-top mountain maneuvers, which I suspect will be standard for T3 pilots. In concert with our witness views, we'll deliver evaluation thoughts from our sit down with Ski-Doo's engineering and technical staff.
However, test rider Kevin Allred did pull some additional time on a 174, which he discusses later.
Snowmobile's Editor Jerry Bassett covered the technical specifics for the T3 in his 2015 Ski-Doo Lineup Review article. Rather than repeat the technical, we'll report on driver impressions.
Make no mistake, with its increase in Western market share this past season; Ski-Doo is taking the fight to Polaris and its highly popular Pro RMK. Since the XM Summit came to market, the race to be Number One in mountain snowmobile sales has been a slugfest between the two pioneering snowmobile manufacturers.
The two new-for-2015 T3 Summits reflect the Summit X in every sense. However, the T3 Summit X, be it the 163 or 174, has the new Response Angle Suspension (RAS) 2 front suspension that relies on a 12mm taller forged spindle. The new taller spindles are lighter, by ounces, than those on the older Summit X.
To reduce weight, the T3 Summit X (and all Summit X models) features a lightweight muffler canister and lighter idler/bogie wheels. Part/component multi-tasking was taken into consideration to reduce weight. Ski-Doo claims zero weight gain for these longer track Summits versus the previous year models.
We definitely believe Ski-Doo has done its homework. From listening to Ski-Doo's Summit designers, we believe the T3 Summit will perform as advertised. Again, I return to the 2000 Summit Highmark X 151 700 where it was the first ultra-long mountain snowmobile. When the 151 Highmark X filled our hands, 136-inch and 141-inch mountain sleds were the norm. In fact, 141s were considered freakish. With the 151, Ski-Doo out flanked the competition.
COMPARISON: Read our review of the 2015 Yamaha RS Viper M-TX Turbo + Video
We had a model year 2000 Highmark X and after every weekend out tearing it up, we believed Ski-Doo found the fountain of youth and was the only company, we believed, that understood the mountain rider.
So, the T3 starts where others leave off, 163 and pushes farther out to 174.
Let's move to some common ground. The T3 Summit, like the XM Summit X relies on the Rotax 800 two-cylinder two-stroke, the 800 R E-TEC. Good motor? Yes, an outstanding motor. The T3 uses tMotion at the back end with FlexEdge track technology. The exclusive to the T3 Summit X PowderMax 3 track sports three-inch tall lugs, which are a half-inch taller than on the Summit X 146, 154 and 163. The T3 also uses its own unique drivers, a seven-tooth driver, and stretched out chaincase, which the Summit X does not.
But due to our limited seat time, we have questions. Will the 174 have a bending point, at the tunnel-to-bulkhead union? When a driver drops the 174 from a high cornice, will the tunnel wrinkle under impact, or will the runningboards bend downward, or will the rear suspension slide rails bend up? Look at it this way, a four foot long 2-by-4 is hard to bend in the middle, but a 12-foot long board will bend and flex leading to breakage.
We have no technical information or extensive ride time to prove or disprove the aforementioned; we are merely kicking out a question.
More questions. In deep powder or trail use, will the track push the front end around to the point where the front suspension needs too high weight-transfer loads? If so, will this make steering hard? Will the long track cause the front end to dance so much the T3 Summit X 174, and perhaps the 163, tail walks up steep ascents?
We've learned that Ski-Doo began flogging the mountain on prototype T3 Summit X models as soon as the XM Summit X hit dealer showrooms in 2013. Ski-Doo gave us its assurance the T3 Summit X 163 and 174 were – and are – thoroughly tested. We lean forward to believe Ski-Doo, for it does not want to blanket the Rocky Mountains and Facebook with a non-starter.
Back to our too few minutes on the snow and watching a fulltime Ski-Doo Summit pilot, Brett Gingery, carve the mountain.
Traversing a mountain on the 163 T3 in waist-deep powder, the T3 made sidehilling and boondocking fabulously simple. We witnessed Gingery diving off a mountain, turning at its bottom third, pointing the T3 Summit X 163 nose forward to the top, stop, and with partial or full throttle, launch the T3 up the hill with anger as if the T3 was starting up the hill from a flat ground position on hard packed snow.
With wrong foot forward, or with each foot planted on each respective runningboard, Gingery carved figure-8s on 30-degree slopes with confidence.
In like manner, Kevin and I mirrored Gingery's feats, which were easily performed in the waist-deep powder. However, when Kevin was cutting downhill U-turns, the uphill Pilot DS 3 ski settled into the soft snow, flipped up – ski hoop to snowmobile nose – bringing his momentum to an immediate halt. This brings us to another question – will the new deep-keeled narrow tipped DS 3 ski be reactive, bouncing up and down in deep-snow conditions as the ski momentarily encounters hard packed conditions?
COMPARISON: Read our review of the 2014 Polaris 800 Pro-RMK + Video
Ski-Doo offers T3 owners a slip-on ski-tip sleeve that expands the tips' width, a smart concept indeed for ultra-deep conditions. Will this add-on tip widener eliminate what Kevin experienced? We don't know for sure. Read about the DS 3 Flotation Extension here.
We found the 174 T3 to be a handful in hard pack conditions. The 174 likes deep powder, yet on hard packed, trenched up conditions, the 174 bullied the Summit and its rider. Sidehilling and ravine hopping was more difficult than on a mountain snowmobile of shorter length. This goes to the 174's purpose – it is a mountain sled for über deep powder conditions.
In mid-March, Ride Rasmussen Style invited Kevin to join a group in Island Park, ID. Since Ride Rasmussen Style had a 174 T3, he was able to spend more time on it.
Kevin Allred Ride Impressions
When I think of the elements to make a great mountain snowmobile, it would include, in no particular order, a strong running 800cc two-stroke motor, necessary mountain ergonomics, high-performing mountain track, and light in weight – for handling. Add to this list a front and rear suspension that works in the deep powder and that provides a great trail ride. How does the summit T3 measure up?
Looking back two years ago, BRP showed us the XM chassis Summit, a mountain snowmobile that we rated high for mountain ergonomics. Though the XM Summit is the heaviest of the 800cc two-stroke mountain snowmobiles, it maintains a very light operating feel. How did BRP improve upon a very successful platform? By adding a monster three-inch lug track in either a 163, or the longest track ever offered, a whopping 174. That's one-seven-four inches of tread. Wow!
At first, I was skeptical about the three-inch tall track. Past performance of aftermarket three inchers left me doubting the performance from such a tall track. We have been playing the game of tall lug tracks not done right. Let me explain, to add a tall track, the owner should (to do this correctly) install smaller diameter drivers, different gears to change the gear ratios, and change the approach angle from track to snow (a gentle angle). If not done, then negatives offset the advantage of the taller track. My concerns were put to rest when I learned Ski-Doo lengthened the chain case to reposition the front driver. Yes, there is a smaller diameter driver, but by lengthening the chain case the geometry is correct. Also, when looking at the front drivers, you will notice there is plenty of clearance between the front heat exchanger and track.
Besides the monster track, the T3 has new front-end spindles, skis and a host of new lightweight parts that offset the longer and taller track.
COMPARISON: Read our review of the 2014 Arctic Cat M8000 Sno Pro and Limited + Video
Rider impressions for the 163 place it as my T3 choice. We put and saw T3 163 in some serious backcountry conditions where it was very easy to ride and handle. The three-inch tall PowderMax 3 track is a game changer. It is impressive in the steep tree-covered hills. To that, I was impressed how slow I could travel and course-correct a line and keep motoring.
For the 174, we had limited time on it. The conditions I rode in created a mixed bag of impressions – not as good as the 163. After our brief ride at the annual test site, I hooked up with Ride Rasmussen Style in Island Park, Idaho to get more time on the 174. At the end of the day, I acquired a much better impression of the 174, as I subjected it to a very intense ride. My level of confidence in the 174 shot up as I learned it was an ultra-long track snowmobile to ride and that this sled just keeps going.
What I see is the T3 Summit will be a game changer in the steep-n-deep. It is a mountain snowmobile that is a great all around package, from motor, to clutch calibration, and a track that is spot on with hook up and go.
Lastly, one concern that I have is the Pilot DS 3 ski. While maneuvering downhill U-turns, the uphill ski would dive in the hill abruptly stopping the sled. Maybe it's simply snow conditions, but this is something I still need to evaluate.
For an early impression, the T3 Summit comes across as one heck of a deep powder player.
Conclusion
The two T3 Summit Xs, 163 and 174, change the mountain riding schematic. Yes, the T3 is a game changer, but by how much? We believe Ski-Doo built a product that will pull riders from the other brands, but how much?
We like the direction Ski-Doo is taking with its Summit line and the company seems passionate and aggressive. We believe the T3 Summit to be what the manufacturer says it will be. However, with minimal time on the snowmobile in but a few snow conditions, we can't deliver a Marine-like "Oo-rah." But you as a consumer need to ask some questions, do your homework and make the best decision.
2015 Ski-Doo Summit X with T3 800 E-TEC Specs
Engine
Rotax 799.5cc, two-stroke twin; liquid-cooled; Electronic direct injection; new lightweight tuned muffler
Horsepower
150-plus
Drive
Ski-Doo/Rotax TRA VII with QRS driven; electronic reverse
Front Suspension
Ski-Doo RAS2 dual A-arms with spring over HPG Plus gas shock; up to 8-in travel
Rear Suspension
Ski-Doo tMotion parallel slide rail with HPG Plus shocks center & rear; up to 16.5-in travel
Length
140.9 in
Width
44.3 in
Width
53.0 in
Ski Stance
Adjustable: 35.7 to 37.4 in
Track
16x174x3.0 PowderMax 3 FlexEdge
Brake
Brembo racing brake with stainless steel braided brake line
Weight
464 lbs (claimed)
Fuel Capacity
10.6 US Gal (87 octane fuel)
Features
Standard: REV-XM chassis; S-36 handling package; Pilot DS3 skis; aluminum handlebar with J-hooks; multi-function gauge; REV-XM seat with rear storage; 5.1-inch riser block; electronic reverse; 12-inch windshield
Optional: rearview mirrors; storage bags; electric start
MSRP
US$14,149