2014 Yamaha Phazer RTX Review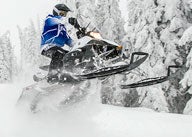 This dirt bike for snow stresses simplicity and function
As the Yamaha Phazer RTX hits the snows in the winter of 2014, it remains virtually unchanged for the past couple of seasons. It retails at the same US$8,599 as it did two years ago. Guess that provides a hint that things remain slightly evolved, if not totally unchanged.
Fast Facts
Engine Type:Parallel Twin
Cylinders:2
Engine Stroke:4-Stroke
Valve Configuration:OHV
Displacement:499 / 30.4
Starter:Electric
Turbocharged:No
View Full Spec
But there are changes in the Phazer line. Yamaha added a longer tracked, crossover version, the 2014 Phazer XTX. It combines some base on-trail features with deeper snow features off the Phazer MTX. While you can probably find a 2013 Phazer GT, it isn't officially listed as a 2014 model. The Phazer RTX will be the only true on-trail version for this season.
We don't know and we can't provide any real background for our supposition, but we figure that the Phazer is an endangered species, as we know it. If that's so, shoot down the need for a budget-priced, light and nimble sport sled for newbies. Hey, at US$8,599, the Phazer RTX seems like quite a bargain for an 80-horsepower four-stroke snowmobile. While it's not the least expensive snowmobile on the market, it does bring a sled load of quality content, making it look like a pretty good value when compared to the competition.
COMPARISON: Read our review of the Yamaha Phazer GT
Centering the Phazer RTX value between sleds priced from about $8000 to just $9,000, you'll find few with more power and only one using an advanced technology four-stroke. The Phazer enjoys about a 20-hp advantage versus the Ski-Doo TNT ACE 600, although both feature newer four-stroke twins. Polaris offers up two versions of its 600 Indy, both powered by a Cleanfire semi-direct injection two-stroke and demonstrating more than 100 horsepower. The base 600 Indy is a thousand bucks less than the "SP" version, which prices out at around US$9000 without taxes.
Perhaps the closest model to the Phazer RTX is BRP's all-new for 2014 Ski-Doo MXZ TNT ACE 900. But it's going to cost you US$10,349 for 10 more horsepower, an extra cylinder, added weight and a similar sports handling package. The Phazer seems to be Ski-Doo's focus as until the ACE 900, the Phazer sport performance Yamaha twin was virtually the only serious four-stroke player in the 80-hp category.
Despite its rather conservative recent history, the Phazer comes loaded with technology that frequently gets overlooked. The Genesis 499cc twin is genius. Designed as a very high-revving package, it's compact despite the need to include a gearing down of the final output to achieve suitable 8,000-plus revs for clutching. On its own, the Phazer 500 twin easily can turn revs beyond 11,000. It is important to remember that the Phazer needs to be pushed to maximize its performance. Fortunately, the power package works to do just that. There's a set of 43mm throttle bodies and a computer to control engine intake and read critical data such as barometric pressure, temperature, fuel needs and such. When you're riding, you'll only push the throttle flipper and go. The Yamaha-engineered drive and driven clutches have been specifically tuned to bring the revs to the snow quickly and smoothly. Of course, the sled is limited to 80 ponies, so don't expect to kick snow out the snow flap like an Apex.
One of the prime directives in the Phazer design has been response. That comes from the dirt bike stance you use when traveling through deeply rutted trail sections. The runningboards provide good positioning and ample space for bulky boots. The seat won't please wide fanny riders because it was really designed for youthfully aggressive riders. It's narrow and firm like the seat on Yamaha's WR450 dirt bike.
COMPARISON: Read our review of the Ski-Doo MXZ TNT ACE 900
The design of the Phazer suggests a dirt bike. Its look stresses simplicity with exposed A-arms, a narrowed fairing, YZ-type saddle and bare aluminum tunnel. It's functional.
Components for the Phazer RTX match the dirt bike philosophy inherent in the sled's character. Up front, brazenly exposed sit Fox FLOAT shocks that offer extremely precise tunability to control the sled's 8.6 inches of travel. Front-end control gets a serious upgrade as Yamaha adds its new Tuner dual-keel ski. These skis keep the sled tracking true and allow you to alter the front-end grip by simply changing the wear bar configuration. Yamaha dealers can be a big help here as four different configurations are provided for you.
The chassis suspension relies on a sport-tuned Dual Shock CK double rail design that offers up to 16.2 inches of bump absorption. Both KYB high-pressure gas shocks are aluminum bodied and rebuildable. The front arm uses a C36 shock with an adjustable C40 taking up the big action. The trick will be getting your ride set up as you like it, but know that the adjustability to get there is built into the 2014 Phazer RTX.
Since the Phazer RTX tops out at 80 horsepower, we won't badmouth the track. It is a Rip Saw design that we like. It stretches 121 inches in overall length, which is the norm for most short trackers. And, to give the narrow profile and tunnel more of that dirt bike trail persona, the track is only 14 inches in width, an inch shy of most trail sleds. It also comes with a 1.0-inch lug profile, which could be construed as too short, except that you're only dealing with 80 hp. It's not like Polaris' 800 Indy SP that drives nearly twice the horsepower through a less aggressive Hacksaw tread and same 1.0-inch profile. That sled can get exciting when laying full throttle into it during cornering!
COMPARISON: Read our review of the Polaris 600 Indy SP
The Phazer looks like no other snowmobile out there. It does give you more than a hint of off-trail, rough trail, sporty, lightweight dirt bike handling. It's supposed to do that. The sled was created as an attempt to get action-riders on a budget into the sport. While the sled itself meets the criteria, the target audience doesn't seem to exist in large numbers. The sled does what it was designed to do and does it extremely well, especially the RTX version. For the right rider, the Phazer RTX can be an incredibly fun sled to ride. Being a Yamaha, it's going to be reliable and durable. It has the key features you'd want in a lightweight trail toy. There are premium suspension shocks, rigid sport chassis, racing-styled hooked end handlebars, centered drivetrain package, good front to rear balance thanks to the rear-exiting exhaust, quick action riding position, and unique four-stroke twin that draws directly from Yamaha's YZ dirt bike heritage. At about $8,500 it's priced fairly and when you look at its make up, it's a heck of a good value.
2014 Yamaha Phazer RTX Features
Engine
Yamaha Genesis 80FI; 499cc, 2-cylinder, 4-stroke, liquid-cooled; dual 43mm Keihin throttle bodies, electronically controlled fuel injection; requires Premium unleaded fuel
Horsepower
80
Drive
Yamaha YXRC variable ratio; gear-reduction
Brake
Dual piston hydraulic with ventilated disc
Front Suspension
Yamaha double wishbone; 8.6-in travel; Fox FLOAT shocks; lightweight plastic saddleless skis
Rear Suspension
Yamaha parallel rail, Dual Shock CK suspension; 16.2-in travel; C36 KYB & C40 aluminum high pressure "clicker" gas shock
Length
111.0 in
Height
46.8 in
Width
47.8 in
Ski Stance
42.5 in
Track
14 x 121 x 1.0 Camoplast Rip Saw
Weight
489 lbs
Fuel Tank
7.0 US Gal
Features
Standard: electric start, push button mechanical reverse, low height windshield, halogen headlights, LCD digital gauge cluster; Optional: rearview mirrors, tunnel protectors, DC outlet; One-year limited factory warranty
Price
$8,599