2015 Ski-Doo Renegade XRS 800 ETEC Review + Video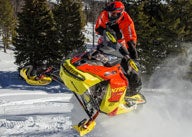 Stretching the limits of high performance
Ski-Doo wrested Number 1 status away from Polaris right after it rocked the snow world with the REV and its then-radical rider-forward thinking. Don't expect the Quebec snowmobile maker to sit back and allow any new Polaris concept or self-named "Terrain Domination" marketing slogan to cut into its hard-earned status as the top selling brand in the sport. Not happening. Not without a serious fight.
Fast Facts
Engine Type:Horizontal In-line
Cylinders:2
Engine Stroke:2-Stroke
Valve Configuration:Reed Valve
Displacement:799.5 / 48.8
Starter:Pull
Turbocharged:No
View Full Spec
Look at the deep snow market. Polaris developed a super lightweight powder-tracked mountain sled and almost instantly forced Ski-Doo to play catch up. Fast forward to this season and check out the Ski-Doo response – the T3 series Summits that bring power, flotation, snow grip and lightweight performance to Ski-Doo riders. Ski-Doo not only caught up but moved ahead.
Even in an arena that didn't seem to have a crushing need for something all that new, the 80-horsepower segments of trail, on-off trail and touring, Ski-Doo brought some forward-thinking with an all-new ACE 900 four-stroke, complete with a "learning key" and multiple modes of electronically induced performance. Up to its introduction, the only real competitor in the category had been Yamaha with its Phazer-based line of 500cc four-stroke powered models. Ski-Doo ended that monopoly in a hurry. Even the entry-level segments have witnessed an aggressive Ski-Doo re-emergence as the company dropped its long time fan-cooled 55-horsepower Rotax twin in favor of a new, modern fuel-efficient four-stroke ACE 600 twin. In the course of three seasons the 60 hp ACE effectively replaced the Rotax 550 in all key low-buck models. In doing so, Ski-Doo displayed an incredible knack for competitive pricing that rocketed them to dominance in that lightly contested segment.
All that being said, we look across the sales floor from the Polaris off-trail segment to the Ski-Doo section and note the beginning of some about-to-come serious warfare. Polaris has an all-new AXYS, which includes a serious big bump off-trail model, the 800 Switchback Pro-X. Up until this season, Ski-Doo wouldn't have had a sled with which to compete. Maybe the Backcountry series or, perhaps the Freeride, but nothing exactly comparable to the Polaris Pro-X. However, we don't know if Ski-Doo was reading the Polaris tea leaves or what, but the 2015 Ski-Doo Renegade XRS 800 matches the Pro-X, making it a serious alternative to the Polaris big bump pounder.
What the high performance short-track Ski-Doo MXZ XRS is to hardcore trail riding, the stretch-track Renegade XRS is to crossover riding, making it, possibly, one of the best all-around, truly performance serious rides for this season. Like the trail MXZ XRS, the Renegade XRS comes with all the right stuff. You just have to decide if you have the right stuff to tickle its performance. This is a wide-open throttle, race-bred sled that makes no pretensions about its heritage. If there is a performance feature necessary to handle deep ruts, power to fly off sharp berms or stick a "10" on a landing, the Renegade XRS has it.
The obvious buzz for 2015 is the AXYS chassis and its "rider balanced" positioning. We go along with that, but let's not forget why Polaris went that way. They had to have something viewed as newer and more advanced to overcome the pioneering and continued evolution of the Ski-Doo rider forward REV platforms. As the owner of a 2006 Ski-Doo MXZ X that incorporated the first REV chassis with performance parts, we can tell you that the 2006 REV is about as close to the 2015 XRS as a 1965 Corvette is to a 2015 version. The names may be the same, but the functionality evolved dramatically. This moving REV target is what Polaris aimed at. To its credit, Polaris did a great job. Still, the 2015 Renegade XRS 800 competes extremely well, leaving unbiased potential buyers with a serious pro-con list to determine which sled to buy.
COMPARISON: Read our review of the 2015 Polaris 800 Switchback Pro-X + Video
First of all, like the Pro-X, the Renegade XRS is not for everyone. We figure that the majority of crossover buyers will be happier with the Renegade Adrenaline version. Ego-buyers – sate your self-esteem and move up a notch to the Renegade X. It makes the right statement, handles off-trail terrain well and is just dialed up enough to provide a serious hint of a terrain racer. The XRS versions are hardcore terrain challengers.
The crack of the throttle sets all versions of the Renegade 800 apart from the competition. These ETEC two-strokes are genius. You get virtually all the "clean and green" benefits of a four-stroke with the two-stroke presence of quick spooling revs, lighter weight over the skis and advanced electronic control. These Rotax motors generate greater fuel efficiency, lower emissions, and less two-stroke odor than any other two-strokes in snowmobiling, including Ski-Doo's older Rotax designs. Combined with the tried-and-true total range adjustability of the TRA drive clutch, the engine allows drive offs from 3800 rpm up to top end at 7900 revs. You'll appreciate the ETEC's smooth, nearly instantaneous trigger response in critical off trail maneuvers.
The Renegade XRS ties the 160-plus horsepower of its 800cc twin to a 137-inch Ripsaw track that spins over an updated rMotion rear suspension that draws a heritage from the suspension was used in the tough, Alaska Iron Dog race. Where Polaris features a new Pro-XC suspension design, Ski-Doo engineers counter with the rMotion that provides incredibly easy adjustability of shocks, springs and coupling blocks to control weight transfer. The rear axle features four wheels to assure positive contact for traction and landings off bumps.
One of the most crucial additions to the 2015 Renegade is the RAS2 front suspension. This is not hype. It's a definite upgrade that complements the rMotion package and truly enhances the sled's on- and off-trail handling. This all-new geometry uses lighter components that, on the XRS, features a KYB Pro 40 piggyback "racing" shock complete with adjustable compression knob. We found the RAS2 to be the missing link in handling and ride on all Ski-Doos that offered it. Who would have thought?
When it comes to big bang sleds, the keys are power, suspension and handling. The comfort factor for a race-bred sled is nice to have, but not as big of a deal as the first three. But, hold on, the Renegade XRS features a stylishly narrow sticky topped REV-XP X seat designed to let you expertly transition from sitting to standing. There's even in-seat storage to go along with an onboard glove box.
COMPARISON: 2015 Ski-Doo Renegade X 800 vs. 2015 Polaris 800 Switchback Pro S
From a styling viewpoint, the XRS stands apart with bold, racer-like lettering and bright yellow and orange coloration. The handguards are transparent, but shaped to deflect wind and trailside branches. Complete with a multi-function gauge the XRS offers a customizable three-zone LCD screen. You can add electric start, but Ski-Doo's famed Rotax Electronic Reverse comes standard. You could add accessories, but do you want to add weight in a sled derived from the company's lightweight cross-country racing package where "More power, less weight" is the mantra?
With the advent of the Polaris AXYS and Pro-X models, Ski-Doo's 2015 Renegade XRS 800 may not get the attention and appreciation it deserves. Just be assured that this sled competes extremely well in the big banger category, especially since the RAS2 upgrade. Ride-forward, rider-balanced… it only counts if it works and Ski-Doo's Renegade XRS 800 works, if you're rider enough to realize its potential. Not all of us are, so be warned, this is a serious big bump snowmobile!
2015 Ski-Doo Renegade XRS 800R ETEC Specs
Engine
Rotax 799.5cc ETEC, two-stroke twin; liquid-cooled; electronic direct injection; 2-into-1 tuned exhaust
Horsepower
160 (est); 7900 maximum RPM; Engagement @ 3800 RPM
Drive
Ski-Doo/Rotax TRA III with QRS driven; electronic push button reverse
Brake
Brembo racing-type hydraulic disc with stainless steel braided brake line
Front Suspension
Ski-Doo dual A-arm RAS 2 with spring over KYB Pro 40 R shock with knob adjustment; up to 9.5-in travel
Rear Suspension
Ski-Doo rMotion parallel slide rail with KYB Pro 40 Easy-Adjust shocks; up to 16-in travel
Length
122.4 in
Width
47.9 in
Height
47.2 in
Ski Stance
42.4 in
Track
15 x 137 x 1.5 RipSaw
Weight
480 lbs (claimed)
Fuel Capacity
10.6 US Gal (Premium Fuel)
Features
Standard: REV-XS RS chassis; aluminum handlebar with J-hooks; multi-function gauge; REV-XP X seat with rear storage; 4.5 riser block; pushbutton reverse; warm glove box
Optional: rearview mirrors; storage bags; electric start
MSRP
US$14,299