2015 Ski-Doo Renegade X 800 vs. 2015 Polaris 800 Switchback Pro S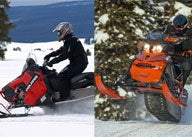 A head-to-head winner depends on what you ride: Ski-Doo or Polaris?
Which is better: the 2015 Polaris AXYS Switchback Pro S with the new Liberty 800cc twin or the 2015 Ski-Doo Renegade X with the Rotax 800R ETEC? Your answer lies in your ride.
Fast Facts
Engine Type:Horizontal In-line
Cylinders:2
Engine Stroke:2-Stroke
Valve Configuration:Reed Valve
Displacement:795 / 48.5
Starter:Pull
Turbocharged:No
View Full Spec
If you currently ride a Polaris, chances are you prefer the Pro-S. Ski-Doo owners will prefer the Renegade. It's a simple fact of snowmobiling life that we learned the hard way a long time ago.
Sitting at the Stagecoach bar out in West Yellowstone many snowfalls ago, we were approached by a snowmobiler who had heard that we were testing the upcoming year's newest models. His question was simple, "What's the best sled next year?" Like fools we answered with an honest opinion. It doesn't matter that we can't recall what sled we told him. What mattered was that the sled we mentioned was not the brand that he rode. He called us some unpleasant name or two and walked away angry. So, from then on, whenever anyone asks what our favorite sled is, we preface our answer with, "What do you ride?" And hope its turns out okay. The bottom line is that snowmobilers are incredibly loyal to the brand they are riding. That's not to say that they might not change brands on occasion. When they do, they will be loyal to that brand.
Assuming there is no such thing as an open mind in the world of snowmobiling, we could make a case for either the Polaris or the Ski-Doo. But we'd favor the all-new 2015 Polaris Switchback over the 2015 Ski-Doo Renegade. Just know that our opinion has the two sleds in a virtual tie, as the models seem to move up a notch each season. Plus, the addition of the RAS2 front suspension upgrade on the Ski-Doo makes a major difference in the way the front and rear suspensions complement each other. But, the totally revamped Switchback breaks from the Ski-Doo pioneered rider-forward label to put its own "rider balanced" theory into the equation of on-off trail sport sleds.
Read our review of the 2015 Polaris 800 Switchback Pro-S + Video
One of the things that impresses us about the 2015 Switchback Pro-S is that Polaris finally gives it its own personality. The previous models seemed like Renegade wannabes. When we sat on the older Switchback it felt like being on a Renegade. The seat and view over the windshield had a deja-vu vibe. It was similar but not quite as good as the original Ski-Doo that we felt Polaris tried to mimic. That's not the case this season, the AXYS chassis and the riding feel that it brings to the new 2015 Switchback is uniquely its own!
Polaris' response to the Ski-Doo REV-XS chassis and handling packages suggests a battle is forthcoming. Ski-Doo's rMotion rear suspension seemed an obvious reaction to Polaris Rush's Pro-Action suspension. The rMotion has evolved into a very good and rider-friendly rear suspension, especially when you add on the optional US$400 quick adjust set up. Whether Ski-Doo knew that Polaris was coming with a totally new Rush-type sled or not, the addition of the RAS2 front suspension upgrade to the REV-based sport sleds makes a huge difference in the overall handling and ride character of 2015 Ski-Doo models.
If you want to check the facts and look at sled specifications, the Renegade X has nine inches of ski suspension available and upwards of 16 inches of travel from the rMotion. By comparison, the new Switchback Pro-S lists maximum front-end travel as 9.3 inches, slightly more than the Ski-Doo. Rear travel is 2.6 inches shy of the Renegade X. Depending on your brand loyalty, this is or isn't a big deal. We didn't find it a big deal.
The main reason we let the two brands off the hook on suspension travel is because both companies engage top line shock absorbing products to control the action. Polaris, as expected, calls on Walker Evans for ride enhancement and control. Up front you'll see coil-over high-pressure gas shocks, complete with Walker Evans' piggyback reservoir and compression adjustability. The new Pro-XC rear suspension also benefits from the application of Walker Evans tunable gas shocks with piggyback reservoir to minimize shock fade.
By comparison, the Renegade X draws the benefits of Ski-Doo's aluminum-bodied and racer-inspired HPG-Plus R gas shocks to work with the new-for-2015 RAS2 front end. The blend of gas-charged shocks up front on the RAS2 and gas shocks on the rMotion rear unit gives the Renegade exceptional control off trail. The rear shocks consist of a HPG Plus shock at the center working with a competition-compliant KYB Pro 36 Easy-Adjust aluminum body shock that offers upwards of 22 "clicks" of tune-ability.
From a ride control standpoint the two sleds are a toss-up. The Polaris' newer progressive rear action works better than the previous design and works as a unified force with the new front end. Absent the RAS2, the Ski-Doo Renegade would have fallen behind in comparison, but the blending of RAS2 with rMotion is an equal to any other suspension set up available this season.
From a performance aspect, the Ski-Doo 800R ETEC has been ahead of the Polaris-engineered and built Liberty Cleanfire twin. Ski-Doo's Rotax twin enjoys a very good reputation and its direct-injection intake makes it the cleanest and most fuel efficient of high-performance two-strokes currently available. For 2015 Polaris essentially recreated its 800cc twin, giving it a lighter crankshaft so it spins up more quickly, totally revamping the intake so it breathes better and redesigning the exhaust valve system so it reacts with more performance at idle, midrange and top end. We fully expect to see this "big" twin in more sleds for model year 2016, especially in what we expect will be a totally revised deep snow lineup.
Even with all the changes to the drivetrain, we'd be lying if we thought that the 800 Switchback Pro-S would blow away a Ski-Doo Renegade X 800R. It should be closer than ever and on any given day on any given trail, we wouldn't take bets for or against. These sleds will be equivalents.
Read our review of the 2013 Ski-Doo Renegade X 800
Where they differ in a big way is in the ride and how you as a rider react and respond from the saddle. Given that the 2015 800 Switchback Pro-S (claimed weight of 446 pounds) has an on-paper 39-pound weight advantage versus the Renegade X 800R (claimed weight of 485 pounds), the Switchback gains an uptick in acceleration from previous versions. That will be noticeable as the new AXYS chassis breaks from totally rider-forward designs and will allow you to carry the front skis for holeshots or drop the skis into a corner for bite. The center point for control rides on the AXYS chassis' design philosophy of actually positioning the rider in the center of the vehicle's mass. Polaris believes that its design focuses the rider for better overall control in cornering, approaching and handling moguls, and enhancing the overall "ride experience."
Ski-Doo's REV chassis brought our collective rumps off the rear axle and moved us upright and forward to better center our body to react to bumps and allow us to adjust for cornering. Polaris believes that its AXYS positioning is the next logical step in improving overall rider balance for control. We think that they are on to something. But, repositioning the rider enacted myriad changes for 2015, as the rear suspension was totally redone. The front end changed to complement the handling as well. The engine and drive were done along with the chassis so that they would fit and work together as a unified whole, not as one element added on top of another. The work on drive and chassis were done in conjunction with each other. Our experience with the AXYS chassis sleds left us with the distinct sense that the new sled was designed in one synergistic effort.
When we evaluate the 2015 Polaris 800 Switchback Pro-S versus the 2015 Ski-Doo Renegade X 800R, or more readily available Renegade Adrenaline, we find them very close in specifications and application. But, for this trip around the snow trails, we give a higher endorsement to the new AXYS-chassis Switchback. Polaris engineering seems to really get this sled thing once again. Back in the era of Midnight Blue RX-L and TX-L racing days and up through the many years of the Indy, Polaris engineering brought out sleds that we wanted to ride, because they were sleds that they themselves wanted to ride. We get the sense that this era of Polaris engineering is a throwback to those days and that these guys and gals relish the experience of building sleds they want to ride. We also know that Ski-Doo won't back away from a challenge.
We've ridden both and don't own either, so in our opinion, this round goes by a decision to Polaris and the 800 Switchback Pro-S. But, stay tuned for the next round in this fight for flatland dominance.
| | | | |
| --- | --- | --- | --- |
| | 2015 Polaris 800 Switchback Pro S | 2015 Ski-Doo Renegade X 800R ETEC (Spring Purchase) | 2015 Ski-Doo Renegade Adrenaline 800R ETEC |
| Engine | Polaris Liberty 795cc twin; liquid-cooled two-stroke; Cleanfire electronic fuel injection; 2-into- exhaust with three-stage exhaust valve | Rotax 800cc ETEC, two-stroke twin; liquid-cooled; electronic direct injection; 2-into-1 tuned exhaust | Rotax 800cc ETEC, two-stroke twin; liquid-cooled; electronic direct injection; 2-into-1 tuned exhaust |
| Horsepower | 160 (estimated) | 160 (est); 7900 maximum RPM; Engagement @ 3800 RPM | 160 (est); 7900 maximum RPM; Engagement @ 3800 RPM |
| Drive | Polaris P-85 drive with TEAM lightweight driven | Ski-Doo/Rotax TRA III with QRS driven; electronic push button reverse | Ski-Doo/Rotax TRA III with QRS driven; electronic push button reverse |
| Front Suspension | Polaris AXYS double A-arm; Walker Evans coil-over gas shocks with remote reservoir and compression adjustment; up to 9.3 inches of travel; Polaris Pro-Steer skis | Ski-Doo dual A-arm RAS 2 with spring over HPG Plus R shock with rebound adjustment; up to 9-in travel | Ski-Doo dual A-arm RAS 2 with spring over HPG shock; up to 9-in travel |
| Rear Suspension | Polaris Pro-XC parallel rail slide suspension; Walker Evans compression adjustable gas shock; up to 13.4 inches of travel | Ski-Doo rMotion parallel slide rail with HPG Plus shocks center & KYB Pro 36 Easy-Adjust rear; up to 16-in travel | Ski-Doo rMotion parallel slide rail with HPG shocks center & rear; up to 16-in travel |
| Length | 121.0 in | 122.4 in | 122.4 in |
| Width | 47.0 in | 47.9 in | 47.9 in |
| Height | 46.0 in | 47.6 in | 47.6 in |
| Ski Stance | 42.5 in | 42.4 in | 42.4 in |
| Track | 15x137x1.25 RipSaw II | 15x137x1.25 RipSaw | 15x137x1.25 RipSaw |
| Weight | 446 (claimed) | 485 (claimed) | 486 (claimed) |
| Brake | AXYS Radial disc | Brembo racing-type hydraulic disc with stainless steel braided brake line | Brembo hydraulic disc with stainless steel braided brake line |
| Features | Standard: Push button reverse; deluxe digital/analog gauge; AXYS performance seat; 2.6-in fixed riser Optional: electric start; storage bags; accessory outlet; windshields | Standard: REV-XS chassis; aluminum handlebar with J-hooks; multi-function gauge; REV-XP X seat with rear storage; 4.5 riser block; reverse; electric start; pushbutton reverse; warm glove box Optional: rearview mirrors; storage bags | Standard: REV-XS chassis; aluminum handlebar with J-hooks; analog gauge with display; REV-XP X seat with rear storage; 4.5 riser block; reverse; electric start; 15-inch windshield with integrated deflectors Optional: rearview mirrors; storage bags |
| Fuel Capacity | 12.0 US Gal | 10.6 US Gal (91 octane fuel) | 10.6 US Gal (91 octane fuel) |
| MSRP | $12,799 | $13,199 | $12,449 |