2016 Yamaha Viper M-TX 162 LE Review + Video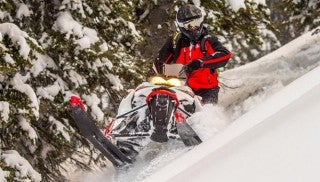 Long track, three-inch lugs and a revised personality
If you read our story about Yamaha's M-TX 141 LE with Mountain Performance Inc. (MPI) turbocharger, then you'll recognize that the M-TX discussed here shares much the same underpinnings as the 141. Like the 141 LE, the M-TX 162 LE is a mountain snowmobile on its own merit, but more closely aligned with the M-TX 153 than the short-long track 141. All that aside, the newest Yamaha Viper M-TX models are delightsome mountain snowmobiles.
Yamaha has a task ahead of it, though. The mountain crowd is thronging toward Polaris' AXYS RMK Pro and SKS, Ski-Doo's Summit X w/T3 and to Arctic Cat's M8000 Sno Pro and Limited. But, with folks like Troy Johnson of Lincoln County Customs (LCC), who is a master Yamaha wrencher and mad mod man, the SR Viper M-TX has taken hold in the Rockies near Southeast Idaho, Northern Utah, Western Wyoming and Western Montana. But understand, LCC is not a Yamaha dealer, but a highly credible Yamaha performance shop from which Yamaha's hillclimb team operates. Johnson is Team Captain, coach, and builder.
Also in the Rockies is Outlaw Motor Sports, a Yamaha performance dealer that elevates the RS Viper M-TX snowmobile to that of supersled, one that is beyond one's imagination. Another fan of the Yamaha Viper M-TX is Yamaha dealer, Rexburg Motor Sports, which has an exclusive mod shop that installs the MPI turbo.
Back to Yamaha's task at hand. Most mountain riders believe a mountain snowmobile should be powered by a twin cylinder two-stroke motor with at least 800cc. High power-to-weight ratio makes a snowmobile king. We can't fault mountain riders for this belief. Let's flip that up on edge.
The three-cylinder four-stroke 1049cc electronic fuel injected (EFI) Genesis motor in the M-TX is a blank canvas that wants its owner to paint it bold and colorful with much horsepower. In stock form, the M-TX LE 162 works very well. Its light PowerClaw track with three-inch tall paddles and Yamaha's drive and driven clutches make the SR Viper M-TX chassis perform like a much lighter mountain snowmobile with more horsepower and torque.
COMPARISON: Read our review of the 2015 Ski-Doo 800 Summit X 174 with T3 + Video
With that said, when ordering an LE 162 during Yamaha's Spring-time Power Surge program with optional MPI turbocharger, a $2,500 power upgrade, plus dealer install costs, then the muscular, yet mild-mannered 135 horsepower Clark Kent motor transitions to a 185 horsepower Superman supersled. This, our good friends, makes the 162 LE Viper M-TX fantastically fun. Power-to-weight is extraordinary when the M-TX 162 LE is boosted.
The boosted 162 M-TX with its 185 to 190 horsepower, easily rotates the 15-inch wide PowerClaw track with three-inch lug track without breaking a sweat. Riding in deep powder and climbing the wildest hills is easy work for this beast.
Let's not forget, as Arctic Cat advances its mountain chassis, Yamaha also benefits since it purchases the Arctic Cat mountain chassis – Pro Climb – as the basis for the Yamaha M-TX.
In its second year of production, the 2016 M-TX 162 LE leaps over the 2015 in deep powder function. Though, we wish the 2016 had the color scheme the 2015 LE had – the white, blue, and orange combo made its owner proud. Still, the 2016 LE 162 spins a meatier track (the 2015 LE was built with the 2.6-inch PowerClaw paddle track), and has rear suspension changes that make the long and tall track work smart. Also up front is the updated front suspension that enhances its deep powder boondocking and sidehilling abilities.
The SR Viper M-TX 162 has new spindles that are forged from aluminum, tilted back 10 degrees from the version, and are angled in at mid-height to be flush with the lower side panels. The new spindles are 2.4 pounds lighter than last year's and have new lower- and upper-control arms. The titled back spindles and control arms bring a light and airy feel to the M-TX 162 LE.
COMPARISON: Read our review of the 2015 Arctic Cat M8000 Sno Pro
The M-TX 162 LE comes equipped with a front suspension swaybar. Ski stance is an adjustable 34.5 to 38.5 inches; optimum is 35.5 and 36.5 inches.
We enjoyed the first year 2015 Viper M-TX 162 LE. But, we chose our descent lines with greater caution due to its narrow ski. The ski made the M-TX want to dive right or left when the sled was set off-camber. Also, if by a pine tree blowhole, the M-TX wanted to slip into the tree as the ski broke through the soft snow, throwing rider and its sled into the tree blowhole. This was unnerving.
Under the 2016 SRV-M front suspension is a new seven-inch wide mountain ski, seven inches at the tip with a half-inch taper – to 6.5 inches – where the ski hoop bolts to the ski's base. This new ski is reminiscent of the mountain ski the Nytro MTX used, but has a wider and deeper keel. This keel and overall width keeps the front end afloat.
Front shocks for the M-TX LE 162 are the highly capable and vastly adjustable Fox FLOAT 3 EVOL shocks.
For the updated Dual Shock SR 162 suspension, the front rail shock is a Fox Float EVOL whereas the rear rail shock is Fox FLOAT EVOL R that has an additional piggyback chamber. With an extra chamber you get an almost-infinite amount of adjustments to reduce bottoming out, to increase comfort and to match rear suspension control for terrain and rider weight. This rear skidframe is a torsion springless suspension.
The rear suspension is an uncoupled rear suspension that allows it to float across powder. New rear suspension rails keep the nose down when ascending hills, especially when a turbo's 185 to 190-horsepower is applied to the track.
Our rider impressions for the M-TX LE, be it stock or with MPI turbocharger, is favorable. First, we rode this crisp and clean mountain snowmobile in January 2014 in deep powder on Lions' Head mountain in Montana near West Yellowstone. The rear suspension changes mated to a much improved front end, set at 36.5 inches, made the M-TX 162 LE a highly nimble four stroke powered mountain snowmobile. The motor, in stock form, rotated the three-inch PowerClaw mountain track with ease. The track, lighter than the 2.6-inch PowerClaw, did not tax out the M-TX 162.
Now, for February and March 2015, as we rode the M-TX LE 162 with MPI turbo, the LE called on its new front suspension and improved rear suspension to keep the over 185 horsepower motor in control, but unleashed.
COMPARISON: Read our review of the 2016 Polaris 800 AXYS RMK Assault + Video
For creature comforts, the M-TX LE has a vertical steering post that keeps the rider square at the shoulders when standing and attacking a mountain's hillside. The seat is low enough to allow hop-overs, but we would like it to be three inches shorter. Speaking of the seat, the Power Surge acquired LE comes with a seat warmer. Sweet. Aggressive mountain riders spend little time in a seated position, but when riding home on a cold evening, it is nice to sit and keep the southern forty warm. We like it.
The 162's cockpit with vertical steering post, right-sized handlebars, mountain strap and right-sized runningboards help riders be aggressive.
With a turbo's 50 horsepower added to the M-TX, the LE 162 will, mostly, keep with its lighter two-stroke rivals. When taking the 162 into the trees from some slow boondocking, the M-TX will do just fine, but the rider will feel the chassis' weight. You'll be there with the two-stroke crowd, but you'll need to earn it.
Then when busting loose the MPI in the clear or when slamming a mountain side, the motor will not care about elevation, as its 185 to 190 horsepower will be with you from 4000 feet to 10,000 feet. You will tear down mountains as easy as your two-stroke buddies; even those with turbos and supers.
If you did not have the time to acquire an LE with optional MPI turbo during the Spring Power Surge, the option to order one is still available from Yamaha, but the deep discounts are lost. But, if your tastes are to ride mountains without a turbo, the LE will deliver days of fun and economical riding. We have learned the LE's motor is capable of working hard and it remains fuel stingy.
Yamaha's task to make the LE 162 M-TX appealing to the mountain riding masses is simple; bolt on the horsepower and let the 185 horsepower have at it. But, without the turbo, the 162 M-TX LE is an appealing snowmobile. Give it some of your time and attention.
2016 Yamaha Viper M-TX 162 SE Specs
Engine
Yamaha Genesis four-stroke high-performance 1049cc; bore/stroke of 82.0mm/66.2mm; three-cylinder, liquid-cooled; 41mm electronic fuel injection system; dry sump lubrication
Horsepower
135
Drive
Yamaha YVXC drive clutch with Yamaha driven; push button electronic shift reverse
Front Suspension
Yamaha SRV-M tall A-arm with Fox FLOAT 3 Evol aluminum shocks; up to 7-in of travel; new semi-parabolic mountain ski
Rear Suspension
Yamaha Dual Shock SR 162 parallel slide rail; Fox Float Evol and Evol R aluminum high-pressure gas shocks; up to 16.5-inches of travel
Brake
Radial master cylinder hydraulic brake system with disc mounted on drive shaft
Length
133.0 in
Height
49.6 in
Width
48.4 in
Ski Stance
Adjustable 34.5 to 38.5 in
Track
15 x 162 x 3.0 PowerClaw
Brake
Radial master cylinder hydraulic brake system with disc mounted on drive shaft
Weight
N/A
Fuel Capacity
10 US Gal (Regular fuel)
Features
Standard: heated seat, DC output, pushbutton reverse, digital gauge; rear storage bag
MSRP
US$14,099 — Canada $16,199