2010 Yamaha Apex GT Review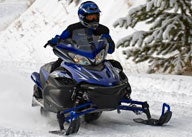 Apex series has earned its place in snowmobiling history
We can't say for certainty, because we just don't know, but we would guess that the Yamaha Apex in all its forms has probably neared the end of its product life cycle. What we will tell you is that if you want to own a particularly unique snowmobile before it fades away, you should consider buying a 2010 Yamaha Apex GT. The GT version is the top of the Apex food chain and an extremely good groomed trail model.
Fast Facts
Engine Type:Horizontal In-line
Cylinders:4
Engine Stroke:4-Stroke
Valve Configuration:DOHC
Displacement:998 / 60.9
Starter:Electric
Turbocharged:No
View Full Spec
Over the years Yamaha seems to get it virtually all correct with its various models just as they are scheduled to exit the production scene. The not so loved Yamaha Exciter remains vivid in our memory. Over the course of its life cycle, the Exciter went from unpleasant to exceptionally good. By the final version, the 1993 Exciter SX, Yamaha brought its telescopic strut front suspension to a level that equaled the best trailing arm or A-arm models of the day. Engine problems with the liquid-cooled 579cc twin had been solved and SX performance was excellent, especially from corner to corner!
Getting back to the current 2010 Yamaha Apex GT, which may or may not be preparing to exit the sled scene, Yamaha has gotten this sled right, too. Although, the performance four-stroke, once it got the ride-forward chassis and ergonomics, has always been light years ahead of the Exciter SX in all aspects.
What makes the 2010 Apex GT worthy of establishing a niche in snowmobile history? Obviously its Yamaha Genesis 150FI four-cylinder, four-stroke motor gives it instant "sled cred." Along with its forerunner, the RX-1, Yamaha's Apex series is the only full-production snowmobile to ever be powered by a standard issue four-cylinder, four-stroke engine. While this design has been around for a few years now, let's not forget just how unique this powerplant truly is.
The Genesis of 4-Stroke Power
Yamaha's Genesis 150 sits atop the technological mountain for snowmobile powerplants. Yes, yes, there is the Arctic Cat turbo four-stroke and Ski-Doo's E-TEC direct injection motor, but it was Yamaha with the Genesis 150 that established one simple fact: four-stroke snowmobiles could be as fast and furious to ride as any two-stroker. Plus the Genesis design came with all of the features that Yamaha's hot rod street bike, the R1, had already proven worked. At just under one-liter, the original RX-1 snowmobile engine derived its technology directly from the Yamaha speed bike. The engine would source top line power in a Yamaha personal watercraft as well.
To get the quad four-stroke to work in a sled, Yamaha had to redirect its revs down from more than 10,000 to a useable and clutchable 8500 rpm or thereabouts. To do that, Yamaha engineers used a gear reduction off the crank, a similar system brings the similarly high-revvin' Phazer 500cc motorcycle-based twin down to useable levels. That wasn't all. The first true performance snowmobile engine came with 20 valves — five valves per cylinder. Three intake valves suck in fuel while another two push it out to the underseat exhaust system, another unique Yamaha feature.
With 150 horsepower on tap, the 2010 Apex GT can scream down a groomed trail. In fact, after a season-long test of such an animal, we determined that we rarely used wide-open throttle. We found that no more than a third throttle was more than adequate for most trail cruising. Then, again, once we hit a long stretch or a smooth lake surface, that throttle flipper would go to the bar, occasionally! And our helmet would get pushed back from the airflow.
More Than Power
Let's review. Based on the unique Genesis 150FI alone, the 2010 Apex GT is an historic part of snowmobile history. For sheer fun on the trails, we seem to overlook the Apex simply due to Yamaha's more current rough trail rider — the Nytro series. But it has been the Apex that pioneered the four-stroke performance snowmobile. Prior to the RX-1, four-stroke snowmobiles were extremely tame and vastly underpowered. Yamaha established a level of four-stroke that is actually unmatched as it relates to normally aspirated sleds. Arctic Cat's turbocharged four-stroke is a power monster of torque. But the Yamaha Apex with 150 ponies remains a very legitimate performance model — with or without turbocharging.
"…the 2010 Apex GT is an historic part of snowmobile history…[it] pioneered the four-stroke performance snowmobile."
Backing up the Genesis power is a proven suspension system that consists of an A-arm front end and electrically modulated Mono Shock rear suspension. The 2010 Apex GT comes with premium 40mm GYTR dual clicker gas shocks versus a more base gas shock for the less costly base Apex model.
We thoroughly enjoy the Apex GT's somewhat gimmicky rear suspension set up. The Apex model uses Yamaha's very rider-friendly Mono Shock slide rail suspension. The Apex GT gets the advantage of Ohlins' electronically controlled shock, which can be set from the handlebar as you ride. The base model features a remote adjuster, but you need to stop and dial an adjustment before moving along again. Plus, the Ohlins is simply a better shock overall. Both the base and GT models offer up to 11.6 inches of rear travel and nine inches up front.
Paying Attention
Like Arctic Cat, Yamaha engineers paid attention to rider gripes and designed a very nice curved handlebar that includes "hooker" bar ends for improved ride control. Yamaha engineering also spent extra time rethinking the handlebar heaters, which now place more heat where you use it most.
While Ski-Doo was first to reconfigure the way we ride sleds, Yamaha made some effective compromises based on what it thought was shortcomings with the original Ski-Doo REV platform. As it works out, we'd guess that Yamaha read it right as Ski-Doo's new REV-XP platform relaxes the riding position a bit more than the original.
Yamaha's aluminum tunnel and Deltabox II construction provide ample groomed trail comfort. As Yamaha saw versus the original REV design, the Yamaha rider needed a bit more leg room and over the engine positioning which makes the Apex especially good for long days of groomed trail riding.
Overall Very Good
So, if the 2010 Yamaha Apex GT is this good overall, why do we think its days are numbered? For one thing, we figure that recent sled sales have been slow for all makers. Plus, Yamaha put the emphasis on its new Nytro-based sleds — which probably will not accommodate the inline four cylinders of the Apex — and limited development on the Apex series. Based on those things, we just think that Yamaha will phase out this model as it creates a top of the line Nytro-based groomed trail cruiser. There has been a lot of chassis work in this Nytro type unit. The tunnel in various guises works in the rough trail models, the cross over type XTX, and the extended track mountain sleds. The three-cylinder Nytro engine develops extremely good torque for corner-to-corner acceleration and berm-blasting. Remember the Exciter SX?
If the Apex series fades away, it will have established itself as a serious part of snowmobile history and it will be rightfully remembered as a very smooth, powerful, good handling, technologically innovative design that Yamaha engineering has every right to claim as a proud achievement.
Is this the end of the trail for Yamaha's Apex? We may be off by a season or two, but we bet that Yamaha's next hot rod trail cruiser will be lighter, quicker, more innovative and maybe minus the quad cylinder engine. Let's see how we do with our guessing. In the meantime, if you are a serious collector, you might want to keep your eye on what we think may be the last of the truly original Yamaha four-stroke trail performance sleds, the top line 2010 Yamaha Apex GT.
| | | |
| --- | --- | --- |
| | 2010 Yamaha Apex GT | 2010 Yamaha Apex (Standard) |
| Engine | Yamaha Genesis 150FI; 998cc, 4-cylinder, 4stroke, liquid-cooled; electronically controlled fuel injection | Yamaha Genesis 150FI; 998cc, 4-cylinder, 4stroke, liquid-cooled; electronically controlled fuel injection |
| Horsepower | 150 | 150 |
| Drive | Yamaha YVXC | Yamaha YVXC |
| Front Suspension | Yamaha short/long arm wishbone; 9-in travel; 40mm GYTR aluminum-bodied, dual-clicker high pressure gas shocks | Yamaha short/long arm wishbone; 9-in travel; 40mm aluminum-bodied high pressure gas shocks |
| Rear Suspension | Yamaha Mono Shock EC with electronically controlled and handlebar operated 46mm Ohlins adjuster HPG shock; 11.6-in travel | Yamaha Mono Shock RA with tunnel side remote adjuster; 11.6-in travel; 46mm KYB high pressure gas shock |
| Length | 110.4 in | 110.4 in |
| Height | 45.7 in | 45.7 in |
| Width | 48.0 in | 48.0 in |
| Ski Stance | 43.0 in | 43.0 in |
| Track | 15 x 121 x1.25 Rip Saw | 15 x 121 x1.25 Rip Saw |
| Brake | Yamaha 4-piston hydraulic disc | Yamaha 4-piston hydraulic disc |
| Weight | 575 lb (est.) | 575 lb (est.) |
| Fuel Capacity | 9.4 US Gal | 9.4 US Gal |
| MSRP | $12,399 | $11,399 |
Related Reading
2010 Yamaha Apex MTX Review
2009 Yamaha Apex ER Review
All Things Yamaha on Snowmobile.com