2011 Yamaha FX Nytro XTX Review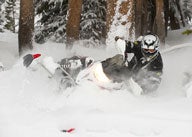 Yamaha Delivers Four-Stroke Crossover Performance
Two model-year seasons ago, 2009, Yamaha sent our deep snow crew a Nytro XTX. Along with it in a second crate was the optional deep powder track, which Rexburg (Idaho) Motor Sports switched out and delivered to us in the form of "more-than a crossover" Nytro XTX.
Fast Facts
Engine Type:Horizontal In-line
Cylinders:3
Engine Stroke:4-Stroke
Valve Configuration:DOHC
Displacement:1049 / 64
Starter:Electric
Turbocharged:No
View Full Spec
As we move to Model Year 2011, we again got to explore the kick and punch the XTX delivers. This latest XTX is refined, smart, sassy, wickedly fast and strictly in control for you crossover types.
What we rode at the West Yellowstone new model test session was Yamaha's XTX dressed in optional, and let me state again, optional (!) pink graphics and skis. This XTX, labeled "Pinky" by Yamaha had all the optional feminine cosmetics dripping from its not at-all feminine frame. When called out, the XTX's masculinity burst through its pink graphics and the XTX's Red Bull and Snickers attitude came through. Often we, as guys, refer to our sleds as "she" and "her." Well, as for this XTX, she was one tough stud.
But, "Pinky" also shared XTX center stage with Yamaha's normal XTX, a beautiful white, red and black XTX. We took this crosser to the deep end of powder, spending time testing its off-trail acumen.
Powering the Nytro XTX is Yamaha's grunt- and torque-filled 1049cc, three-cylinder four-stroke with electronic fuel injection. Bore and stroke for the triple-four is 82.0mm by 66.2mm.
The big triple features Yamaha's Engine Braking Reduction System (EBRS), which keeps the clutch slightly engaged to give the XTX the ability to coast when the throttle bodies are closed. Yamaha has a patented rear exhaust dump that runs cool due to its location — on top of the tunnel and running its length. The exhaust pipe is snow-cooled, which in turn, reduces under-hood heat. This is crucial when the sled is loaded in deep snow and is pushing its and the driver's weight along as high underhood heat can boil fuel. The rear-exiting exhaust also distributes the sled's weight, a reason for the XTX's fine balance.
Lastly for the motor, the FX Nytro XTX's airflow design pulls fresh air in from around the headlight and forces it through the radiator fins for superb cooling (cold air is thick air) thus enhancing motor performance.
Upfront, the XTX's ski stance is 41.3-inches. It slides on lightweight plastic saddleless skis. Located between the A-arms are 40mm GYTR dual-clicker HPG shocks.
Out back, the XTX tracks on a CK 144 rear suspension with a compression clicker on the rear arm and an aluminum-body HPG shock on the front arm. The track is a 15x144x1.25-inch Camoplast Ripsaw design. This lightweight rear skid, a departure from traditional rear suspension geometry, handles the chassis with calm assuredness. As Yamaha wanted its 144-incher to corner like a 121-inch short tracker, engineers tipped up the rails at the rear by 6-degrees, which gives it the contact of a 121-inch track when running on hardpack snow. Also, the coupled rear suspension gives smooth and in-controlled traveling when hitting the big bobs.
Color options for the XTX are white, red and black, and Yamaha blue, white and black. Its suggested price is US$11,349.
The running boards are wide and roomy with added bracing for support. The boards too, are tipped up for ground clearance. But, we learned at times, when walking through some deep powder the board was a bit too wide for our need, as it hung up the chassis when laying down some Western mountain man sidehill tears and deep powder carves. But, we did force it into some difficult conditions to see if it could handle the challenges. After all, when riding near West Yellowstone, do what West Yellowstonians do, right?
When kicked hard from a dead start, the XTX digs hard into hard-packed and groomed trail snow and picks up its skis to give its pilot that "Oh heck, my rotator cuff just tore and those trees are coming up awful fast" reality check. Chop the throttle closed, the big triple brakes and decelerates quickly, especially when the big rotor disc brake is squeezed.
In a sitting position, the XTX gives correct posturing, body, legs and hands are in gentle 90-degree angles allowing the rider to sit tall. However, when standing up to throw down a deep powder divot, or sashay through the trees, the handlebar, in its low configuration, forces the driver to slump over, which decreases efficient leverage. Here, like Ski-Doo's Renegade Backcountry X, we recommend bolting on a two-inch riser block on the bar. This will give needed body leverage for the deep powder run, and is not too tall to make trail riding uncomfortable.
The XTX's carlike steering rotation allows the driver to drop down to the seat's right or left side and to dive deep into a bend minimizing drift and ski push; this swing is part of the XTX's winning ways in grueling long-distance cross-country races. Pulling back up to the seat and sitting tall is effortless.
Visit with your Yamaha dealer who can explain the XTX's comfortable ride — due to its longer suspension length. Learn of its fuel- and oil-efficiency. Learn of its superb warranty and durable motor. Then, you will find the Nytro XTX to be a sled that is much in tune to today's consumer mindset of wanting a snowmobile that is durable, easy to start, easy to ride, easy to handle on the trails and in the meadow, and is economical to operate.
2011 Yamaha FX Nytro XTX Specs
Engine
Yamaha 1049cc, three-cylinder, liquid-cooled four-stroke; 41mm Mikuni electronic fuel injection; underseat exhaust
Horsepower
130+
Drive
Yamaha YVXC variable ratio drive and driven
Front Suspension
Yamaha FXG2 A-arm with 40mm GYTR dual clicker gas shocks and up to 8.5-in of travel
Rear Suspension
Yamaha Dual Shock CK 144 parallel rail slide suspension with tipped rail; C40 aluminum gas shock on rear arms; up to 14.5-inches of travel
Length
119.8 in
Height
45.6 in
Ski Stance
41.3 in
Track
15 x 144 x 1.25 Camoplast Ripsaw
Weight
N/A
Fuel Capacity
7.4 US Gal (Regular fuel) with mechanical fuel gauge
MSRP
US$11,349
Related Reading
2010 Yamaha FX Nytro XTX Review
2011 Yamaha FX Nytro MTX SE Review
2011 Yamaha Snowmobile Lineup Preview
All Things Yamaha on Snowmobile.com