2013 Yamaha FX Nytro Review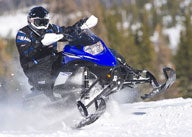 Yamaha's base hot rod suits brand loyalists
Yamaha likes to base its heritage on racing successes, of which the motor company has many. There just haven't been many memorable big wins in snowmobiling since Mike Trapp's 433cc Yamaha hunted down the 650cc Ski-Doo piloted by Yvon Duhamel for the Eagle River World Championship way back in 1971. Ironically up to 1971 Duhamel, a noted motorcycle racer, competed aboard Yamaha two-stroke bikes before switching to the Kawasaki factory team.
Irony or not, Trapp's victory sealed a performance reputation for Yamaha, which had recently entered the snowmobile market with innovations such as Autolube oil-injection and Keihin carburetors. Jump ahead three decades and Yamaha establishes itself as "The" four-stroke snowmobile company with its performance-oriented RX-1, which brought a high-performance one-liter motorcycle-based engine to production snowmobiles.
In due course the RX-1 proved the viability of four-stroke engines and dispelled the idea that four-strokes couldn't successfully operate in wicked cold or keep up performance-wise with two-strokes. The Yamaha Genesis engine series evolved from the RX-1 four-cylinder into the 160-hp Apex quad. And along the way, Yamaha created other snowmobile-specific motors, a high-revving 500cc twin and three versions of a triple – a carbureted 973cc version and two fuel-injected versions of the 1049cc motor. The Nytro engine carries a high-performance designation, which it earns due to its more aggressive tuning characteristics. The engine relies on more aggressive timing, valve gear operation and an advanced electronic fuel injection system designed to give Nytro riders aggressive action at the throttle flipper. The similar sized Genesis triple featured in the Venture GT and Vector series is a bit more modest in its response and uses less aggressive tuning in its clutching.
The aggressive nature and nearly instant-on reaction at the throttle provides the character that big bump and rough trail riders desire. Combined with near racer-quick action in the YVXC variable ratio drivetrain, the engine works with a snocross-inspired dual shock rear suspension that can be tuned to throw weight rearward quickly so the skis can lift for berm-clearing jumps. This dual shock design in the base Nytro utilizes C40 high pressure gas-charged shocks. Perhaps not as fade-resistant as the "clicker" shocks of the Nytro RTX model, the base Nytro's shocks are more than adequate and feature aluminum construction to help keep weight down. All Nytro models share the FXG2 dual A-arm front suspension. Here again the RTX version adds flair with Fox Float X shocks versus the 40mm aluminum gas shocks standard on the base Nytro and its longer tracked XTX sibling. Our experience tells us that ego is the primary reason for upgrading to the Float shocks to control the suspension's 8.5 inches of travel. Reality will have the Nytro rider charging hard, but only as long as the body can handle the challenge. We bet that the base Nytro with its less costly shocks will operate just fine for most rough-trail riders. But, there is that bragging rights thing and it sells a lot of upgraded sleds.
Where the 2013 Nytro gains handling prowess comes from the Yamaha-designed Tuner Dual Keel Ski. Check these out. In the past few years Yamaha has struggled to find the best overall ski for its sleds. At almost every test review session, Yamaha has had us try different skis as its engineers tried to find the best design suitable for its electronic power steering equipped models and its hard-charger sleds. In the meantime, Yamaha engineers devoted a great deal of time and effort arriving at a singular design that can be used as a base starting point for Yamaha sleds dating back nearly a decade. The new Tuner ski features a dual keel bottom and ample width to hold two separated runners that can be custom-fitted for easy steering, aggressive cornering, strong icy trail bite and ample combinations in between. This Tuner ski system allows the Nytro rider to establish a custom ride setup. And it does it while helping to minimize on trail darting. Clever, those Yamaha engineers! Or, maybe we should day, hard-working and dedicated.
We will admit that the Nytro, base or RTX, hasn't been among our personal favorites. We aren't that serious about big bump blasting any longer. But, rest assured this sled can handle it with more than a foot of rear suspension travel (14.5-inches, officially!). We find the Nytro a bit of a hard sled to ride with its quick front-lifting action and somewhat narrow snocross racer seating. But it will take the big bumps and reacts quickly for riders with matching reflexes.
The base Nytro comes with a snow-biting 121-inch long Camoplast Ripsaw II track with 1.25-inch lug height. The ski center-to-center distance measures 41.3 inches in width on a sled that stretches out to 110.4 inches and reaches to a 45.6-inch height.
Things you have to like on the Nytro are its nifty four-stroke sound emanating from the rear-exiting exhaust. But there is a very useful purpose to locating the exhaust this way. It helps minimize under hood heat, which means cooler operating temperatures for the brake, clutch and engine. It also helps center overall weight to give the sled improved over-bump balance. And, of course, the biggest and best reason for locating the exhaust in a straight line out the back is to maximize horsepower.
The 2013 Nytro offers evolutionary updates such as its new dual controls for handlebar heat. The left control provides changes for the hands while the left side control allows you to change settings for your thumb's comfort. As well, the Nytro comes with a large screen LCD readout for keeping tabs on the sled's performance.
The 2013 Nytro has been upgraded with premium features from its predecessors and really offers a very good savings of nearly a thousand dollars when compared to the RTX, with its clicker shocks front and rear. Styling wise and power wise, the base Nytro gives the savvy saver a long-lasting four-stroke big bump sled that should have very good resale when you decide to buy whatever Yamaha comes up with next for the performance rider.
2013 Yamaha FX Nytro Specs
Engine
Yamaha Genesis 130FI; liquid-cooled, 1049cc 4-stroke triple; bore x stroke, 82.mm x 66.2mm; Mikuni 41mm fuel injection
Horsepower
130
Drive
Yamaha YVXC variable ratio drive and driven
Front Suspension
Yamaha FXG2 double wishbone; 8.5-in travel; 40mm aluminum high-pressure gas shocks; dual-keel Tuner skis
Rear Suspension
Yamaha Dual Shock parallel rail suspension; aluminum bodied high-pressure gas shocks; up to 14.5 inches of travel
Brake
Yamaha 4-piston hydraulic with lightweight disc
Length
110.4 in
Height
45.6 in
Ski Stance
41.3 in
Track
15 x 121 x 1.25 Camoplast Ripsaw II
Weight
NA
Fuel Capacity
7.3 US Gal
Features
Standard: electric start, mechanical reverse, multi-feature digital gauge, hand & thumb warmers, low fuel warning light, dual-keel Tuner skis; Options: bags and storage, windshields, DC outlet, mirrors
MSRP
$11,299
Related Reading
2013 Yamaha FX Nytro XTX 1.75 Review – Video
2012 Yamaha FX Nytro RTX Review