2013 Yamaha FX Nytro XTX 1.75 Review – Video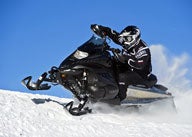 Yamaha's "dual-purpose" XTX is an impressive bargain
Impressive. That's the key word to describe the 2013 Yamaha Nytro XTX 1.75. The sled performs as advertised. Now that probably shouldn't rate as "impressive," but it is. When we think of Yamaha off-trail sleds, we think of them as having a weight disadvantage. In comparison to the competition, and according to any measuring scale, they do. But the 2013 XTX 1.75 belies that notion of fact with some nifty sleight of engineering skill, if not outright trickery.
In the hands of a competent off-trail boondocker, the XTX 1.75 proves to be the equal of any other stretch track boonie runner. And we were, truthfully, surprised.
Based on our personal in-snow experiences with the XTX 1.75 we were left with having to figure out why this sled so easily exceeded our expectations. Of course, when looking at the competition – Ski-Doo Renegade E-TEC 800, Polaris Switchback Pro R 800 or Arctic Cat XF800 – we had imagined the Yamaha coming in a polite fourth. We were not expecting it to be an equal and, in some cases, perhaps, more than equal competitor.
Why does the XTX 1.75 fare so well? Upon reflection and no little bit of hard study of the sled's specifications away from its heft, we estimate that the Yamaha's biggest strengths lie under the cowl and under the tunnel. Make no mistake; Yamaha Power is very much a reality in this snowmobile. Its liquid-cooled, four-stroke, 1049cc Genesis engine comes complete with 12 valves that allows the three cylinder motor to rev from an idle of about 1500 rpm up to about 9000 revs all the while maintaining a very wide and potent power band of torque. Having this very controlled torque available to the 144-inch length Camoplast Back Country track means exacting in-snow compliance for the rider. The XTX 1.75, so-named for the track's 1.75 lug profile, combines very good powder and loose snow grip with strong groomed trail traction.
The "1.75" rider gains the best of both worlds for off-trail and on-trail riding. The lug height is very good to grab and go off-trail, but not too tall to infringe on trail manners. You see, Yamaha researched this dual-purpose ridership and determined that, while many like to see themselves as aggressive off-trail riders, the reality was a bit less, meaning that creating a "magic" setting could lead to one sled being able to satisfy both riding options. The XTX 1.75 is designed to meet that reality.
The standard Yamaha XTX features a similar Camoplast built Back Country styled track, but with a shorter 1.25 lug profile.
You can expect better overall bite on the trail with the XTX 1.75 track and, while it may be a bit more aggressive for pure trail riding, we really doubt that most dual-purpose riders will mind. The base XTX with the 1.25 lug height meets the same standards as Ski-Doo's Renegade X, which offers a 137-inch track length but also with a 1.25-inch lug height. Polaris' 800 Switchback Pro R goes with a standard 136-inch length Cobra track with slightly taller 1.35-inch lug profile. Yamaha's choice of 1.75-inch profile on the XTX 1.75 gives it a bit more off-trail bite than the competition.
Of course the Yamaha offers the Nytro performance four-stroke. Using lessons learned on the snocross circuit, the Nytro triple sits extremely low in the engine bay, a fact that you can't fully appreciate until you see a truly naked Nytro torn down for service. The engine's cylinder cover and spark plug shrouds barely reach above the sled's aluminum tunnel. Fortunately you shouldn't need to service the Nytro motor, as it requires effort to clear access.
The Nytro triple is based loosely on Yamaha's famed FJR1300 supersports touring bike and shares some characteristics of the FJR inline four-cylinder. Like the FJR quad, the Nytro motor is also a double overhead cam design with four-valves per cylinder. It also features a slant-block so it can fit into a tight spot to maximize weight distribution, which in this case means condensing componentry aft of the ski centerline and just forward of the bulkhead to tunnel structure. It's a tight fit that centralizes component mass with just enough above trail height to provide very good overall balance, so crucial both in groomed trail cornering as well as leaning into off-trail snow berms.
Modern snowmobiles with computerized intake systems have changed the willingness of riders to venture off trail. In the good old days of carburetion, you could lean a sled into powder and get a burbling hesitation that could cause you just the momentary miss that got you stuck. That's all pretty much gone as modern fuel injection systems offer incredibly precise, but as important, incredibly instantaneous response to let you power out of trouble. This appears to be one of the Yamaha Nytro XTX 1.75's great attributes. We mentioned the virtually constant torque that's on hand from idle to wide-open injectors. It's real. What's also very real is the precise throttle action that comes from the computerized Yamaha/Mikuni electronic injection system that feeds the three rack-actuated Denso injectors. Throttle action on the Nytro is very, very positive and allows you exceptional control to get the drive system to do exactly what you want when you want it. We didn't sense any hesitation in this power train on groomed trails (where it isn't that critical) or off-trail (where it can be critical).
We figure that the Nytro XTX 1.75 owes its off-trail proficiency and total competitive ability to the track choice and, more importantly, the finesse of the Yamaha drive train. We also will readily admit that what we frequently view as a Nytro shortcoming for groomed trail riding is an asset for dual-purpose on and off trail capability. We've been critical of the Nytro's ability to lift its nose and desire to "wheelie" when you slam in the throttle. The 144 stretch track cures some of that, but that natural Nytro tendency remains to a degree and, in this case, is desirable to pull the skis up and on top of off-trail snows. You'll note that for groomed trail riding, the Nytro XTX 1.75 got fitted with the latest dual keel "Tuner" ski, which Yamaha premiered as an option last season.
We also suspect that final 2013 specifications, which were close to being final during our test rides this past March but not final, will reflect input from Yamaha's cross country racers who took to the Tuner skis and logged impressive mileage with the slippery "DuPont" slides that were also introduced as an available option last year.
Interestingly, the 2013 Yamaha Nytro XTX 1.75 may be a bit of a bargain amongst top of the line dual-purpose sleds this season. There's about a US$200 price difference between the base XTX and the XTX 1.75. So, for the added content we'd suggest the 1.75 as the value leader.
Then there's the competition. The top Ski-Doo Renegade X with 800cc two-stroke E-TEC twin retails for over a grand more and the Polaris 800 Switchback Pro R comes in at US$400 more than the XTX 1.75. The 600cc models would be less, but face it; Yamaha Nytro XTX 1.75 riders will be squaring off head-to-head with their buddies on the top of the line boonie runners. And don't worry about it, from what we've seen; we expect the 2013 Nytro XTX 1.75 will do just fine against the competition. As we said earlier, the sled is impressive. Yamaha really dialed this one in just right.
2013 Yamaha FX Nytro XTX 1.75 Specs
Engine
Yamaha Genesis 130FI; liquid-cooled, 1049cc 4-stroke triple; bore x stroke, 82.mm x 66.2mm; Mikuni 41mm fuel injection
Horsepower
130
Drive
Yamaha YVXC variable ratio drive and driven
Front Suspension
Yamaha FXG2 double wishbone; 8.5-in travel; C40 aluminum high-pressure gas shocks; dual-keel Tuner skis
Rear Suspension
Yamaha Dual Shock CK144; "kick up" rails; aluminum bodied high-pressure gas shocks
Brake
Yamaha 4-piston hydraulic with lightweight disc
Track
15 x 144 x 1.75 Camoplast Back Country
Length
119.8 in (2012 Nytro XTX)
Width
NA
Height
45.6 in
Ski Stance
41.3 in
Weight
NA
Fuel Capacity
7.4 Gal
Features
Standard: electric start, mechanical reverse, multi-feature digital gauge, hand & thumb warmers, tunnel protectors, low fuel warning light, dual-keel Tuner skis; Options: bags and storage, windshields, DC outlet, mirrors
MSRP
US$11,799
Related Reading
2013 Yamaha FX Nytro XTX 1.75 Preview
2011 Yamaha FX Nytro Review
2012 Yamaha FX Nytro RTX Review
2011 Yamaha FX Nytro XTX Review