2014 Yamaha FX Nytro MTX Review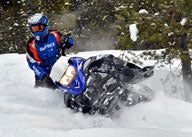 Steady and True
When a snowmobile is new, it receives much attention from us snowmobile writers. When it cycles through its mid-life crisis, it receives attention from the press as a steady snowmobile with a few updates and bold new graphics – which we call BNG. Then, when the press suspects a snowmobile is on its way out, giving way to a manufacturer's new direction, we snowmobile journalists and picture-takers become nostalgic.
Since Yamaha first released its FX Nytro MTX, we at Snowmobile.com have had one. We have had all variants and track lengths. When Yamaha introduced the Nytro MTX, we guessed the Apex MTX was soon to exit stage right and find its place in history. High up at Snowmobile.com's mountain retreat, we even became very nostalgic. We loved the Apex MTX. Though heavy it was; it was fun to haul around due to its well-balanced chassis.
So we are guessing here that with the new 2014 Yamaha SR Viper line/chassis, which is Arctic Cat's ProCross chassis tuned to Yamaha's specifications and powered by Yamaha's Genesis 1049cc motor (the same motor in the FX Nytro),
With Arctic Cat supplying the ProCross chassis (tuned to Yamaha's specifications) for the 2014 SR Viper line, we suspect eventually the Arctic Cat ProClimb chassis will also find its way to Yamaha and a new MTX will pop out. That's our suspicion, but we have no direct knowledge of this. History suggests this is often the case when a new chassis line is introduced – out with the old, in with the new.
So, what we have is the 2014 Nytro MTX.
Yamaha offers its Nytro MTX in two track lengths, 153 and 162. These two MTXs share the same underpinnings, which are the Pro Mountain Air rear suspension and FXG2 front suspension without a swaybar.
The track for the 162 Nytro is a 15-inch wide Camoplast Ascent with 2.25-inch tall lugs. The 153 Nytro uses a Camoplast Maverick, also with 2.25-inch lugs. The 162 Nytro rotates the Ascent track, as this is the track of choice – for strength – if a turbocharger is mated to the three-cylinder four-stroke motor.
The rear suspension's shocks are Fox Floats, with 15 inches of vertical travel. To lessen the impact for the front, Fox Float shocks are stuffed between the A-arms. The front suspension, as noted, has no swaybar. Vertical travel for the front is 8.5-inches inches. Ski-stance is 39.7-inches. The MTX's ski is Yamaha's famed mountain ski, which we believe is the best mountain ski from an OEM.
The electronic fuel-injected (EFI) Genesis three-cylinder four-stroke motor measures a full 1049cc with a bore and stroke of 82.0mm by 66.2mm. Fuel delivery is via three 41mm fuel injectors. Sea level horsepower at the crank is approximately 135.
Yamaha offers a Mountain Performance Inc. (of Draper, Utah) turbocharger for its Nytro MTX that is purpose-built for the MTX mountain chassis. This turbo can be purchased from a Yamaha dealer, who can install the unit. Ensure your Yamaha dealer has MPI trained service technicians to install the rocket booster. Furthermore, when the Nytro MTX is purchased new from the Yamaha dealer, and same dealer installs the turbocharger unit, all warranties remain.
The MPI turbo is a rear-mounted unit; its intake is at the same location as the exhaust dump. The tunnel mounted exhaust system is rerouted to accommodate the intake. Unique to this system, the exhaust pipe dumps above the track with its dump pipe following the tracks' forward direction; this kills the noise from the short straight pipe. The MPI boosted motor does not need high-octane race gas, as it is a pump-gas motor requiring common premium fuel.
A stock Nytro MTX falls into the 600cc two-stroke, class; the 130 to 135 horsepower segment. A boosted Nytro MTX will hit the 175-horsepower mark at boost levels of from 7 to 8 pounds per square inch (PSI).
We all know the Nytro MTX is heavier than its two-stroke counterparts. With increased horsepower from a turbo, working the boosted MTX in the powder is simple as its power-to-weight is sweet and light.
On a particular weekend this past January, while on official assignment cutting out Snowmobile.com's Mountain Sled Shootout, I told myself that when not aboard a 2013 mountain sled, I was going to dedicate my seat time to our boosted 2012 Nytro MTX. With its powder skis up front, and clutch, turbo and motor refresh from master technician, Troy Johnson of Lincoln County Customs, Alpine, Wyo., the Nytro MTX and I became close business partners as we negotiated the steep backcountry between Alpine and Thayne.
The Nytro MTX, boosted or not and given the chance, is a comfortable and dependable snowmobile to boondock on. Now, one must understand it is weighty; and when not boosted, it runs like a 600cc two-stroke (a heavy one at that); and its handlebar swing is more attune to trail riding than mountain riding. But once understood and learned, an MTX rider will enjoy his time on it.
For model year 2014, the FX Nytro MTX rides through the season unchanged from model year 2013. As my mother would often say, "It is what it is."
But have no fear; the Nytro MTX is steady and loyal like a good hunting dog.
Now, if the Nytro MTX returns for more model years, here is what we would like to see: 1) stiffer runningboards with wider snow-dump holes and aggressive traction; 2) handlebars that swing flat like an RMK or M; 3) a larger fuel cell, nine to 10 gallons total capacity; 4) weight savings; and 5) cleaner front end lines that allow snow to slip by the Nytro rather than balling up under the nose and around the A-arms.
Yamaha offers a wide platform ski for deep powder use – the MT-9. For season 2012, we used this ski and resigned it from use for season 2013 relying on Yamaha's standard powder ski. This is your choice here, but from our experience, the MT-9 ski is suited for ultra-ridiculous deep powder. For the 80-percent time when mountain powder is not six-feet deep, the MT-9 is out of its element. We simply prefer Yamaha's standard powder ski.
The track on the 162 is designed for two purposes, long pulls up mountainsides and turbo power. This Camoplast Ascent track was designed by Yamaha, in collaboration with Camoplast, to handle high horsepower loads and not to blow off lugs or fold its lugs when torque and horsepower wallops the drive axle.
On the other hand, the 153 track, the Camoplast Maverick track, is designed to handle the 135 horsepower the Genesis 1049 delivers.
In closing, we have written about the FX Nytro MTX for numerous seasons, ever since its debut. What has been written has been written, and there is not anything new to report. The Nytro MTX is a mountain snowmobile that quietly does what it needs to do, without fanfare and noise. It has its setbacks when competing against zippy 800cc two-strokes. Yet, in its element, it is a delight.
2014 Yamaha FX Nytro MTX 153 Specs
Engine
Yamaha Genesis 1049cc four-stroke triple; throttle body electronic fuel injection with 3x41mm injectors; dual valve under seat rear exit
Horsepower
135 (estimated)
Drive
Yamaha YVXC drive and driven
Front Suspension
Yamaha FXG2 dual A-arm with high pressure Fox Float2 gas shocks; up to 8.5 inches of travel
Rear Suspension
Pro Mountain Air parallel slide rail with Fox Float 2 shocks; up to 13.8-inches of travel (15.0-inches on Nytro MTX 163)
Brake
4-piston hydraulic brake system with lightweight ventilated disc
Length
131.5 in
Width
47.6 in
Ski Stance
40.8 in
Track
MTX 153: 15 x 153 x 2.25 Camoplast Maverick
MTX 162: 15 x 162 x 2.25 single-ply Camoplast Ascent
Weight
N/A
Fuel Capacity
7.3 US Gal (Regular fuel)
Features
Digital gauge, reverse, electric start, hooked end handlebar
MSRP
MTX 153: US$12,499.00
MTX 162: US$12,899.00