2013 Mountain Snowmobile Shootout: Part I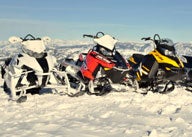 Three 800s and one 600 battle for deep-snow dominance
If I could evaluate Mother Nature on her performance the past two winters and give her some recommendations, I surely would. For the past two years, it's been a grind to pound out mountain sled evaluations with much ease.
For example, this year snow came on Christmas Eve day and from that time forward, the depth has not been overly sufficient and the snow's composition awfully dry. Furthermore, the Arctic Express pushed deep sub-zero temps onto the high slopes, which challenges timing and photography equipment. And it made handling a camera difficult at best.
Regardless, we have the greatest job in the world.
Despite the weather's inconsistencies our annual mountain sled shoot-out addresses our test results over two weekends on three high-end 800s and one sneaky 600. Sleds reviewed were: Polaris' 800 and 600 RMK Pros (155); Ski-Doo's 800 XM Summit X (154) and Arctic Cat's M8 Sno Pro Limited (153). In addition we have a turbocharged Yamaha FX Nytro MTX, which we will compare against an Arctic Cat M1100 Turbo Sno Pro in its own exclusive feature.
Of course, as always, when we report our results we give this disclaimer: "End-results are for two weekends, for those snow conditions, at those elevations." We do not declare our results as being all-inclusive except for that day, at that elevation. However, we are confident our results speak to what you, the mountain rider, are noticing about your mountain muscle sled as you throttle it against competing brands.
When we received our 600 and three 800s, we stuck to a strict motor break-in regime per manufacturer guidance. We use only OEM oil and premium-grade unleaded fuel. After the break-in cycle, we park the snowmobiles in a heated shop for five days to let snow and ice thaw from them. Afterwards we stuff the mountain snowmobiles with fuel and oil, top off the coolant reservoir, add a spare drive belt, ensure the OEM-supplied tool kit is secured on the snowmobile, and lift the snowmobiles to ascertain ready-to-ride (RTR) weights. We stay away from dry weights, since we can't make a snowmobile "dry." All lifting was done at Rexburg Motor Sports in Rexburg, ID.
After weigh-in, we gather turning and tip over results and then scamper to the mountains to setup a "hill cross" course complete with gates and timing lights. After the hill cross speed runs, we then move to a new and gentle-sloped hill to gain straight line speed run results.
Coming up in the "hands-on" review in Part II are rider reviews and their overall impressions. This year's test riders were Roger Raymond, Rigby, ID; Kim Steele, Shelley, ID; Greg Huntsman, Idaho Falls, ID; and Dustin Pancheri, Idaho Falls, ID. Longtime Snowmobile.com contributor and test rider Kevin Allred ran the timing equipment. At the end of each day, all of us evaluated each sled on its merit as a mountain slayer. These opinions will appear along with our rating results of specific mountain snowmobile characteristics such as handling, sidehilling and throttle response (1 through 5) in Part II.
All of these tests were conducted near Alpine, WY.
In this report we offer the ready-to-ride weights, turning radius and tip over stats, track speed results, and hill cross and speed run averages.
Ready-To-Ride Weights

Model
Model Year 2013
Model Year 2012
Difference (+) or (-) between model years
Polaris RMK Pro 800 155
514 lbs
530 lbs
– 16 lbs
Arctic M8 Sno Pro Limited 153
567 lbs
559 lbs
+ 8 lbs
Ski-Doo XM 800 Summit X 154
564 lbs
560 lbs
+ 4 lbs
Polaris RMK Pro 600 155
511 lbs
526 lbs
– 15 lbs
Analysis of Results: The two RMK Pro models, due to Polaris' aggressive nature to cut weight from the Pro models, were 15 to 16 pounds lighter than the previous model-year. The Pro RMK 800 is 50+ pounds lighter than same model-year M8 and XM (as well as the 600 RMK Pro). Again, these are all wet RTR weights.
The weight increases from last year's model-year to this year's model-year for the Ski-Doo XM Summit (from the XP Summit) and the Arctic Cat ProClimb M8 centers on taller or redesigned tracks for the two, a new rear suspension design for the Summit (tMotion), and some tunnel reinforcements. With that said, for the M8, the increase in weight from last year to this year is also found in the fact we learned how to burp the fuel cell and stuff an extra gallon of gas in the fuel tank.
For the XM Summit, a driver will not notice its 4-pound gain as it is a new and sweetly balanced chassis (probably the best).
The 600 RMK Pro is lighter than the 800 RMK Pro because, from our understanding, the 600 has a lighter crankshaft and smaller crankcase.
In general terms, we believe a new model-year chassis should be lighter than the chassis it replaced, or at least the same weight. But if a new model-chassis weighs the same or is a few pounds heavier, the mountain snowmobile rider will excuse this if the snowmobile is agile, light through the bars, and expertly balanced.
But, if you are a numbers geek, a mountain snowmobile that is 50 pounds lighter than its competitor means the lightweight missile is also the heavyweight in sales.
Turning Radius

Model
Right
Left
Polaris RMK Pro 800 155
24 ft. 1 in.
24 ft. 8 in.
Arctic M8 Sno Pro Limited 153
23 ft. 3 in.
23 ft. 7 in.
Ski-Doo XM 800 Summit X 154
22 ft. 5 in.
23 ft. 6 in.
Polaris RMK Pro 600 155
23 ft. 2 in.
23 ft. 5 in.
Analysis Results: Like humans, snowmobiles have a dominant side. But, in this case, the difference in a right- and left-turn on a hard-packed snow surface is between a couple inches to a one-foot radius gain. What does this mean? Nothing really.
Tip Over Angle in Degrees

Model
Right
Left
Polaris RMK Pro 800 155
51
49
Arctic M8 Sno Pro Limited 153
47
49
Ski-Doo XM 800 Summit X 154
47
45
Polaris RMK Pro 600 155
50
47
Analysis Results: Like turning radius, a dominant side exists. Smaller number means easier to roll into a hillside. However, being the degree differences are minor – two to three degrees – little negative affect is felt by the driver. Overall, driver skill matters more for sidehill attacks than minor degree variances.
Clutch Engagement at an Elevation of 5682 Feet

Model
RPM
Polaris RMK Pro 800 155
4000
Arctic M8 Sno Pro Limited 153
4000
Ski-Doo XM 800 Summit X 154
3900
Polaris RMK Pro 600 155
4200
Analysis Results: No performance gains or letdowns. These ranges are appropriate and do not suggest anything good or bad; these numbers are FYI data.
Hill Cross – Averages in Seconds Two Runs per Mountain Sled per Driver; Elevation 8150

Model
Kim Steele
Greg Huntsman
Roger Raymond
Overall Average
Polaris RMK Pro 800 155
14.94
17.85
16.92
16.57
Arctic M8 Sno Pro Limited 153
14.13
17.18
16.66
15.99
Ski-Doo XM 800 Summit X 154
15.07
16.70
17.76
16.51
Polaris RMK Pro 600 155
16.13
17.65
16.36
16.71
Analysis Results: All snowmobiles were run on a hot pipe. Depending on driver skill, how the driver negotiated the uphill course and gates, determined times. The M8 averaged the fastest time. Yet from all averages, between the slowest and fastest times, a delta of 0.72 of a second existed, not quite three-quarters of a second. The slowest average time came from the 600 RMK Pro, as expected. Yet, the 600 RMK Pro continues to be an over-achiever. What does all this mean?
First the three 800s are evenly matched with the average speed spread being 0.58 seconds. For the XM and the M8, these two mountain sleds' horsepower advantage overcame its weight disadvantage against the 800 RMK Pro. We'll address this in more detail with the Driver Impressions in Part II,
Uphill Track Speed (20-30 degree slope angle, 300-feet) Driver, Roger Raymond

Model
RPM
Polaris RMK Pro 800 155
37
Arctic M8 Sno Pro Limited 153
38
Ski-Doo XM 800 Summit X 154
38
Polaris RMK Pro 600 155
32
Analysis Results: The higher-horsepower XM Summit and M8 Sno Pro spun its tall-lugged tracks the quickest, but only by one MPH over the RMK Pro 800. Furthermore, the 600 RMK Pro with smaller motor had the slowest track speed; that is expected. All sleds were pulling proper RPM and WOT – wide open throttle.
500-foot Uphill (8-degree slope angle) Speed Run Averages in Seconds – Three Runs per Mountain Sled per Driver; Elevation 8140

Model
Dustin Pancheri
Kade Klingler
Overall Average
Polaris RMK Pro 800 155
5.49
5.29
5.39
Arctic M8 Sno Pro Limited 153
5.65
5.64
5.645
Ski-Doo XM 800 Summit X 154
5.54
5.49
5.515
Polaris RMK Pro 600 155
6.10
5.96
6.03
Analysis Results: All snowmobiles were run on a hot pipe. The RMK Pro 800 pulled the fastest times due to its reduced rotating mass (belt drive), its light weight and giving it the ability to flatly launch out of the hole keeping most its track surface on the snow. Yet, the differences among the three 800s is 0.2 seconds, with only 0.64 seconds spread between the fastest (800 RMK Pro) and the slowest (600 RMK Pro). The take away?
The 800s are evenly matched for that day and its snow conditions. Both drivers did say – Dustin Pancheri and Kade Klingler – that from launch to 300-feet, the 800 Pro was the fastest, but when the XM Summit and the M8 just passed the half-way mark, their speed built faster than the Pro 800; from the M8's and XM's horsepower advantage. The drivers did believe that had the course been 100 feet longer, the M8 or XM may have pulled the fastest times.
Summation
The 800s are, performance-wise, razor-edge close. The 800 RMK Pro proves an efficient mountain sled. The XM and M8 overcome their weight disadvantage by throwing more horsepower and torque to the track. The 600 RMK Pro is a remarkable snowmobile. It remains the surprise on the mountain; riders often say, "What the…?"
With these results over two weekends near Alpine, WY, no snowmobile emerged as the over-the-top winner. Any given day, as driver attention and snow conditions change, any of these 800s will slightly snub the other, due to track hook-up, clutch and drive train efficiency, and horsepower. One must balance out power-to-weight in their love for their snowmobile. So, for a concluding statement; that is yours to decide from the above data. Stay tuned for Part II.
Related Reading 2012 Mountain Sled Evaluations: Part 1 2012 Mountain Sled Evaluations: Part 2 2011 Mountain Sled Evaluations: King of the Hill