2014 Yamaha Viper LTX SE Review – Video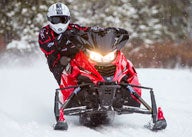 The Viper you want to own
If Yamaha got you all excited with its new cross-pollinated Viper series of snowmobiles, your biggest question has to be: Which Viper do I want?
Fast Facts
Engine Type:Horizontal In-line
Cylinders:3
Engine Stroke:4-Stroke
Valve Configuration:DOHC
Displacement:1049 / 64
Starter:Electric
Turbocharged:No
View Full Spec
For us the answer seems clear enough, but, then, we've ridden them all and even had the chance to ride all Vipers head-to-head against the Arctic Cat ZR models on which the Viper is based. And, while we've always figured we'd lean toward the base Viper with the fundamental set'em and forget'em rebuildable aluminum gas shocks, we surprised ourselves with a love-love feeling toward the Viper LTX SE – especially the Heat Red version with the black painted tunnel.
In any event, we found the Viper LTX with its 137-inch long Rip Saw track as the most versatile of the new Viper models. It's very trail friendly and the added track length lets you bridge trail stutters, gives you more footprint in fresh, ungroomed trail conditions and lets you dare to venture off trail with confidence. We really didn't feel any lack of trail aggressiveness with this longer track. It hooks up with less traction spinout and when set up properly turns into corners as adroitly as the 129-inch tracked Viper.
COMPARISON: Read our review of the 2014 Yamaha SR Viper
Let's be up front here, the LTX SE version does not get the standard heated seat and tunnel bag that comes standard with the "base" LTX. That seems like a bummer to us as this is the SE – "special edition"? We just have to settle for premium Fox Float 2 shocks on the SRV ski suspension. Mounted cleanly and out in the open for easy adjusting, the premium Fox air pressure shocks can be quickly tuned with the included air pump. The adjustability and virtual endless settings give you an infinite choice of personal comfort. And, being easily accessible, you can play with the shock settings at every stop in the day.
Only the front suspension gets the Fox air package. Both LTX models share the same rear suspension package that includes a C43 R13 gas shock on the center arm and a C53 R13 gas shock on the rear arm. This is the same set of aluminum bodied, rebuildable shocks that appear on the shorter Viper rear suspensions as well.
Designated as the SRV front end, any Cat enthusiast will quickly tell you that it's really the same tall spindle wishbone design as on the newest Arctic Cats. Take that as being a very good thing. Regardless of what it's called, the front suspension works extremely well and offers ample controlled action through its 10 inches of travel. We figure the Fox Floats should react better in truly rough conditions and be less susceptible to fade than the base shock.
Depending on how you ride, you'll find that the adjustability of the ski stance from 42 to 43 inches can be an asset. For cornering prowess on trail, wider should be better. But if you go off trail a great deal and need to get the sled to tip side to side, you may like the slight narrowing of the ski distance. Or, it may never be an issue, but it does underscore the versatility of this Viper.
RESEARCH: More information on the Yamaha and Arctic Cat collaboration
We really took a shine to the bright red Viper LTX SE. It had one of the most interesting windscreens we've ever seen. It doesn't just sit low at near handlebar height, but it features floppy side panels that are said to actually divert wind and cold away from your hands. We guess that's true. They certainly presented a flimsy feel, as they would jitter about at idle. Once on the trail we hardly ever paid any attention to this design, which must be a good thing. Right?
Regardless of the functionality, the LTX SE windscreen looks sporty in its dark translucent design. It blends nicely with the red and black color scheme on the Heat Red model. We would recommend this version over the Blue and White model, which looks great on the showroom floor. Recalling a first year white painted tunnel on an Arctic Cat model, we remember how it quickly it showed black boot marks, something a black painted tunnel won't do. And, frankly, we like this hot red Yamaha found for the new Viper. The graphics package really helps separate the Viper from its Arctic Cat ZR counterparts.
Styling and graphics aside, the Arctic Cat ZR 7000 models and the Vipers are about as close mechanically as two series of sleds have been since the partnering days of Ski-Doo and Moto-Ski or Rupp and Alouette, among others. Both the Cat ZR 7000 and Vipers utilize the same Yamaha Genesis four-stroke triple. The fuel injection system comes from Arctic Cat. The three-into-one exhaust system exits into a portside canister, all courtesy of Arctic Cat. The clutching, however, is Yamaha's YVXC primary and driven set up. Cat uses it's own clutches and here lay another difference between the two brands.
Arctic Cat seems to want a more moderate performance that is smooth, offers free-rolling off-throttle and remains consistent in using the Yamaha triple's torque reserve. We found the Arctic Cat equipped with the Yamaha 1049cc triple to be extremely smooth.
Yamaha seeks to differentiate its Vipers with more aggressive clutching and more belt bite when letting off the throttle for enhanced engine braking. As far as we're concerned, neither way is right or wrong and we know that riders will get used to either style with complete ease. We enjoy a bit more engine braking than Cat offers, and we found the Viper LTX SE we test rode more than satisfied our performance needs. Let's just state unequivocally that the addition of the Yamaha Genesis triple is the best thing to be added to the new Arctic Cat Procross sleds since they were introduced. The Yamaha proved lighter and much more responsive than the Suzuki four-stroke twin, which is still available in Arctic Cat's ZR 5000 models. This blending of Yamaha power with Arctic Cat handling works better than we ever would have imagined.
You can be cynical and say this Viper LTX SE is simply just a Yamaha-powered Arctic Cat. We won't disagree. But we will tell you that Yamaha enthusiasts will not be short changed by choosing the Viper over the ZR 7000. Despite the similarities, Yamaha managed to create a series of sleds that while based on Arctic Cat technologies are truly Yamahas in all that "Yamaha" means to its core customers. As far as we're concerned the Viper LTX SE is the best of this new breed.
HISTORY: Read about some historic snowmobile relationships
The new sculpted seat, the styling, the rider ergonomics are excellent and, of course, there is that intangible of smooth and legendary Yamaha four-stroke performance. The two series of sleds, the ZR 7000 and Viper LTX SE, may roll off the same assembly line in Arctic Cat's Thief River Falls, Minn. hometown, but know that these sleds are not twins, just very close cousins. The Viper LTX SE makes a strong case for individualization and we bet it will be the Viper you'll want, because it sure ticks off our must-have criteria.
2014 Yamaha Viper LTX SE Specs
Engine
Yamaha Genesis 1049cc four-stroke triple with 3x41mm throttle body electronic fuel injection; 3-into-one canister exhaust at port side exit
Horsepower
130 (estimated)
Drive
Yamaha YVXC drive clutch with Yamaha driven
Front Suspension
SRV Dual A-arm with Fox Float 2 shocks; up to 10.0 inches of travel
Rear Suspension
Dual Shock SR137 parallel slide rail with aluminum body HPG shocks; up to 13.5-inches of travel
Brake
Hayes hydraulic brake system mounted to driveshaft
Ski Stance
Adjustable 42-43-in
Track
15 x 137 x 1.25 Rip Saw II
Weight
N/A
Fuel Capacity
10.6 US Gal (Regular fuel)
Features
Digital gauge, tool bag, push button reverse, electric start
MSRP
US$12,949