The Yamaha and Arctic Cat Collaboration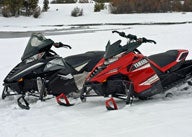 What to make of this strange partnership
In my opinion, based on more decades than I want to claim of attending these "photo-ride-impression-acquiring" new model releases, much gets said, but little comes of the talk. However, this model year 2014 made up for the past years of trying to generate some make-believe enthusiasm. How can a long-term snowmobile industry-watcher not like the Arctic Cat and Yamaha Motors hook-up? That alone makes Model Year 2014 a keeper.
While the Cat/Yamaha collaboration appears to be the most significant move at Arctic Cat, we say it's a close second to the new ZR6000 El Tigre. Here we have the return of a sled name almost as legendary as the Indy, Olympique or SRX. More important is the engine powering this sled. It is an Arctic Cat design imagined, engineered and built by Arctic Cat. It is far more important than the Yamaha 4-stroke triple that has been fitted on the ProCross chassis. The new 599cc two-stroke twin features Arctic's vision of gasoline direct injection and sets the tone for future Arctic motors to follow.
Let's look at Arctic Cat for 2014. There is a whole new structure to its engine designators. We now have horsepower-based series. And we have them for a very good reason. Model year 2014 merely scratches the surface of what's to come. The series names lay out like this:
• 5000 — Suzuki-sourced 1100cc four-stroke twin of about 120-125 hp; • 6000 — Cat's all-new direct-injected two-stroke twin of 125-plus hp; • 7000 — Yamaha-sourced 1049cc four-stroke triple of 135-ish hp; • 8000 — Suzuki-sourced 800cc two-stroke twin of 150-ish hp; • 9000 — the turbocharged version of the Suzuki-sourced 1100cc four-stroke with approximately 180 hp.
Let's figure that Arctic Cat didn't just design the 600 two-stroke as a one-off. Chances are high that the next 800cc two-stroke twin will be based on this engine and its direct-injection technology. Remove the Suzuki 800 two-stroke and replace it with a new Series 8000 Cat motor. Future Series 9000 engine(s) could easily be supercharged or turbo versions of the Yamaha 1049 triple. Yamaha has already shown that its triple can handle the power in the boosted Nytro MTX and XTX models. That leaves us with the Series 5000 for the moderate power sleds. There could be a couple of options: one, the fuel injected one-liter triple from Yamaha's Vector; or, two, finding another home for the high-revving 500 four-stroke Phazer twin and its 80-85 hp.
We anticipate a new Yamaha model per year through 2018. The short-term way to achieve that goal is working with Arctic Cat as has been done with the SR Viper. Cat could add the Phazer twin to the Sno Pro 500 chassis, but more likely add it to a new series of sleds as yet unknown.
No matter how you cut it, the Yamaha/Arctic Cat solution is here for the short-term as building up an all-new Cat-designed, engineered and funded four-stroke would not please the money managers. No, indeed not! A multi-platform two-stroke twin that can be assembled at Cat's engine facility works better on the corporate bottom line.
Plus, this Yamaha collaboration has other advantages. It adds an entire extra series of sleds to be manufactured in Thief River Falls, Minn. More work, more profit.
Yamaha seems to be taking quite a bigger gamble with its new Arctic Cat partner, er, we mean collaborator. It does mean more snowmobile engines will be sold. But it means more challenges as these two companies could not be more different. Yamaha bases its reputation on quality, fit & finish, durability and dependability. The new Viper and ZR7000 models come with a solid performance package. But, Arctic Cat's reputation calls more for performance and less about finely crafted sleds. If the Viper suffers anything akin to the first batch of Arctic Cat's F7 sport sleds, then there's a problem. Wisely Yamaha offers a three-year warranty to early Viper buyers this season.
It will also be interesting what final personality traits the Vipers have compared to the Arctic Cat ZR7000s. During our recently concluded ride impressions at the new model session in West Yellowstone, it became obvious that Yamaha had yet to settle on anything close to a final sled spec.
The first test ride of the standard Viper with the 129-inch track was disappointing. Actually it was gawd awful as the ski setup caused the sled to dart from side to side. The handlebar was over-rotated forward. The rear suspension was set for snocross and not trail riding. And the clutching was jerky. All of these things were easily fixable. Since we also had a new ZR7000 along with us, it was easy to discern the differences. After all, Arctic Cat has three years with this platform and Yamaha a few months.
During the course of our four-day session, the Viper character changed daily for the better. On Day Three, we took a 137-inch Viper LTX and an XF7000 Sno Pro for an afternoon joy ride. The two virtually identical sleds were close. The Cat freewheeled more as Yamaha folks call for more belt bite and moderate engine braking. We figure this will be a character difference between the Yamaha and the Cat.
On Day Four, we gathered up a base Viper and Viper RTX SE, both of the 129-inch track design. The Vipers were far and away vastly improved from Day One and a joy to ride. However, we did notice that the two short-trackers had some clutching changes and apparent low gearing so they would pull hard off the line and through midrange. Top end tapped out at just under 80 miles per hour. The previous day's stretch trackers were easily faster. What's the real final spec? We don't pretend to know, but it will be different than what we rode last.
We admit that we are excited about this Yamaha and Arctic Cat get together. Heck, it's the biggest thing since the 1980s when we saw snowmobile company after snowmobile company get out of the business. They were big players, too. Kawasaki left. John Deere stopped making sleds. Arctic Cat went belly up and came back under new ownership, still the only snowmobile company to pull that off. Polaris almost merged with Ski-Doo. The industry was full of news. Heading into 2014 there's quite a story looming as Arctic Cat and Yamaha learn to play to each other's strengths. While we've become jaded over the decades as we've seen corporate promises be broken, we do believe the executives from Yamaha Motors Japan when they tell us they have every intention of staying in the snowmobile business and that there will be a new Yamaha snowmobile every year up to the company's 2018 fiftieth anniversary season. We expect some will be collaborative efforts with Arctic Cat, but we are betting that the 2018 Yamaha snowmobile will be all-Yamaha. Any bets on a 2018 Yamaha SRX?
Related Reading Yamaha To Supply 4-Stroke Snowmobile Engines to Arctic Cat 2014 Yamaha Snowmobile Lineup Unveiled 2014 Arctic Cat Snowmobile Lineup Unveiled