2015 Yamaha Phazer M-TX Review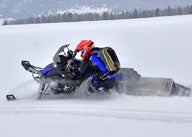 Yamaha's budget-friendly 500cc mountain player
Are you looking for a relatively low cost and effective entry into off-trail boondocking? Yamaha has the answer. With a price of US$8,649, Yamaha's twin cylinder four-stroke Phazer M-TX offers attractive benefits to the snowmobiler who wants to make his mark in marginally deep fresh powder. If you are a rider setting off to say "Hi Mark," from atop a high mountain peak after busting out a killer high mark, then stop here and move onto our features on 800 powered mountain muscle sleds, and boosted snowmobiles such as Yamaha's own RS Viper M-TX with turbocharged power. But, if you are looking for a vehicle that will deliver low speed and gentle off-trail riding, without high costs, then the Yamaha's Phazer M-TX is built for you.
Let's ask a rhetorical question. Why would you want a Phazer M-TX? Because you are a simple rider with no complications in your life to unravel, and the only thing you want to prove is that Rocky Mountain snow can be enjoyed with little cost and weight.
We are not going to declare: "The Phazer M-TX is the hidden secret to mountain domination." What we do declare is: "The Phazer M-TX is a fun and lightweight mountain snowmobile that will delight many who have little desire to hit the steep-and-deep with the 600s and 800s." Those who want to experience the snow-dressed Rockies, Midwestern hills and Northeastern slopes with just enough power to get it done, the Phazer M-TX, with its low weight, will bring much fun.
COMPARISON: Read our review of the 2015 Polaris 550 Indy Adventure 155
The Yamaha Phazer M-TX, since its introduction a decade ago, has remained basically the same. Beyond some reliability updates over the years, the Phazer M-TX has been pretty much left alone.
At a MSRP of just US$8,649, the Phazer M-TX comes fully equipped with:
•Engine – Two-cylinder liquid-cooled four-stroke with a displacement of 499cc from a bore and stroke of 77mm x 53.6mm
•Fuel delivery – Two 43mm Keihin fuel injectors, one per cylinder
•Ignition – Digital with throttle position sensor
•Exhaust valves – Two at the rear dump
•Clutches – Yamaha's proprietary YVRC
•Disc brake – Two-piston hydraulic with lightweight ventilated disc
•Front suspension – Independent, double wishbone
•Front shocks – Gas cell
•Rear shocks – 36mm High Pressure Gas
•Rear Suspension – ProMountain 144
•Track – 14 x 144 x 2-inch Camoplast Maverick
The Phazer M-TX has just enough power for a healthy spin of its 14-inch wide track with its two-inch tall lugs. Thanks in part to its 144-inch long track, the Phazer M-TX is a playful gripper in loose snow. The 80-ish horsepower of the 500cc twin-cylinder four-stroke is not likely to break the track loose from any powder condition. This allows the driver the assurance the sled will always hook the snow and move forward.
Yamaha's Genesis four-stroke twin is a high revolution spinning motor like the four-cylinder Apex engine. And like that motor, Yamaha had to add a gear reduction component, bringing revs down to about 8,000 to accommodate the YXRC snowmobile clutching. This is a free-revving engine that ramps up quickly. Its clutch engagement, low-speed motion and mid-throttle performance are similar to larger displacement two-stroke-powered snowmobiles.
COMPARISON: Read our review of the 2015 Ski-Doo MXZ Sport ACE 600
Pushing in the throttle flipper opens up the twin 43mm Keihin throttle bodies used with Yamaha's electronic fuel injection system. The Phazer's motor reacts quickly to all manner of external and internal factors such as throttle input, ambient temperature, engine speed and altitude. This is modern technology. With the throttle body intake pointed toward the nose to suck in cool air, the exhaust routes its spent fuel mixture out the back and straight under the seating area with minimal restrictions. This engineered feature is clean and simple. Another benefit of this proprietary intake and exhaust routing is that it aids the Phazer's overall ergonomics and directly contributes to its balance and handling. Furthermore, this gives the Phazer a low engine position and centralized weight. What does all this jargon mean? The Phazer M-TX, though a low horsepower snowmobile, is freakishly flickable.
This is one of the most agile mountain snowmobiles we've ridden due to its lightweight, narrow track and overall vehicle length of 125.7 inches. The ProMountain 144 rear suspension gives the Phazer M-TX big mountain control.
Just as all Yamaha four-stroke snowmobiles do, the Phazer M-TX comes equipped with electric start, which snaps the engine to attention within a one-second roll of the key. Also, surrounding the rider is a friendly cockpit that provides good wind and snow protection as the windshield rotates with the handlebars. Although a somewhat diminutive sled overall, the runningboards are wide, giving ample territory for a wide boot fella.
The motor has ample torque to carry the sled and its rider, but this is no monster. Yamaha knows this and it does not promote the Phazer M-TX as a highmarking wonder child. Yamaha does promote the Phazer M-TX as a boondocking mountain sled, which it is. Different levels of boondocking exist for riders at different levels. I would regard the Phazer M-TX as a beginner's boondocker. It's also a hearty mix of crossover, trail and mountain snowmobile, that works its way to the top of a respectful mountain top without blazing speed; crisscrossing the powder in old school style.
On the snow, this 10.5-foot long skinny mountain sled is fairly responsive. It only takes a little learning to make it lean into a hillside. Centered weight helps, but so does its narrow 14-inch track and properly placed handlebars. The bars sit forward and are elevated just at the right height to allow riders to stand when motoring over rough areas, letting the snowmobile respond quickly when maneuvering through off-trail powder.
COMPARISON: Read our review of the 2014 Polaris 600 Pro-RMK
But, will it run with the 600s and 800s as mentioned in the beginning? No, not really. Will it play in the backcountry? Yes. The Phazer M-TX has limitations, due to motor displacement and track width, but it will allow you to enjoy nature's best wintertime beauty. When teaching a beginner about backcountry riding, this is the lightweight snowmobile I would start them on.
The Phazer M-TX delivers reliable performance for years. It's the little mountain snowmobile that can – within reason.
2013 Yamaha Phazer MTX Specs
Engine
Yamaha Genesis four-stroke high-performance 499cc; bore/stroke of 77.0mm/53.6mm; two-cylinder, liquid-cooled; 2x43mm liquid-heated Keihin throttle bodies; rear exhaust; electronic fuel injection system
Horsepower
80 (claimed)
Drive
Yamaha YXRC drive clutch with Yamaha driven; push button electronic shift reverse
Front Suspension
Yamaha double A-arm; extruded aluminum spindles; gas cell shocks; up to 8.7-in of travel
Rear Suspension
Yamaha ProMountain 144; 14.3-inches maximum travel; 36mm high pressure gas shocks
Brake
Hydraulic brake system with ventilated disc; mechanical parking brake
Length
125.7 in
Height
46.8 in
Width
45.0 in
Ski Stance
38.6 in
Track
14 x 144 x 2.0 Camoplast Maverick
Weight
N/A
Fuel Capacity
7.0 US Gal (Regular fuel)
MSRP
US$8,649/C$9,749