2014 Polaris 600 Pro-RMK Review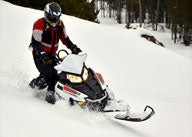 Polaris' 600 Pro RMK is not an 800, it just thinks it is
Not a dominant force on the mountain like an 800, the Polaris 600 Pro RMK, in its class, is a dominant mountain snowmobile and a force to be reckoned with.
Fast Facts
Engine Type:Horizontal In-line
Cylinders:2
Engine Stroke:2-Stroke
Valve Configuration:Reed Valve
Displacement:599 / 36.5
Starter:Pull
Turbocharged:No
View Full Spec
After riding and evaluating Polaris' lightweight 600 Pro RMK with the Quick Drive Low Inertia belt drive system during the 2012-2013 winter season, it proved to be a delight to pilot on the mountains. In fact, the model year 2013 Pro 6 was my favorite mountain sled for last season. That is unusual, given that we spend most of our sled test time riding 8s and turbo four-strokes. For our many guest test riders, and us at Snowmobile.com we admired the Pro 6's can-do, will-do attitude. When riding the 600, riders would ride it wide-open throttle (WOT) in the trees without worry. As test rider Kim Steele said, "It was nice not to have to pulse the throttle while navigating through steep ravines and gullies."
COMPARE: Read our review of the Polaris 800 Pro-RMK 155
For 2014 the 600 RMK Pro remains very much a winner. It flexes its muscles from its little 599cc motor and sprints to the finish line. The 2014 600 RMK Pro 155 is worthy of praise. Maybe it is not an 800, but RMK 6 is all "Pro."
For 2014, the Pro RMK 600 155 remains a facsimile to the 800 Pro RMK except for its smaller motor. It comes equipped with:
• QuickDrive Low Inertia belt drive system
• Carbon fiber overstructure
• Bonded A-arms
• RMK Pro-Lite seat
• Walker Evans shocks
• ProTaper handlebars
• Minimal controls and adjustable kill switch
• Multi Function Gauge with three-minute record
• PowderTrac runningboards
• Ice scratchers
• Carbon fiber rear bumper
From this list, you can surmise the Pro 6 is flickable, fun, and a Pro in every way. And yes, it too is a 417-pound dry-weight snowmobile.
The 600's motor is a Liberty CleanFire electronic fuel injected (EFI) motor that has a displacement of 599cc and a bore and stroke of 77 x 64 mm. Like the 800, it has throttle position and detonation sensors and Polaris Electronic Reverse Control (PERC).
Side panel lines are flat and flush with the width of the PowderTrac runningboards. This gives the 600 clean lines from bumper-to-bumper which delivers uninhibited sidehilling; the chassis does not push out from a slope.
Polaris' 600 Pro RMK is equipped with ice scratchers on the "Coil-Over Rear Suspension." It has the capable Series 5.1 2.4-inch paddle track, and Pro Ride RMK front suspension. Track length for the Pro 600 is 155, nothing shorter, nothing longer.
The QuickDrive belt drive system includes a lightweight brake, extruded drive shaft and maintenance-free belt. From our visits with Polaris at the Western ride review of 2014 models, the Pro 600 for MY2013 did not experience drive shaft failures. We support this, as our 2013 test unit had no QuickDrive failures. Of our two Pros, the 600 was the Pro we rode the hardest, because we threw it into stupid 800 situations where even a mountain goat would puke.
But, being Polaris has elevated the Pro to superstar status, the 2014 600 Pro, like the 800, receives all QuickDrive updates. These updates include a new belt that runs cooler and is stronger, a bonded shaft with tightened dimensional tolerances on the forged end, and a collar at the joint.
RESEARCH: Read our 2013 mountain snowmobile shootout
The fuel-injected motor, with factory-installed single exhaust pipe, builds about 130-135 horsepower at optimum RPM. This is sea level horsepower, mind you. Power drops off with elevation.
The Pro 6 has a narrow profile, which makes it slippery through tight trees. Too, the narrow profile allows the sled to stick a sidehill with ease; credit its narrow PowderTrack runningboards, which prevents the chassis and track from lifting away and out from a slope as the driver powers through a sidehill.
The Pro-Lite seat complements the chassis in that it is both narrow and short. When riders stand to swing a foot from one side to the next, the seat's tail does not catch a foot slowing down or stopping the needed quick step. Having a proper sized seat is important for mountain riders.
The Pro handlebars swing flat, like a motocross dirt bike, being the bar post is "vertical;" flat rotating bars allow the rider to stay square – shoulders and arms remain in-line to the horizon. This means the driver is not pushing down and pulling up on the bars, throwing off body position.
While we like the Pro Taper bars, we feel they should be dropped two to three inches. We find ourselves over the hood – loading up the front end too much – when reversing a downhill sidehill to return back up a hill. We also prefer the standard RMK hooks to the Pro hooks. The standard RMK's curl-down hooks are more ergo friendly.
We wish the Pro 600, like the Pro 800, had some storage. Because it does not, be sure to purchase a seat bag and handlebar bag. With many riders wearing "Avy" bags (avalanche air bag systems), the Avy backpack has little to no room to haul food and hydration – given that remaining Avy bag room goes to the probe and shovel.
The multifunction gauge has great features such as three-minute playback and elevation and atmospheric temperature. But, we wish it were a look-up gauge, peering up to the rider like the Cat M8000 and Ski-Doo XM Summit.
The Pro 600's Gripper ski is a good powder ski. There was a time when a ski either made or broke a mountain snowmobile's persona. With today's lightweight mountain chassis, the ski is not as deeply critical – though it still plays a part. The wide Gripper ski floats the chassis and its deep keel carves out left and right turns. Now, I must also call myself out, on some chassis, the ski can hinder a mountain sled's performance, such as Cat's ProCross ski on the ProClimb M8000. The narrow ski hinders the M8000's deep-powder ability.
COMPARE: Read our review of the Polaris 600 Switchback
As we wrote last year and continue to herald, the RMK Pro 600 has returned some old school fun to backcountry boondocking; the 600 Pro demands its rider to earn the summit.
Most mountain riders are 600 fellows anyway, but we mountain riders like big bore snowmobiles. Yet, we believe those who ride a 600 – such as the Pro 600 or Ski-Doo's Summit SP 600 – with some dedication, will keep up with the 800s. The 600 Pro RMK, by all intents-and-purposes, is not a less-than sled.
As a side note, we would like to see Ski-Doo (BRP) produce an XM Summit X 600 to compete against the Pro 600. That would be a fun shootout.
In closing, the 600 is not an 800, but don't tell it, as it believes it is.
2014 Polaris 600 Pro-RMK 155 Specs
Engine
Polaris Liberty, 599cc two-stroke, liquid-cooled, twin; Cleanfire electronic fuel injection
Horsepower
125+
Drive
Polaris P-85 drive with TEAM LWT driven
Front Suspension
Pro-Ride RMK adjustable A-arm suspension; Walker Evans gas shocks; 9.0-inches of travel; uses Polaris "Gripper" skis
Rear Suspension
Polaris RMK coil-over parallel rail slide with Walker Evans shocks; up to 16.0-inches of travel
Length
129.0 in
Width
46.5 in
Height
51.0 in
Ski Stance
Adjustable from 39-41-in
Track
15 x 155 x 2.4 Series 5.1
Features
Standard: Pro Taper handlebar, digital multi-function gauge, electronic reverse
Options: 12v-DC outlet, electric start, seat support with luggage, mirrors
Weight
417 (claimed)
Fuel Capacity
11.5 US Gal
MSRP
$10,899