2015 Yamaha Phazer RTX Review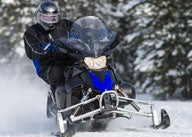 Has Yamaha's Phazer concept met expectations?
Yamaha's Phazer traces its ancestry back to 1984, when the fan-cooled, strut suspension-equipped original first hit the snow and drove Yamaha to Number One in sled sales. That original was a home run. It gained popularity because it was light, nimble, reliable, durable and went just about anywhere you wanted to go. Since 1984 there have been three other iterations of Phazer-branded successors.
Fast Facts
Engine Type:Parallel Twin
Cylinders:2
Engine Stroke:4-Stroke
Valve Configuration:OHV
Displacement:499 / 30.4
Starter:Electric
Turbocharged:No
View Full Spec
When the original Phazer faltered in sales, Yamaha brought out a revised Phazer II, which never enjoyed the success of the original as Polaris and Arctic Cat gained in popularity with the Indy and Prowler-based models. That was the last of the telescopic strut Phazers, which lasted up to 1998.
By the turn of the century Yamaha joined the status quo and sold sleds with its own double A-arm front suspensions, including a new fan-cooled Phazer 500. This version gave dealers a low-buck fan-cooled two-stroke model that used the underpinnings and "look" of the higher priced and liquid-cooled models. It lasted to 2001 when Yamaha went away from two-strokes and began to emphasize four-stroke power by introducing the all-new high performance 1000cc RX-1.
Now we get to the current model Phazers, the ones with the high-revving 500cc four-stroke twins. Introduced in 2007, these Phazers were meant to revive the original Phazer concept of providing owners with an affordable, lightweight fun option. Yamaha expected its newest Phazer to attract younger and new-to-the-sport riders and reinvigorate the marketplace just as the original had done two decades earlier.
The idea was a good one and Yamaha engineering backed up its marketing goals with solid and creative engineering. The latest Phazer models got a 499cc liquid-cooled four-stroke that was both clever and unique to snowmobiling. The new Phazer-specific Genesis 80FI four-stroke developed 80 horsepower between 10,700 and 11,300 revs. At 8700 rpm the twin cranked out 62 ft/lbs of torque. To get the clutching to survive the high revs of the engine, Yamaha engineers utilized a gear reduction system that turned the engine's peak 11,000 revs down to a clutch-able maximum of 7,700 rpm at peak horsepower.
The 500cc twin relied heavily on Yamaha engineering's ability to mate a high tech electronic fuel injection system to it. The EFI system relied on an ECU to gather data from five sensors – intake temperature, atmospheric pressure, cam angle, throttle position and engine speed. In addition the engine featured a high compression ratio of 12.4 to one, which required development of an automatic pin decompression system within the exhaust camshaft. Although Yamaha recommends premium grade 91-octane fuel, the engine's Knock Control System allows occasional use of lower octane grades.
Until Ski-Doo developed and brought out its 90 horsepower ACE 900 family of sleds, Yamaha enjoyed a monopoly within the four-stroke 80 to 100 horsepower category. Both sled makers compete head to head in categories such as the trail sports category, where the Yamaha Phazer RTX goes up against Ski-Doo's MXZ TNT ACE 900.
COMPARISON: Read our review of the 2015 Ski-Doo MXZ TNT ACE 900 + Video
The 2015 Phazer RTX is specifically aimed at providing reliable, yet relatively low cost rough trail performance. All along, Yamaha engineering planned that its Phazer would be dirt bike-like on the snow. It was to fit aggressive riders with features that they'd need to enjoy high impact days on rutted out trails. In fact Yamaha figured that Phazer RTX riders would seek out rough sections and set up the sled accordingly.
While the engine at 80 hp won't snap the skis upward like a Nytro's triple, the sled's balance invites that action as the rider, like on a dirt bike, can move back off the seat and yank on the bars for front-end lift.
Check out the Phazer RTX's Dual Shock CK rear suspension. This floating link system features cam-type rear torsion spring preload adjustments. The front limiter straps can be adjusted for more or less lift, improvements in weight transfer and adjustments to ski pressure, depending on your preferences. The dual shocks consist of one 36mm high-pressure gas and one 40mm compression clicker shock with an external piggyback reservoir.
Since the Phazer RTX rides on a narrow 14-inch wide Camoplast Ripsaw track, you can anticipate more action from side-to-side when rolling into a corner. Again the reaction is designed to emulate a dirt bike's action. That also comes into play with the rider forward positioning and narrow chassis width.
Although the Phazer chassis may be narrow, it isn't compromised one bit. The Phazer's FX platform is unique to this series and was intentionally designed to be extremely light and incredibly rugged thanks to Yamaha's use of proprietary die cast methods and chromoly tube construction.
Over the years we've noted that the Phazer seems too narrow sometimes, but understand that this sled with 80 hp is expected to be a handling sled first and a go-fast sled third! The Phazer's DNA shouts of wide open throttle handling. The steering post sits upright and tall so it can be grabbed from a standing position. The seat sits up to accommodate you when standing upright and slipping front to back for control. Engine placement is extremely low with the drive clutch mounted about even with the rider's knee. Even the exhaust has been moved to the rear to help create and centralize the overall mass.
COMPARISON: Read our review of the 2014 Yamaha Phazer XTX + Video
Don't kid yourself, at US$8,649, the 2015 Phazer RTX represents a terrific value for riders who enjoy banging the trails and challenging themselves over deep moguls and through tight-packed corners. Accounting for all the economic swings over the past few years, that 2015 base price for the Phazer represents an increase of only US$1,050 since the 2008 model year.
Things that the current Phazer has that those earlier versions did not? There is the addition of new-for-2015 Yamaha Tuner Dual-Keel skis, which can be "tuned" to your riding style while reducing trail "chatter" and darting. You get Fox Float shocks up front along with lightweight extruded aluminum spindles.
The Phazer RTX retains the original "Phazer" concept of a sled that is fun to ride, affordably priced and lightweight with a nimble on-trail handling character. Now in its eighth season Yamaha's Phazer retains its basic fun-to-ride personality along with added upgrades that make it more reliable and durable.
The Phazer and Yamaha logos on the RTX represent all that is positive about Yamaha-engineered and Yamaha-built snowmobiles. Push button electro-mechanical reverse, electric start, ride forward seating and a ventilated hydraulic disc brake are all things you expect but frequently take for granted with a Yamaha-built sled. It's all standard as Yamaha's fourth generation Phazer retains the original's intentions.
2015 Yamaha Phazer RTX Specs
Engine
Yamaha 499cc four-stroke; bore/stroke of 77.0mm/53.6mm; two-cylinder, liquid-cooled; electronic fuel injection system utilizing two liquid-heated 43mm Keihin throttle bodies; rear-exiting, underseat exhaust
Horsepower
80
Drive
Yamaha YXRC drive clutch with Yamaha driven
Brake
2-piston hydraulic disc brake with ventilated lightweight disc
Front Suspension
Yamaha double A-arm with Fox Float aluminum shocks; up to 8.6-in of travel
Rear Suspension
Yamaha Dual Shock CK parallel slide rail with one 36mm aluminum gas shock and one 40mm "piggyback" reservoir shock with compression "clicker" adjustability; up to 16.2-inches of travel
Length
111.0 in
Height
52.8 in
Width
47.8 in
Ski Stance
42.5 in
Track
14 x 121 x 1.0 Camoplast Rip Saw
Fuel Tank
7.0 US Gal
Features
Electric start, push button electronic shift mechanical reverse, speedometer/odometer, halogen headlight, one-year limited factory warranty
Price
$8,649