2016 Yamaha Vector X-TX 1.75 LE Review + Video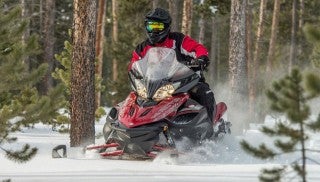 Updated engine, new suspension and improved off-trail traction
When it comes to beating the bushes off trail, Yamaha offers more out-and-about snowmobiles than just about any other sled maker. These aren't simply variations of a sled chassis with different gear. Yamaha gives you a choice of two distinct off-trail platforms equipped with different, albeit similar, power options. While these sleds carry a similar X-TX model identifier, you need to pay attention how each option fits your riding style.
The Viper X-TX series, built on an Arctic Cat platform but powered with the so-called high-performance Yamaha four-stroke triple, represents the most serious off-trail option. It's lighter in overall feel and designed with a tall spindle front suspension with Fox Float 3 EVOL shocks.
With the changes made to the 2016 Vector X-TX 1.75 LE, this core Yamaha-built off-trail model may be the better choice overall for Yamaha purists. That conclusion came as a surprise to us. That judgment is based on how sweet the Yamaha Chip Controlled Throttle (YCCT) equipped engine has become and the confidence the all-new SingleShot 146 rear suspension gives you. When you look at a snowmobile, the key components are engine and suspension, both of which Yamaha improved.
Granted, the Vector platform is not as nimble as the Viper design. You sit a bit lower and popping up to address a hidden off-trail obstacle takes a bit more effort and reaction time. Let's accept that and look at what the 2016 Vector X-TX is all about.
The X-TX concept varies. The basic Vector X-TX features a 146-inch length RipSaw II track with 1.25-inch lugs. This fits most on- and off-trail rider needs. When combined with the all-new SingleShot 146 rear suspension, you get very good on-trail ride with above average grip for powering down ungroomed trails or playing in open meadows. This is a more on- than off-trail sled and a good choice for folks that like to make miles regardless of trail conditions.
Yamaha dials up off-trail performance by virtue of fitting the Vector X-TX with a more aggressive Camoplast Backcountry track with taller 1.75-inch lugs and an arched lug pattern to give better than average traction in soft snow. The track design sprung from snocross racing and includes staggered lugs with rigid support and a rubber compound that provides all-around good performance on or off trail. The Backcountry is used on the Vector X-TX, while Yamaha specifies a 141-inch Cobra track with 1.6-inch cupped lugs for the Viper X-TX.
COMPARISON: Read our review of the 2015 Yamaha Viper XTX SE + Video
The return of the Backcountry track reflects the fact that Yamaha's new SingleShot suspension design can be stretched out to accommodate its 146-inch length. Previously, Yamaha offered a 144-inch version on its 2014 Nytro X-TX 1.75.
Since Yamaha expects Vector X-TX 1.75 LE owners to spend more time off trail than on, the sled comes with premium shocks. The double A-arm front unit gets Fox Float 3 shocks to control the 8.5 inches of travel. The SingleShot 146 uses the extra volume Fox Float 3 XV shocks for its 13.8-inch range of rear travel.
Also added into the equation is the addition of Yamaha's proprietary Performance Dampers, which are mounted to the front and rear of the sled. They are said to reduce chassis vibration, add stability and enhance control over bumps and rutted trails.
You will find the steering on both X-TX models, regardless of chassis, feels relatively light, requiring low effort. The key, though, is that the Viper uses chassis balance and component placement to gets it low effort steering. The Vector uses an artificial add-on, electric power assist, to achieve its light through the handlebar feel. The EPS adds weight that gets back to you if you constantly pound the sled off trail. Yes, the steering is easy and light. But the Vector weight will wear at you more.
COMPARISON: Read our review of the 2016 Polaris 800 Switchback Pro-S + Video
That is one key reason we view the Viper X-TX as the serious off-trail runner and the Vector X-TX 1.75 as the moderate off-trail performer. It will be more adept than the basic Vector X-TX. The Vector X-TX 1.75 LE would fit us best of the three. We like the ego shock package, the promise of the Backcountry track grip, but prefer the advantage of power steering and the overall quality of Yamaha's core models. Although the Viper X-TX carries a Yamaha logo and warranty, the Vector X-TX 1.75 reminds you of the difference between Yamaha-built and partnership manufacturing. Everything seems to fit better on the Vector. The Vector's newly updated YCCT engine seems more refined and, perhaps, even a bit more appliance-like than the box engine used in the Vipers. Even the exhaust note resonating from under the Vector seat carries more authority than the mumble emanating from the Viper's side-mounted exhaust canister.
We've enjoyed the hearty torque of the Yamaha's 1049cc triple from the get go. Where the Apex stuns us with the sheer ferocity of its high rev four-cylinder engine, the Vector satisfies with trail-useful torque and excellent low to mid-range performance. For off-trail running, that low end torque is a big advantage. Now with the addition of YCCT, you can better fit the engine performance to your riding style. Punch up the electronically controlled Sport mode to gain the quickest throttle response. If you prefer more linear engagement from low end through mid-range, switch to Touring mode. Hopefully you won't need to change to E mode, which optimizes economy and suggests that you're running low on the sled's 9.2 US gallons of fuel and want to conserve gas. YCCT is only available on core Yamaha models like the Vector and Venture series and not shared with the partnership-built Vipers.
Arctic Cat does enjoy a deserved reputation for building sporty snowmobiles, a reputation that Yamaha's Vipers gain by osmosis. Don't think for a minute that Yamaha's Vector falls short when it comes to sport performance. The Vector X-TX 1.75 pre-curved handlebar is an equal to the Cat's design. Once Yamaha decided to create an ergonomic handlebar set, it created a masterpiece of comfort that fits exceptionally well for spirited riding. Combined with power-assisted steering, the handlebar offers ample leverage whether maneuvering slowly around stumps or downed trees off trail or holding a line dirt-tracking around a corner.
The seat gives you ample comfort as well as storage for spare goggles, mitts or water bottles. Still, as alluded to previously, it does strike us as being a bit lower than we'd like; definitely more attuned to on-trail wants than off-trail needs. Once seated, though, you'll have excellent protection from wind or off-trail snow blow back.
We have to think that Yamaha falls prey to the "if it works, don't mess with it" line of styling. If you don't own a Yamaha, chances are the current Vectors look pretty much like the Vectors from five years ago. In fact the Vectors of 2016 have evolved quite a bit in recent years. Well, mechanically, if not stylistically. That perception of being virtually unchanged, even if untrue, doesn't inspire much desire to buy new. So even though Yamaha's Vector has really come around for 2016, Yamaha actually shoots itself in the snow boot by maintaining the same style. The Cat-built Viper looks new and different, for a Yamaha, and is selling well. The Vector? Retains styling from past versions, even if it has been substantially upgraded.
COMPARISON: Read our review of the 2014 Yamaha Apex XTX SE
Which X-TX would we recommend? For aggressive, full-time off-trail riders, you'll probably want the Viper and its Arctic Cat off-trail heritage. If you are a 50-50 rider, half of your time on trails and half off them, the in-season Vector X-TX 1.75 will be more than adequate. If you tend to ride more off trail than on, but like the quality, fit and finish and latest engine upgrades, you needed to choose early for the pre-season LE version, Vector X-TX 1.75 LE. While we like the Viper X-TX, of the three choices, we prefer the Vector X-TX 1.75 LE with its premium shocks and other upgrades like YCCT and SingleShot 146 suspension. It will do well off trail but will be an exceptional ride for marked but ungroomed trails or those end-of the-weekend trails that don't see a groomer between Thursday night and Monday afternoon.
As a side note, let's just say that if you haven't tried a Vector in the past few seasons, ask for a test ride when the snow hits. Take a close look at the 2016 Vector X-TX 1.75 LE (a Spring-only early season special model) or 2016 Vector X-TX 1.75, which is available all season. The in-season won't have Fox Floats up front nor factory-fitted Performance Dampers, but it shares the Backcountry track, SingleShot 146 rear skid and YCCT engine upgrade. If the dealer has an older Vector on the show floor, compare the changes sled to sled. You'll be surprised and, probably, impressed as to the changes Yamaha has made in its core models.
2016 Yamaha RS Vector X-TX LE
2016 Yamaha RS Vector X-TX
2016 Yamaha SR Viper X-TX LE
Engine
Yamaha three-cylinder, four-stroke mid-performance 1049cc; bore/stroke of 82.0mm/66.2mm; liquid-cooled; YCCT 3x41mm throttle body electronic fuel injection system; dry sump lubrication
Yamaha three-cylinder, four-stroke mid-performance 1049cc; bore/stroke of 82.0mm/66.2mm; liquid-cooled; YCCT 3x41mm throttle body electronic fuel injection system; dry sump lubrication
Yamaha Genesis three-cylinder, four-stroke high-performance 1049cc; bore/stroke of 82.0mm/66.2mm; liquid-cooled; 3x41mm throttle bodied electronic fuel injection system; dry sump lubrication
Horsepower
125-plus
125-plus
130-plus
Drive
Yamaha YVXC drive clutch with Yamaha driven; magnesium chaincase and cover
Front Suspension
Yamaha double A-arm with Fox Float 3 shocks; up to 8.5-in of travel; Tuner skis
Yamaha double A-arm with 36mm KYB aluminum-body shocks; up to 8.5-in of travel; Tuner skis
Yamaha SRV tall A-arm with Fox Float 3 EVOL; up to 10.0-in of travel; Tuner II
Rear Suspension
Yamaha SingleShot 146 parallel slide rail; aluminum high-pressure Fox Float 3 XV shock; up to 13.5-inches of travel
Yamaha Dual Shock SR 141 parallel slide rail; aluminum high-pressure Fox Float shocks; up to 14.5-inches of travel
Length
121.7 in
125.0 in
Width
47.3 in
48.0 in
Height
47.6 in
NA
Ski Stance
42.5 in
Adjustable 42-43 in
Track
15 x 146 x 1.75 Camoplast Backcountry
15 x 146 x 1.25 Camoplast RipSaw II
15 x 141 x 1.6 Camoplast Cobra
Brake
Dual piston hydraulic brake system with ventilated disc
Radial master cylinder hydraulic brake system with disc mounted on drive shaft
Features
Digital gauge, reverse, electric start; electric-assist steering Yamaha Tuner skis; Yamaha performance damper
Digital gauge, reverse, electric start; electric-assist steering Yamaha Tuner skis
Two-stage heated seat, dash-mounted heated goggle bag, rear storage bag, digital gauge, push button reverse, electric start
Fuel Capacity
9.2 US Gal
10.0 US Gal
MSRP
$13,199
$12,399
$13,699