2015 Yamaha Viper XTX SE Review + Video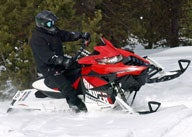 Yamaha's four-stroke grunt gets a serious chassis for off-trail banging
How do you like your sled? With a short track? Midsize track? Off-trail track? Or, super long mountain track for deep powder? Check out Yamaha's 2015 Viper line. It gives you solid choice – and then some!
Fast Facts
Engine Type:Horizontal In-line
Cylinders:3
Engine Stroke:4-Stroke
Valve Configuration:DOHC
Displacement:1049 / 64
Starter:Electric
Turbocharged:No
View Full Spec
The basic trail sport Vipers feature a 129-inch track. For smoother on-trail cruising you move up to a 137-inch track with the LTX models. For serious on- and off-trail running, the XTX bites into the snow with a 141-inch track length that sports 1.6-inch tall lugs. This is the Viper for serious riders who spend more time making their own path than following a groomed one.
For 2015 the Viper XTX SE blends the reliable performance of Yamaha's famed 1049cc three-cylinder 130-horsepower four-stroke with an agile chassis and suspensions tuned for rough riding. Although not designed for full time mountain running, the XTX brings powder sled features to the flatland adventure rider that lets him break free down closed off fire roads and challenge deep snow mountain slopes. Features borrowed from authentic deep powder runners like the mountain strap let riders ease the sled over for quick turning when cutting through back country tree stands or making a hillside cut.
The Viper XTX SE is a true crossover sled but with a serious expansion of versatility. It'll give you good groomed trail cruising capabilities. However, its off-trail manners will impress as it comes standard with a Camoplast track that lists a 1.6-inch lug profile as standard equipment. Had you opted for the early season buy-in of the limited build XTX LE, you would get more standard bite with the LE's Power Claw track, which offers a taller 2.25-inch lug height. Either version of Yamaha's 2015 XTX allows you to narrow up the ski stance an inch from a maximum of 43 inches to 42 inches. This makes the sled a bit easier to lay over in deeper snow and affords more agile handling in forested terrain.
COMPARISON: Read our review of the 2015 Ski-Doo Renegade Adrenaline 600 ETEC
The Viper XTX models have few serious competitors in the four-stroke crossover segment. Obviously Arctic Cat's XF 7000 Cross Country model competes as its a virtual knock-off the Viper – except for the use of Arctic Cat clutching instead of Yamaha's proprietary drive and some other name badging differentiators. Ski-Doo fans can look to the Renegade Adrenaline with the Rotax 1200 4-TEC as it poses a worthwhile challenge in this grouping. Although the Ski-Doo has a shorter 137-inch track with shallow 1.25-inch lugs, this sled is a serious option with its all-new RAS2 front suspension and standard rMotion rear suspension design. Power will be similar, though the Yamaha feels a bit more aggressive at the throttle. The Ski-Doo offers a lower price and there is that difference of nearly $2000 between the two. The difference in price is real, but the difference in value depends on the buyer's perceptions. Ski-Doo versus Yamaha? Yamaha versus Ski-Doo?
Regardless of that outcome, the 2015 Yamaha Viper XTX SE follows the same philosophy that Yamaha brought to the original XTX series, which first showed up as a special Nytro model. Bred for robust off-trail riding, the Nytro XTX evolved into a specialized model as Yamaha sought to give buyers a chance to exercise their fantasies of themselves as serious off-trail types. The stretch-tracked models, such as today's Viper LTX, offer some off-trail capabilities, but it was the use of the longer and more aggressive Camoplast Cobra track that provided riders the opportunity to not only say they were serious off-trail types but could back up their claims with a sled equipped to get off and stay off trail. Track length and lug height proved to be a starting point.
COMPARISON: Read our review of the 2015 Polaris 800 Switchback Assault 144
The Nytro and its replacement, the Viper XTX, gained premium shock packages front and rear, an aggressive riding position and even a mountain strap that added to the sled's look of being a serious off-trail performance snowmobile. Yamaha suggests that the Viper XTX suits the wants of riders who spend more time off trail than on. That percentage of use has been suggested as close to 75 percent off-trail. Maybe, we can't prove otherwise, but for flatland riders we find that number a bit high. Still, the benefit of the XTX is that it will be right at home in snow-rich areas like Michigan's Upper Peninsula and areas like upstate New York and Ontario where Great Lake effect snows fall in feet, not inches.
Yamaha's Viper XTX and its Arctic Cat first cousin XF 7000 Cross Country benefit nicely from the 1049cc fuel-injected four-stroke triple. Producing ample torque, the Yamaha engine reacts quickly and smoothly to the throttle, which can be critical in making your way through off-trail snows. Low end and midrange grunt is much more important than top speed off-trail and the Yamaha drive setup delivers exceptionally good performance in that environment. Straight-line performance for shortening a long lake run is an added benefit.
If that lake run includes some sharp ice ridges or hard windblown finger drifts, the Viper XTX's suspensions can handle it all. The Yamaha SRV tall spindle front end gives you upwards of 10 inches of travel fully controlled via Fox Float air shocks. The Dual Shock SR 141 track suspension works with a sliding action that affects control for weight transfer front and rear. Its 14.5 inches of travel work through the collaborative action of an aluminum-bodied high-pressure gas shock and a Fox Float 2 on the control arms. The end result is controlled action for throttle lifts off berms or steady cruising on groomed trail sections.
As you'd expect, the Yamaha Viper XTX provides centralized mass as a way of combining sled and rider as a cohesive unit. You needn't even think about the ease of controlling this sled as its design places you properly for sit back cruising or stand up banging. The handlebar curves expertly to your hands, affording comfortable control.
COMPARISON: Read our review of the 2014 Arctic Cat XF 7000 Cross Country Sno Pro + Video
The XTX allows quick and easy adjustments to fine tune virtually every performance aspect of the sled. Set your grips. Adjust the shock settings to soak up big off-trail bumps or for a day's groomed trail cruise. You'll find this sled is incredibly rider-friendly and designed to give you full on-snow days of reliable and durable performance. Keeping you on the snow longer comes from the engine's fuel-efficient electronic fuel injection combining with a generous 10-gallon gas tank. Yamaha's Viper XTX provides consistent performance on or off trail and boasts features designed to make you a better rider whether you blast in the high plains or break powder on snow-filled forest roads in lake country snows.
The 2015 Yamaha Viper XTX is a multi-personality sled that lets you bring out your inner Dr. Jekyll and Mr. Hyde riding persona, where you can cruise like a smooth trail riding Dr. Jekyll or bang big-time in the furious fashion of Mr. Hyde!
2015 Yamaha SR Viper X-TX SE
Engine
Yamaha Genesis three-cylinder, four-stroke high-performance 1049cc; bore/stroke of 82.0mm/66.2mm; liquid-cooled; liquid-heated 3x41mm throttle bodied electronic fuel injection system; dry sump lubrication
Horsepower
130+
Drive
Yamaha YVXC drive clutch with Yamaha driven; magnesium chaincase and cover; push button electronic shift reverse
Front Suspension
Yamaha SRV tall A-arm with Fox Float 3 aluminum-body shocks; up to 10.0-in of travel; Yamaha Tuner skis
Rear Suspension
Yamaha Dual Shock SR 141 parallel slide rail; aluminum high pressure gas and Fox Float 2 shocks; up to 14.5-inches of travel
Brake
Hayes radial master cylinder hydraulic brake system with 8-inch disc mounted on drive shaft
Length
125.0 in
Height
46.5 in
Width
48.0 in
Ski Stance
Adjustable from 42-43 inches
Track
15 x 141 x 1.6 Camoplast Cobra
Weight
N/A
Fuel Capacity
10.0 US Gal (Regular fuel)
Features
Heated seat (optional), digital gauge, push button reverse, electric start; Yamaha Tuner skis
MSRP
US$13,199 – C$14,899