2016 Youth Snowmobile Comparison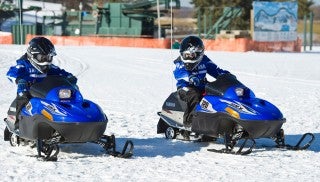 These three sleds are sized for the next generation of riders, but what's next?
Snowmobile industry statistics state the average snowmobiler is 44 years old and enjoys more than 225,000 miles of groomed and marked trails on which to ride the North American snowbelt. These active powersports enthusiasts generate more than US$35 billion annually in overall snowmobile-related activities. Some of those activities involve family.
According to the International Snowmobile Manufacturers Association, the industry's informational clearinghouse: "Snowmobiling is a great family lifestyle. It is an activity that keeps parents and kids together. Historically individuals who snowmobile at a young age continue to snowmobile with their parents throughout their lives, sharing great experiences as a family."
We find that conclusion interesting and agree with the premise. If this is the case, why are there only three Youth sleds available from the four sled makers?
The base fact is simple. Young riders, and we mean truly young – four to maybe seven years of age – have realistic snowmobiling options that are sized and powered for their capabilities. Don't ever sell these young riders short. They like the action that a kid-sized snowmobile provides.
We recall driving by our neighbor's house one afternoon when his precocious kids were draining the tanks on a pair of Ski-Doo Mini-Z kid sleds. Later, the little girl would tell us how she managed to get "big air." That from a sled that topped out at near double digits on hardpack snow!
She and her brother had a great time. But once they outgrew those 120cc kid sleds, where would they get their fun? We had another friend who bought a used Yamaha SnoScoot for his grandkids to ride around his acreage. In days past youthful rides had some serious options that allowed them to transition from 120cc kid sleds with around five horsepower to 600cc trail sports with 100 horsepower and more. That's a considerable jump.
We are not belittling kid-sized sleds. The three kid-mobiles available in 2016 are very good with excellent durability. Maybe saying three models is stretching the truth a tad. Polaris offers its Indy 120 with a 121cc air-cooled single that is different than the other two, both of which reflect the Arctic Cat and Yamaha snowmobile partnership. Both the Arctic Cat ZR 120 and the Yamaha SRX 120 share the same Yamaha 123cc single cylinder 4-stroke motor. Cat makes the basic platform and body pieces, even though each company customizes the end product to reflect a kinship with "growed up" models in each manufacturers line.
It used to be that Ski-Doo played in the kid market, but the company hasn't been a factor for a few years now. That leaves Polaris as the only alternative to the Yama-Cat 120s. The 2016 Polaris 120 Indy is not that different than the others. It has a 121cc four-stroke that posts modest numbers.
All three kid-sleds comes with a safety tether to shut the engine down if the rider comes unseated. Padded handlebars are standard to protect future dental work if the rider bumps into something and stops abruptly. Of course, that seems to be a given and a good reason for the three sled makers to include front and rear bumpers.
The Cat and Yamaha models feature kid-sized and kid-comfortable seating that includes a storage area in the rear. The Polaris 120 Indy claims underseat storage.
The Polaris differs in front suspension, offering a traditional "Indy" trailing arm set up with up to three inches of travel. The Cat and Yamaha feature "wishbone" style A-arm front suspension. The Cat ZR 120 is called AWS and Yamaha, with the identical system, refers to it as double wishbone. All have hydraulic shocks with coil spring assistance to absorb the same three-inch travel distance as the Polaris.
Again Cat and Yamaha share the same rear suspension, a very basic parallel rail design with torsion springs to control a minimalist 4.3 inches of travel. The Polaris' Mini Indy rear suspension handles seven inches of travel motion, making the Indy a winner in the "bump" handling sweepstakes. Of course, not to fret, the overall performance and speed of the three sleds is comparable so don't get carried away, but your Polaris rider will have some lunch room bragging rights.
All three sleds utilize slick skis, either plastic or a composite material, to keep the rider on track. The Yama-Cat models feature a 10-inch wide by 68-inch long Camoplast track with a traditional block pattern and functional 0.69-inch lugs for adequate bite for most backyard derbies. Polaris uses a slightly longer 69-inch track length and taller 0.79-inch Tri-Star lug, but stays with the same 10-inch width.
The Polaris claims a mechanical drum brake while the Cat and Yamaha call their system an adjustable band brake. All three sleds feature centrifugal type clutches with chain drives.
Each of the three kid-sized sleds represents styling based on sleds that Dad might ride. The Cat ZR 120 reflects ZR styling in Team Arctic green. Yamaha's SRX 120 is outfitted in Yamaha blue and the Polaris 120 Indy bears the blue styling of the 550 Indy.
Obviously, as kids grow in experience, a 120cc sled will not keep them happy for long. The base engines can be upgraded or replaced, but neither option is one that the sled maker warranty will support. Increasing performance is one way to get more use out of the sleds, but usually that only comes about when Dad pushes the youngster into kiddie sled racing competition, which can mimic the seriousness of youth hockey or Little League baseball. But, if a kid grows out of these kid-sized 120s, what option is there?
A Michigan company, Premier Recreational Products Corporation, has been working since 2008 to develop a consistent market for its "up-sized" Enforcer youth sled. In 2009 the company proposed a 150cc and a 300cc version, but according to the company's website the current plan is to go with a fuel-injected 350cc model, the Enforcer 350 EFI. The sled is said to weigh in at 378 pounds, offer 12 inches of rear suspension and 9 inches of front travel from a double A-arm configuration. Premier notes that its models are "built to order only" with a suggested retail price of about US$6000, a grand more for Canada.
Whether this company and this sled concept takes off is open for debate. But what remains certain is that currently there are no "new sled" alternatives for youthful riders to move up to from a 120cc model. Sled manufacturers no longer offer trail sleds with 250cc, 340cc or even 440cc drive systems.
Other than the 120 Indy, Polaris' next size up model is a 550cc fan-cooled Indy. Similarly, Arctic Cat also has 550 class fan-cooled models like the Lynx. And Yamaha moves from the SRX 120 to the 500cc liquid-cooled Phazer. Ski-Doo has a Tundra with its Rotax 550 fan-cooled twin and some models with the rider-friendly 600 ACE four-stroke. All of these models represent a significant jump from a 120cc engined sled in overall performance, weight and handling.
If a young rider wants to continue beyond 120cc and keep snowmobiling with the family, then another consideration is the used sled market where you might find a SnoScoot or the larger-engined SnoSport. You can think classic or vintage sleds with 340cc engines as well. What better way to help a young rider appreciate the modern day sleds than to spend time with an older, carbureted, oil belching two-stroke?
For family snowmobiling to continue contributing new blood to the sport, there need to be some better alternatives to help transition young riders beyond the "120 class" of kid sleds.
| | | | |
| --- | --- | --- | --- |
| | 2016 Polaris 120 Indy | 2016 Yamaha SRX 120 | 2016 Arctic Cat ZR 120 |
| Engine | Polaris 121cc single cylinder 4-stroke; air-cooled; single BV18 carburetor; transistor ignition | Yamaha Genesis Youth 123cc single cylinder air-cooled 4-stroke; single B-18 carburetor; CD ignition | Yamaha 123cc single cylinder air-cooled 4-stroke; single B-18 carburetor; CD ignition |
| Drive | Polaris P40 drive with chaincase | Centrifugal clutching with chain drive | Arctic Centrifugal drive |
| Front Suspension | Trailing-arm suspension with steel monotube shock and coil spring assist; 3-inches of travel; Composite skis standard | Double wishbone; hydraulic shocks with coil spring assist; up to 3.0 inches of travel; plastic skis | Arctic Wishbone Suspension with hydraulic twin tube shocks; 3-inches of travel; plastic skis |
| Rear Suspension | Mini Indy parallel rail slide suspension; 7-inches of travel | Parallel rail slide suspension with torsion spring; 4.5-inches of travel | Arctic parallel rail slide suspension with torsion spring; 4.5-inches of travel |
| Length | 75.0 in | 71.5 in | 74.0 in |
| Width | 34.0 in | 34.5 in | 36.0 in |
| Height | 31.0 in | 31.0 in | NA |
| Ski Stance | 31.0 in | 31.0 in | 42.4 in |
| Track | 10 x 69 x 0.79 Tri-Star | 10 x 68 x 0.69 Camoplast Block Pattern design | 10 x 68 x 0.69 |
| Weight | 147 lbs (claimed) | NA | NA |
| Brake | Mechanical drum system | Mechanical adjustable band brake | Mechanical adjustable band brake |
| Features | Red, white and blue styling; seat with storage; black windshield; fixed steering; 12-month warranty | Front and rear bumpers; 12-volt 55-watt Halogen bulb headlight; Youth Seat with in-seat storage; Safety flag; Keyed ignition with Tether switch | Front bumper; Halogen bulb headlight; Youth Performance 120 Seat with in-seat storage; Safety flag; Tether switch |
| Fuel Capacity | 0.5 US Gal | 0.46 US Gal | 0.5 US Gal |
| MSRP | $2,799 | $2,799 | $2,699 |