Enforcer snowmobiles coming in 2009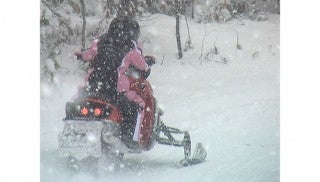 Full-featured, 3/4 scaled sleds with 4-stroke power
There's a new company entering the snowmobile business. Premier Recreational Products Corporation of Howell, Mich., is readying its line of Enforcer snowmobiles for the 2009 season.
"We are simply a group of avid snowmobilers that had a dream of rebuilding the market segments of the past and became determined to make our dream reality," Chris Bell, president of Premier Recreational Products Corporation, told Snowmobile.com.
The reality is the launch of a limited number of Enforcer snowmobiles this winter.
"We are taking a different approach from what is currently available from other snowmobile manufacturers," says Bell. "The first models to be released are the Enforcer 150 and Enforcer 300."
These two models are full-featured snowmobiles in a three-quarter scale of what is currently on the market. Each model comes with a four-cycle engine, electric start, reverse gear, heated hand warmers, take-apart PPD aluminum body shocks, and a full complement of gauges, including an electric fuel gauge.
"We have studied today's current model offerings and compared what was offered in the industry 20-25 years ago and we think there are a few model segments that have been left behind," says Bell. "What you don't find are models designed from the ground up for pre-teens, teens and smaller adults. We believe these segments are still important."
Bell notes that the initial Enforcer models offer similar features found on more expensive full-sized models. The Enforcer 150 is geared toward the preteen and teen riders, while the larger displacement Enforcer 300 is geared toward older teens and smaller adults who may feel that full-sized models are too large or intimidating for their riding needs. According to Premier's project manager Bryan Chambers, the top speed for the 150 is about 30 miles per hour, while the 300 should be able to top 40 mph.
Bell told Snowmobile.com that his company has plans for future models.
How can a new company make it in the sled business? Enthusiasm seems to be one aspect of the new company's plan, but as Bell told notes: "None of us are 'snowmobile insiders' or industry/race people, but what we do have is strong concept, design, manufacturing and sales backgrounds.
"We are a company founded on our passion for recreational powersports. We are devoted to developing creative products and bringing recreational enjoyment to families.
"Our products combine market exclusive designs and features at a more affordable price point, along with a business culture that never forgets success is only measured by if our customers, dealers, suppliers, employees, and investors can view our efforts and be proud of the results.
"We are simply a group of avid snowmobilers that had a dream of rebuilding the market segments of the past, and became determined to make our dream reality."
Bell says the new sleds reflect a partnership that was conceived in Michigan from designs and concepts that have been prototype tested in snow country by Premier Recreational Products engineers and staff.
Bell expects to have a select number of Enforcer snowmobiles available this season, with increased production and availability in the near future. Currently Premier Recreational Products Corporation is working to establish the necessary infrastructure to mount increased sales opportunities.
To learn more about Enforcer snowmobiles, check out http://www.premierrpc.com/ and stay tuned to Snowmobile.com as we bring you more information about this new line of sleds.