10 Questions for Chris Bell of Enforcer Snowmobiles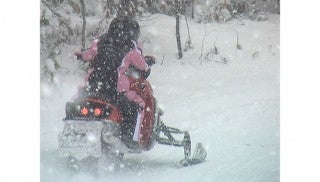 The latest news on the status of these new sleds
Q&A — 10 Questions with Chris Bell, President of Premier Recreational Products, manufacturer of Enforcer Snowmobiles
If you have followed the latest news on Snowmobile.com and other online musings about the appearance of a 'new' snowmobile company about to introduce a line of 3/4-sized snowmobiles, then you know that the man behind the line of new snowmobiles is Chris Bell, president of Premier Recreational Products, the manufacturer of Enforcer snowmobiles. As we exit 2008 and head into the new year of 2009, we wrangled a 'Question and Answer' session with Mr. Bell about the latest happenings with his Enforcer line of sleds. His intention is in breaking trail in a new direction, not in challenging the existing Big Four of sled makers.
1. Who is Chris Bell and how did you and your company Premier Recreational Products arrive at the need for another snowmobile entity at a time when the snowmobile market is slow growing?
Chris Bell:  Great question. In fact I have been approached by a few people at various snowmobile shows that have told me there is a rumor that I worked at one of the other four snowmobile companies and left to start Premier. The reality is I grew up in the seventies and eighties in a family that really enjoyed snowmobiling. Even my grandmother had her own machine and rode with us.
Ironically we had an assortment of machines from companies that did not survive. We had a Suzuki, Bolens, Massey-Ferguson and two Chaparrals. Later we obtained an Arctic Cat. You can see my Dad wasn't a brand-loyal type of guy; he bought what he felt bought us the best value at the time. I guess that trait continues with me, as I have owned various machines from the current snowmobile companies over the years. It also instilled in me that more than one company could build a quality snowmobile.
Along those lines, I did not wake up one morning and decide to start a snowmobile company. As I now have a family of my own that rides, when one looks at the current model offerings there is nothing left from the strong family segments of the late seventies and early eighties. Back then the market was full of the Enticers, Pumas, Elans, etc that could give families a safe, reasonably priced option for their junior riders. Yet when you compare those models to today's offerings, you see a marketplace with nothing smaller than the 500cc's (and more importantly nothing slower than about 75mph-80mph) with a starting price of $5,500 plus.
Since the age demographic didn't disappear, it seems a little strange that the product segment did. Since the last few attempts were nothing more than taking an old, outdated full-sized chassis and installing a small displacement, outdated 2-stroke engine it is not hard to see why there was not a strong demand. What we decided to do was develop a lineup of ergonomically correct snowmobiles designed from the ground-up for each segment the particular model will fill. Evident in this philosophy is our first two models, the Enforcer 150 (150cc air-cooled 4-stroke) and the Enforcer 300 (300cc liquid-cooled 4-stroke). When you look at the snowmobile market, and the fact that 130,000 machines were sold last year in North America, we see a great opportunity for Premier to enter the snowmobile industry and re-establish these segments, and a great opportunity for our own market growth.
2. Tell us about Enforcer snowmobiles and how they are unique?
Bell:  What we were really after is both the right ergonomics in a chassis and the right performance from the power plants. After buying my first 4-stroke snowmobile in 2006, we also decided we would exclusively use cleaner burning 4-stroke technology in all of our models. Taking the junior rider segments into consideration, we used top speed as our benchmark for each model. After testing prototypes last winter, and getting feedback from our junior test riders out on the trail, we felt that 25-30mph would be the next step in performance for the riders that graduate from the current 120cc offerings.
So we found the right combination of performance and value from the Enforcer 150, accomplishing the 25-30mph mark. But we also found that this class of machine could be a true trail-worthy option for families too, so we decided to develop a model that provided a little more performance making a true junior-class trail tourer. Hence the option for the Enforcer 300. The Enforcer 300 combines the correct ergonomics for the junior and smaller adult rider class with a 300cc liquid-cooled 4-stroke and a top speed of 40-44mph, which will keep up with all but the most aggressive trail rider groups.
Other than the top speed, the other key dimensions are the same for both the Enforcer 150 and Enforcer 300: Length 87 inches, width 43 inches, ski stance 39 inches, weight: (Enforcer 150 @ 290lbs, Enforcer 300 @ 315lbs), Aggressive .91 inch lug track, Aluminum-bodied T/A shocks standard/clicker shocks optional; Electric Start, Reverse, Full Gauges including fuel gauge-standard. We even developed a five-gallon under seat fuel tank, which will give a fuel range about the same as a full-sized sled. Full specs can be viewed on our website at http://www.premierrpc.com/.
3. What do you anticipate for pricing and what about warranty and service support?
Bell: The introductory pricing for the Enforcer 150 is $2,979.00, while introductory pricing for the Enforcer 300 is $3,949.00. Warranty for both models is a one-year limited warranty.
If a consumer purchases a Premier Model from their local Premier Dealer, the warranty includes labor just like the other snowmobile companies' warranties. If we do not have a Premier dealer in a customer's area, they can then elect to purchase directly from Premier but the warranty will be a limited, parts only warranty. In either case we will provide full support if there is an issue. More importantly, we are determined to build quality products, and we prefer that our customers spend more time riding, and less time repairing.
4. What plans do you have for a dealer or distribution network or will you be 'manufacturer direct' to consumers?
Bell: Another Great Question. The world has changed since the last snowmobile company established itself. Our plan is to sell our products through the same channel as the other four snowmobile companies. Sometimes what is forgotten is this sales channel is made up of individual business owners, and is not owned or controlled by the other snowmobile companies. So in regards to Premier, there are thousands of power sports dealerships that will independently have to make a decision about whether our products have value to their business, and more importantly have value to their customers. An important part of our experience is for customers to find enthusiastic, knowledgeable dealers offering Premier. With that being said, we are being very selective in only considering dealerships that are passionate snowmobilers. What we are not going to do is oversaturate the marketplace with Premier Dealerships or Premier Products. This will help us generate more Spring reservations and also prevent our dealers from having excess units. The other part of the equation is the other four snowmobile manufacturers are all looking abroad for their market growth. We are no exception, and we expect to offer our products worldwide.
5. What are your initial production goals in this introductory season of 2008-09 and what about plans for future growth?
Bell: Premier is a privately held company. As such, we do not publicly disclose our sales numbers or sales projections. However, I will share with you that our focus for the 2008-2009 snowmobile season is not sales; our focus is to introduce Premier to the marketplace, and get our Enforcer Models into the hands of the snowmobile media for testing and review. We will also have units available for potential dealers to evaluate, and Premier dealers to hold 'demo days' onsite this winter for potential customers to evaluate. Our plan is to develop the interest in Premier this season for very successful spring ordering of our 2010 models. A lucky few consumers will also receive 2009 models this snow season, but again our focus is for 2010.
6. Premier Recreational Products is a Michigan-based company with a global partnership, how does this partnership work?
Bell:  This has been the interesting part of our launch. When information started to leak about a new snowmobile company, there was a considerable amount of assumptions that it was a Chinese company. Well, I can honestly tell you that I am not Chinese (laugh). Premier was started out of a need for what we saw as missing pieces in the current marketplace. We had the model segments in mind, the designs in mind, but what we did not have is the partners in place to assist us in bringing these concepts to reality.
Since we are surrounded by a high density of fabricators and manufacturing companies in Michigan, I expected to find plenty of partners here locally. Unfortunately, the companies we approached did not have the same view as we did. Since I consider myself a resourceful person, I was not about to give up without exhausting all avenues. The end result is we did find partners that believed in our concepts and designs, but our parts suppliers are just that-parts suppliers.
Our products are 100 percent our products. Each model begins as a concept; we actually do things the old-fashioned way and build it.
I have also assembled a creative team lead by Michael Cousineau, and he is able to bring my ideas to reality. Once we have achieved our goals we scan it into the computer for our drawings. So everything is conceived here, designed here, prototyped here and then sent to our suppliers for mass production of the specific parts. The final production assembly is completed here using a 'Team Build Concept' much like how Rolls Royce and other high-end companies assemble their products. We felt this was a better way for Premier, as this process is less mundane than standard assembly-line production, and also instills a greater sense of accomplishment to the build team.
7. Do you have test ride plans and/or a schedule for consumer introductions?
Bell:  As of this interview, we have not disclosed our current dealership lineup. We will be adding a 'Dealer Locator' function on our website shortly, and after January 5th we will begin the Premier Rode Show and announce on our website locations for Premier Dealers' Open houses and Enforcer demo rides. So stay tuned.
8. What is standard content and what is optional with Enforcer models?
Bell: When I started Premier, I envisioned a different type of Snowmobile Company. Of course our concentration is the smaller scale, smaller displacement machines. But I also wondered why some features such as electric start and reverse were always an option in snowmobiles, yet these features are standard on other power sports products. And the cost difference to add these in production is a fraction of what the cost is to add later. So we made the decision that everything but the kitchen sinks will be standard (heated grips, electric start, reverse, full gauges including fuel gauge, automotive style HS bulbs that light up the night, Premier Trademark double-barrel shotgun LED rear lights, etc.).
Most teens and kids cannot pull-start an engine with much success, and all the Dads out there will appreciate the standard reverse since they won't have to dismount and come to the rescue to muscle our machines around. The only option we have for 2009 is clicker/remote reservoir shocks. Again, the key here is we are determined to build high quality, fully featured, affordable snowmobiles for our market segment concentrations.
9. Who is your expected customer?
Bell:  The first offerings from Premier, the Enforcer 150 and Enforcer 300 were designed for riders 48 inches to 64 inches in height. Age and gender had no real correlations to us, so we concentrated on height for our designs. We have multiple spring rates available, so rider weight is not an issue. We spent considerable time on design ergonomics for riders in this category for the Enforcer Models including driver position, knee position, elbow position, etc. We wanted our products to offer both comfort as well as build confidence.
By offering two engine choices we are able to compensate for experience as well as offering performance and price point options to allow parents the right fit for their family situation. And one unexpected surprise is we have found the Enforcers are even a blast for a full-sized adult to ride — unless one is looking for arm-straightening acceleration.
10. What makes Premier/Enforcer better sourced, strategically able to be successful in the short and long term when other previous marketers like Blade, Scorpion, and Manta were unsuccessful?
Bell:  In your question there are a couple of differences between what Premier has set out to accomplish and what these other, unsuccessful companies set out to accomplish. The first difference is we have no interest in competing directly with the other four established companies. Our slogan is 'Breaking Trail In A New Direction.' This is our slogan because we are not following in anyone else's footsteps. We have no plans or desire to build full-sized machines as that marketplace is already well represented. Premier was born to fill a need. The Enforcers were developed to give junior riders (and possibly adults that meet the size demographic) a machine that was developed from the ground-up just for them.
As I stated earlier, the machines in this segment disappeared, the riders did not. Your examples are of companies that had one thing in common; each of these companies tried to market a more expensive, niche product. We are building well thought out machines that the marketplace needs, at an affordable price point. We will expand our model lineup in the future, but again only because we see a void. And we believe as long as there are people that have younger riders in their group, there will always be a market for Premier.
Related Reading Enforcer snowmobiles coming in 2009