2016 Polaris 550 Indy LXT Review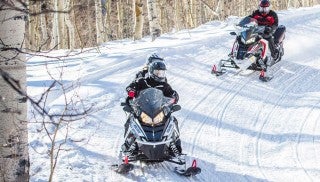 Two-up touring on a budget
Talk about niche marketing, Polaris uses its Indy series to slice razor thin differences in the recreational/utility line. Check out the 2016 Indy line. You'll find the ubiquitous 550cc fan-cooled twin settled in as the power supply of choice turning a 144-inch track under any one of three individual models. While there is a utility and a sport recreational version with the 144-inch track, the 2016 Polaris 550 Indy LXT is the choice for budget two-up touring.
Fast Facts
Engine Type:Horizontal In-line
Cylinders:2
Engine Stroke:2-Stroke
Valve Configuration:Reed Valve
Displacement:544 / 33.2
Starter:Electric
Turbocharged:No
View Full Spec
Not all that new for 2016, the Indy LXT shares some basic engineering with the other 144-inch tracked sleds in the Indy line, but there are niche differences to sort of justify the differences in price. The most basic of the 144-inch Indys is the most trail sport oriented, the 550 Indy 144 that retails for US$7,099. Moving up US$400 nets you the backcountry utility of the 550 Indy Voyageur and its narrowed in adjustable ski stance and Gripper skis. The two-up 550 Indy LXT features two choices, the White Lightning version at US$7,599 and the more stylish 550 Indy LXT Turbo Silver for US$200 more. Other than paint and some graphics, we're not seeing much else different.
Where the Voyageur and base 550 Indy 144 are designed for one person, the LXT is all about two-up riding. And that will be done primarily in groomed trail settings. The LXT most likely be found in snowmobile rental fleets. They are relatively inexpensive and have proven components, notably the Fuji-built 550cc twin and PowerBloc drive system.
COMPARISON: Read our review of the 2016 Polaris 550 Indy Voyageur 144
What makes the LXT suitable for rental fleets makes it equally suitable for touring snowmobilers. Comfort for two comes from an extended base Indy coil-over rear suspension with 14.1 inches of available travel controlled via RydeFX MPV shocks. You can expect that Polaris engineers also did some suspension tweaking to make the ride firm enough to handle two riders. You should expect the LXT to ride well over groomed trails and steer adeptly on narrow trails thanks to its generous 42.5-inch ski stance and top of the line Pro-Steer skis.
The front suspension offers a suitable 7.1 inches of suspension travel, also controlled via RydeFX MPV shocks. The front shocks add coil spring assistance and both front and rear suspensions can be tuned for conditions.
Because the 550 Indy LXT is expected to primarily travel groomed trails, Polaris fitted the two-up Indy with its "Energy" track, which measures 15 inches in width, 144 inches in overall length and features a one-inch lug pattern. Both the Voyageur and Indy 144 come with a more aggressive Cobra track design with taller 1.35-inch lugs for off-trail grip.
Polaris engineering equipped the LXT for distance riding, including an 11.5-gallon fuel tank and passenger accommodations. The seat has room for two, setting into a fixed backrest with easy-reach passenger hand grips, although they are not heated.
The rear rack will hold gear for a day's ride and can be used with an assortment of accessory storage bags and gear. Built around the proven Pro-Ride chassis, the LXT seat gives ride-forward positioning for the driver with a raised rear bump-up to allow the passenger a better view of the trail ahead. Even in two-up trim, the base Pro-Ride LXT platform is claimed to be 75 pounds lighter than previous Polaris two-up models.
The driver will appreciate the Indy 550's newer one-piece handlebar and steering post angle that's 15 degrees flatter to better suit the seated positioning of a two-up driver. The Pro-Steer skis make turning easier than the older design and the flexing nature improves grip on the trail.
COMPARISON: Read our review of the 2016 Arctic Cat Bearcat 3000 LT
One of the keys to the Indy's value-orientation is the proven Fuji-built twin. With about 55-horsepower on tap, this iconic Polaris two-stroke uses traditional Mikuni 34mm carburetors with a dash-mounted flip lever fuel enrichener to assist starting. While the 550 twin has proven to be a reliable starting engine, its electric key start is a convenient standard feature. The standard push button Polaris Electronic Reverse (PERC) is also tried and true. Combined with the PowerBloc drive, the engine has good low end torque to provide ample drive off power and motors up to trail speeds well enough. Midrange power is good, but this two-stroke twin ambles from there up to top end, which is enough to get you ticketed on most trail systems.
Once rolling down the trail, you'll enjoy the protective cocoon Polaris engineers designed for your comfort. The tall windshield sprouts wings for ample coverage to protect your hands by diverting cold air away from you. Our only concern with these tall windshields has been the occasional distortion you can get from them. The Polaris windscreen is pretty good overall for allowing a good view of the trail while protecting your body.
COMPARISON: Read our review of the 2015 Ski-Doo Expedition SE ACE 900
If you ride solo, we've found the rear passenger grips sometimes can get in the way when mounting or dismounting the sled. Still, though, the LXT rear grips are much less intrusive than the moveable passenger grips on the 550 Indy Adventure. While you can adjust the backrest on some other two-up sleds, the Polaris LXT backrest is fixed. There is no ability to move it forward to provide a backrest while riding solo. It's not a big deal, but it would be nice to have some adjustability. Just saying.
For a passenger, the LXT fits two-up riding with a raised passenger footrest on the runningboard, ample handgrip spacing and the padded backrest.
Like all of the longer tracked 550 Indys, the LXT features a proven double A-arm front suspension, a proven rear suspension with more than a foot of travel, and a bridging 144-inch long track that helps minimize niggling trail stutters. With its sport-style protective nose bumper, rearview mirrors and nicely finished exterior, the Indy LXT presents a stylish countenance on the trail in either Midnight White or Turbo Silver. If you want to outfit your LXT with more touring gear, rest assured that Polaris dealers will be happy to help you out. But in basic formatting the 550 Indy LXT, in either White Lightning or Turbo Silver, makes budget touring a stylish value.
2016 Polaris 550 Indy LXT White Lightning
Engine
Polaris/Fuji 544cc twin cylinder 2-stroke; fan-cooled; two Mikuni VM34 carburetors; digital CD ignition; canister exhaust
Horsepower
50-plus
Drive
CVTech PowerBloc 50 drive, Invance driven
Front Suspension
Polaris Pro-Ride; 7.1-in maximum travel; RydeFX MPV coil-over shocks; Polaris Pro-Steer skis
Rear Suspension
Polaris Indy slide rail; RydeFX MPV shocks; 14.1-inch maximum travel
Length
124.0 in
Width
48.0 in
Height
54.0 in
Ski Stance
42.5 in
Track
15 x 144 x 1.0 Energy
Brake
Polaris RMK hydraulic
Weight
467 lbs (claimed)
Fuel Capacity
11.5 US Gal (Premium unleaded recommended)
Features
Standard: Pro-Steer skis; 2-up seat with fixed backrest; fixed 3.5-in riser; electric start; push button electronic reverse; one-piece handlebar; digital multi-function display; analog speedometer; tall clear windshield Options: 12v outlet; storage and windshield options
MSRP
US$7,599