Best Snowmobile Gas Can Options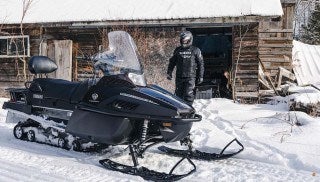 Carry some extra fuel on board to extend your next ride
If you like to take your sled on extended trips on the trail and off, you're going to want a snowmobile gas can. But which one should you get?
That's what we're sharing with you today. We've compiled the most dependable gas cans and racks for your snowmobile so you can confidently head out on your next adventure knowing you'll have plenty of fuel to get back home again.
Editor's Choice: RotopaX RX-2G Gasoline Pack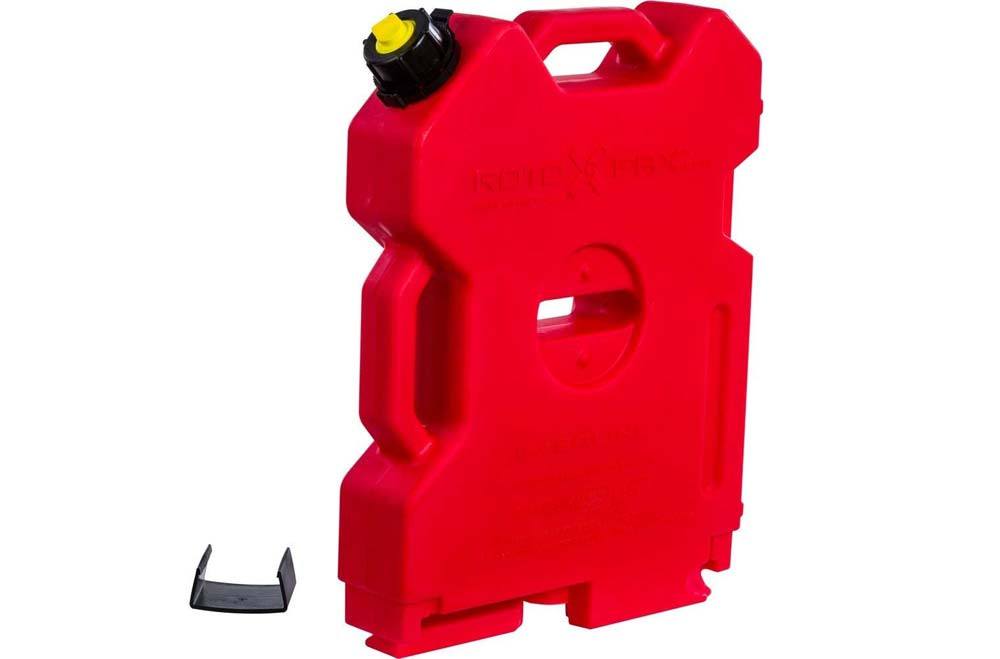 RotopaX offers an excellent solution when you don't want to carry a huge gas can with you. The RX-2G Gasoline Pack carries 2 gallons of fuel and is made of the highest quality for lasting performance.
What's more, it's worth pointing out that RotopaX's snowmobile gas cans are the only CARB- and EPA-compliant fuel containers for sale in the United States.
Thanks to three layers of Roto-Molding, you can trust that the RX-2G won't leak or otherwise burst. These incredibly durable containers are just what aggressive sledders need.
For a 2-gallon gas can, it's a bit up there in price. However, the quality can't be beaten, making it a worthy investment. The only real bummer is that there isn't a mounting kit included. As such, you'll need to buy it separately if you wish to safely secure the RX-2G to your sled.
VP Racing Fuels Motorsport 5-Gallon Utility Jug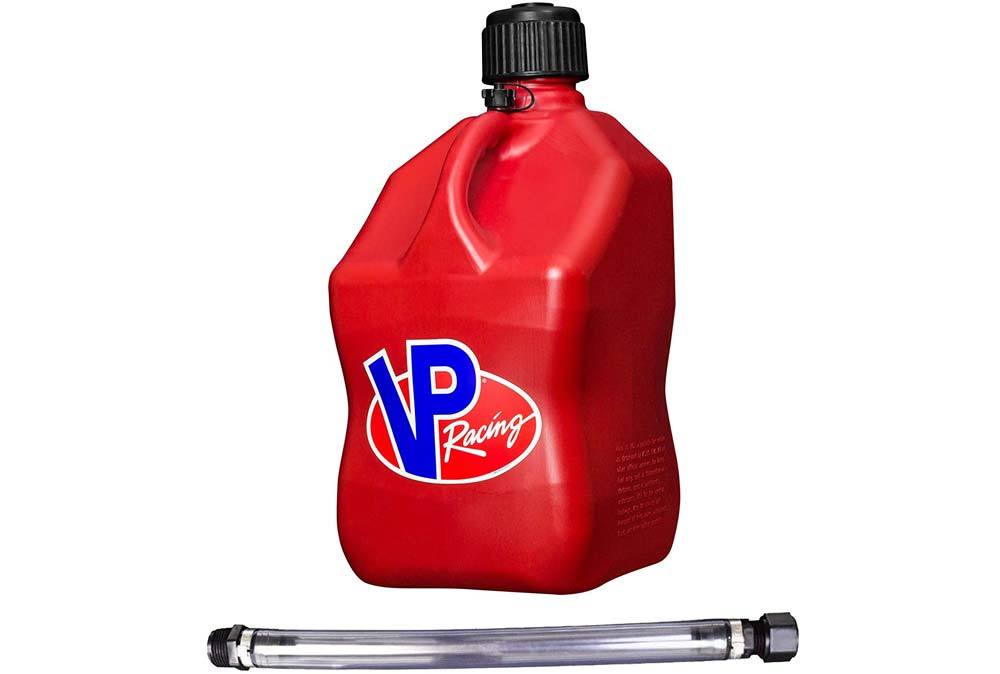 VP Racing Fuels Motorsport Jugs are just what you need for lengthy adventures in the snow. Each holds five gallons of fuel and they come in packs of one, two, three or four.
High-density polyethylene makes up the construction of this snowmobile gas can set, ensuring durability and protection from the outside elements.
It's worth noting that VP Racing Fuels puts their gas cans through a 15-point quality test to make sure that they can withstand everyday wear and tear.
The design of these cans features a contoured handle for easy use, as well as a bottom grip. Pouring is easier than ever to manage, thanks to these simple yet effective additions.
Another must-have feature is a non-breakable, multipurpose cap. This cap comes equipped with rubber gaskets for optimal delivery. A 14-inch hose is also included with each can for added convenience.
The VP Racing gas cans are also super affordable, so it's worth keeping an extra one in your trailer or the back of your truck. Just know that you will have to strap these down tightly so they don't come loose on the trail.
Ski-Doo OEM Stackable LinQ Fuel Caddy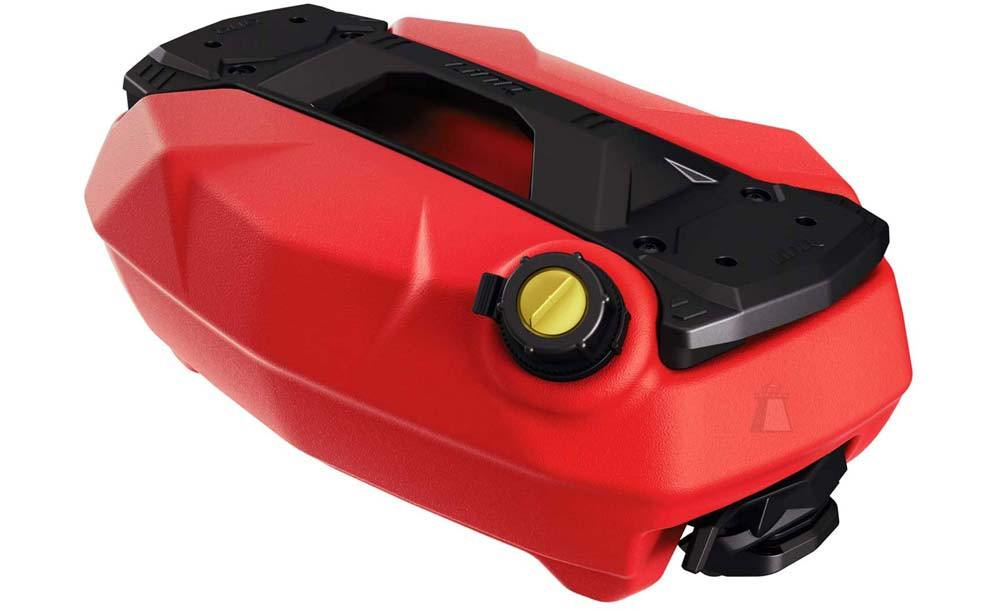 Ski-Doo's LinQ Fuel Caddy sports a streamlined design and improved pouring feature for optimal performance. Built to accommodate a total of 4 gallons, these snowmobile gas cans are low profile and designed to fit Ski-Doo sleds with the REV G4 chassis.
The stackable design allows you to easily transport other gear on top of the Fuel Caddy, such as a tunnel bag. Please note that you can't stack other Fuel Caddies for safety reasons.
It's worth pointing out that this is a pretty pricey snowmobile gas can. However, its excellent quality and sporty design make it a convenient companion to have on your sled.
Polaris Snowmobile Lock & Ride Adjustable Fuel Can Rack
If you want to make sure that your snowmobile gas can is safely secured while you ride, the Polaris Lock & Ride is just what you need.
Made from lightweight but sturdy aluminum, it's easier than ever to anchor down your gas can to your Polaris snowmobile. Once bolted down, the aluminum grips keep your can in place. Then, using the included Easy-Adjust strap system, you lock down your gas can.
It's a very simple yet high-effective system that works well in hauling your extra fuel around while you ride. Please be aware, though, that this snowmobile gas can rack can only support jugs of up to 2.5 gallons.
If you're planning for a longer trip in the snow and require more fuel, you will either want to look at a different rack or bring another can with you.
Most commonly-shaped gas cans are supported, however. So you shouldn't have any issues with smaller vessels. Taller, narrower cans aren't an issue to haul in this rack, either. The strap is adjustable, so it's easy to fit over a variety of slimmer gas cans.
How far can a snowmobile go on a gallon of gas?
Snowmobiles, like cars and trucks, vary quite a bit when it comes to fuel economy. Larger engines and heavier machines will typically burn fuel faster, while lightweight snowmobiles with modern 600-class engines will be a bit more miserly when it comes to fuel consumption. Other variables include how heavy you are on the throttle and how many times you start and stop.
In general, however, 10 to 20 miles per gallon is a good rule of thumb. So if you have a 10-gallon tank, you can expect to travel between 100 and 200 miles before you need more. Having even an extra two gallons in a gas can strapped to your snowmobile can come in awfully handy if you end up traveling a little farther from home than you intended or the trailside gas station closed before you could top up your tank.
We are committed to finding, researching, and recommending the best products. We earn commissions from purchases you make using the retail links in our product reviews. Learn more about how this works.