Best Snowmobile Gauntlets To Keep Your Hands Warm While You Ride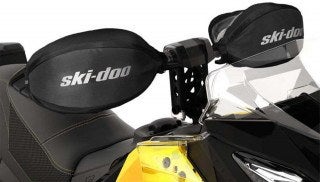 Protection from the wind and snow
Snowmobile gauntlets offer next level warmth and protection from the elements when your gloves don't quite do the trick. By simply attaching to your snowmobile's handlebars, you'll always have protection at the ready.
We want to make sure that you spend your hard-earned money wisely. So our team compiled a list of the best snowmobile handlebar gauntlets below.
Editor's Choice: Polaris Universal Snowmobile Gauntlets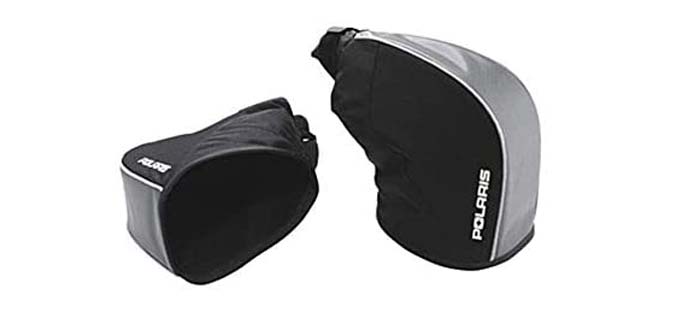 When you invest in snowmobile gauntlets, you want a pair that's going to easily attach to your sled's handlebars. That's exactly what you can expect from Polaris's Universal Formed Snowmobile Handlebar Gauntlets.
Each gauntlet is extremely well-made, ensuring long-lasting performance and protection from the wintry elements. The simplistic yet highly-effective hook and loop fasteners serve to allow for quick and sturdy attachment to your handlebars.
When you tuck your hands into these gauntlets, you can look forward to wind-deflecting protection, regardless of how fast you're going or what the weather is like. Aggressive sledders will appreciate the tough, thick build quality. If ice or snow flies up while you're riding, you can trust that your hands will be safe from harm.
What's more, the high-impact polyfoam insulation is designed to resist both water and wind. So not only will your hands stay warm and dry, but the snowmobile gauntlets will withstand potential damage for greater longevity.
At just under 2 pounds, you'll be impressed by how tough these gauntlets are for such a lightweight design. They're a little on the pricey side, but well worth the investment considering the high level of craftsmanship and protection they offer.
Ski-Doo Handlebar Muffs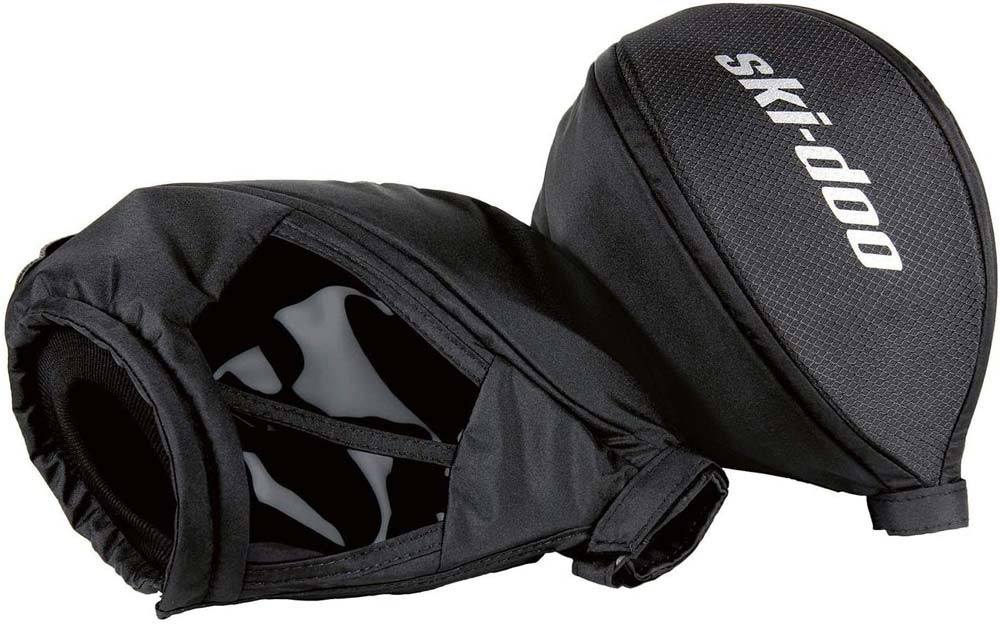 Ski-Doo offers a slightly less expensive pair of snowmobile handlebar gauntlets that do a fine job of keeping your hands safe from frigid temperatures.
The interior of the Handlebar Muffs is lined with thick warming fleece. Even better, however, is that you can remove the inner liner when the weather gets warmer.
Ski-Doo designed these snowmobile gauntlets to work on sleds with or without mirrors or handguards. This versatility ensures that a great number of people can enjoy these muffs.
On the sides facing you are transparent plastic windows. This is a key feature that many riders will appreciate depending on the type of snowmobile they ride.
Some models have controls and switches that would otherwise be covered up. It's a welcome addition and one that is sure to come in handy.
An inner skeleton made of thick, durable wiring allows the Handlebar Muffs to keep their shape at all times. Moreover, they work in a way that gives your hands more freedom to move inside.
Arctic Cat XC Handlebar Muffs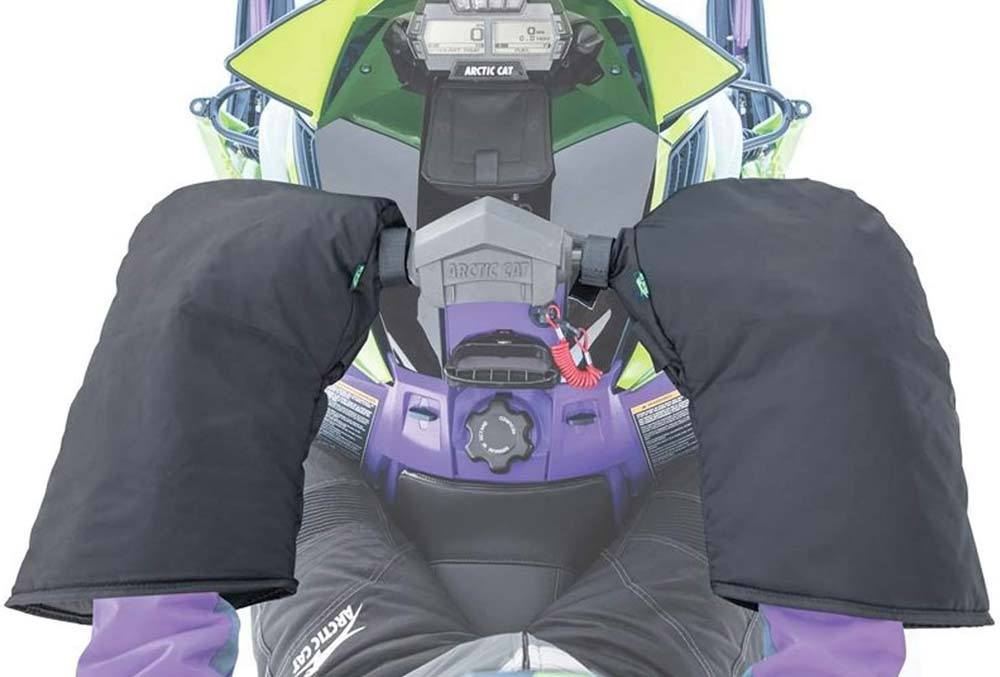 Many models of snowmobile handlebar gauntlets are rather short in their designs, protecting just above your wrists. Arctic Cat's XC Handlebar Muffs extend past your forearm, ensuring optimal protection and warmth.
Similar to large oven mitts, you get plenty of protective material here. The outer shell is made from durable nylon, which works well in deflecting cold air and debris. It's also water-resistant, so rain and snow will be of little concern to you.
Inside the muffs is a quilted lining that's designed to provide warmth while you ride. Installation is a walk in the park, thanks to easy-attach Velcro and elastic grip straps.
When the snowmobile gauntlets aren't in use, you can simply roll them up and over your handlebars. It's convenient and easy to do. For the price, you're getting a lot of gauntlet here, making these a worthy contender.
Orange Cycle Parts Black Snow Paws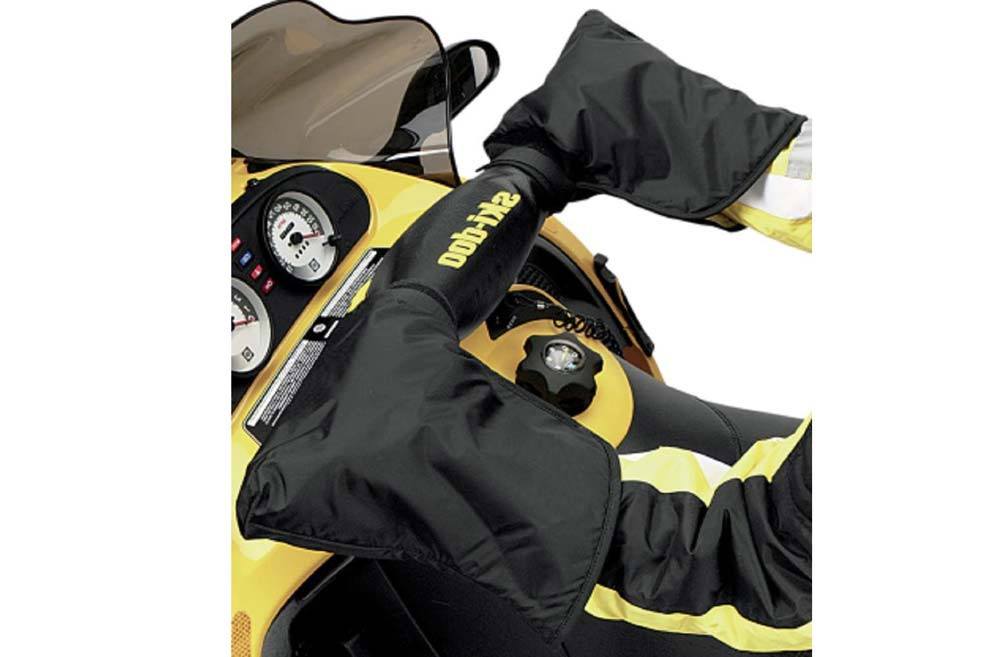 If you're in need of high-quality snowmobile handlebar gauntlets but are on a strict budget, consider Orange Cycle Parts Black Snow Paws.
A nylon outer shell provides optimal protection from not just cold temperatures but flying debris, as well. Your hands stay protected inside the Snow Paws, so you can go as fast you want and ride as aggressively as you please.
The interior is comprised of warm fleece lining, ensuring ultimate comfort while you're out in the snow. The Snow Paws are well-designed, too, so you can look forward to getting an excellent fit on your handlebars.
Installation is a breeze thanks to the hook and loop closure fasteners. They work to form a snug seal around your snowmobile's handlebars. This not only keeps the gauntlets securely in place but also prevents unwanted debris and moisture from getting on your handlebars.
Considering the price, the Snow Paws offer quite a lot for very little. Now you can protect your hands with warming comfort without breaking the bank.
Best Value: Tusk Hand Mitts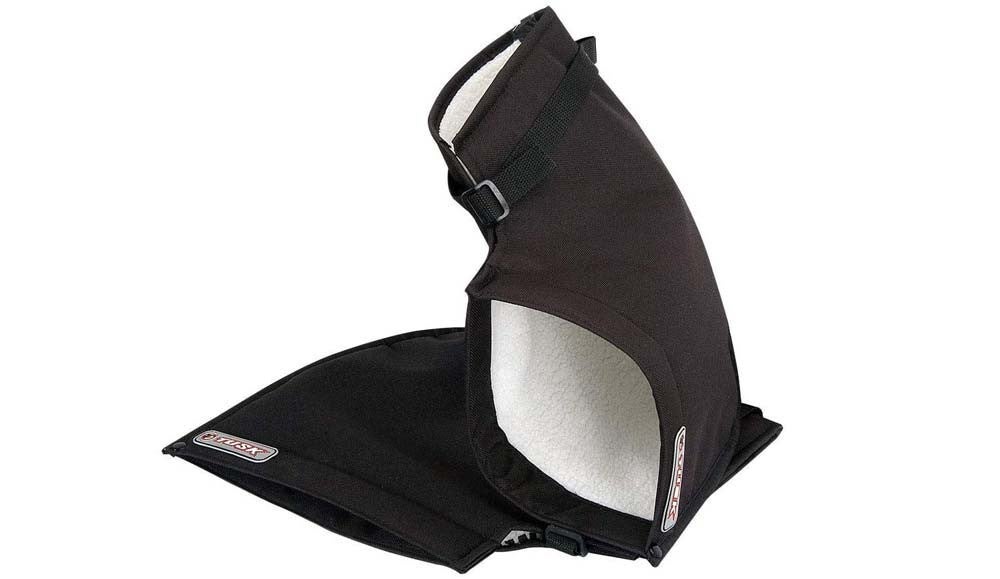 If you have a hard time finding accessories to fit your snowmobile's handlebars, you might want to consider Tusk's Hand Mitts. These snowmobile gauntlets sport a wide mouth that easily fits all shapes and sizes of handlebars.
The material isn't quite as thick or robust as other brands, which is likely why Tusk's models are so inexpensive. That said, there's still plenty to like here.
For one, the interior of the snowmobile handlebar gauntlets is made of fleece, so you can trust that your hands will stay warm in all kinds of weather conditions.
The outer shell is 600 denier polyester, so you can look forward to water-resistant protection while you're out in the snow.
The opening of the gauntlets is extra-wide, so you can easily see controls and switches if need be. Once these gauntlets are on, poly web straps keep them securely in place.
Sure, you might be losing some of the durability that you get from other gauntlets. But for the price, you're still getting ample protection.
Which Snowmobile Gloves Should You Use When Riding With Gauntlets?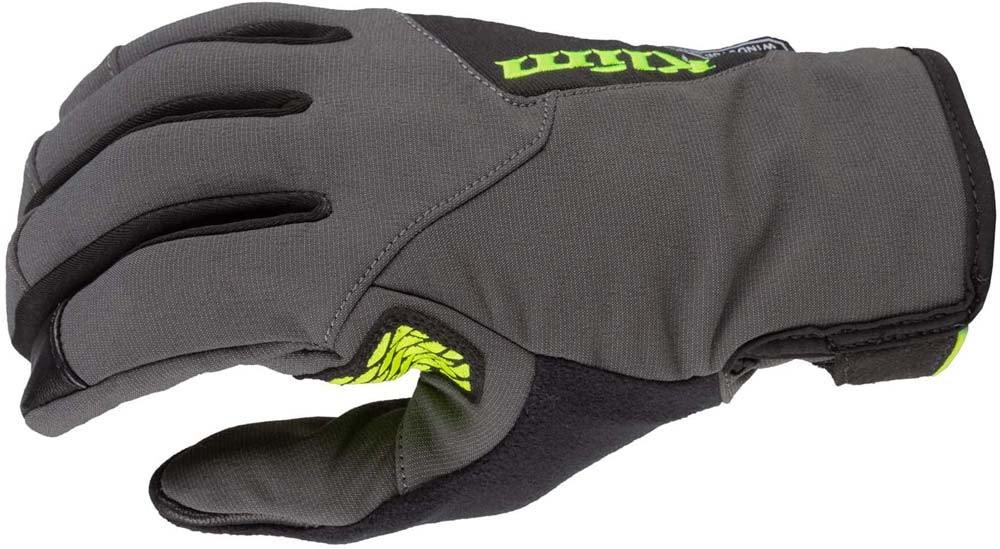 While we generally prefer a fairly robust pair of mitts when riding, if you are using gauntlets that is going to end up being too bulky.
A great glove to pair with snowmobile gauntlets is the Klim Inversion. The Inversion is a lightweight, windproof glove that is made with Gore-Tex Infinium with Windstopper. They offer enough protection that you can take off the gauntlets when it's not too cold out and just use the gloves. Plus, they are pretty easy on the wallet.
We are committed to finding, researching, and recommending the best products. We earn commissions from purchases you make using the retail links in our product reviews. Learn more about how this works.