Best Snowmobile Gear Bag Options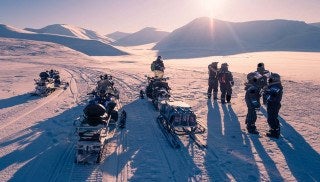 Pack your favorite gear with these spacious bags
As a snowmobiler, you need a quality snowmobile gear bag to help you haul your equipment around during trips.
The good news is there are no shortage of options available. Of course, that means that there are a lot of choices for you to consider. To help you along, we've done the research and put together a list of the best snowmobile gear bags so you can spend less time searching and more time on your sled.
Lead photo by Shutterstock/ginger_polina_bublik
Editor's Choice: OGIO Rig 9800 Gear Bag
Every time we've gone on a snowmobile or ATV press event to test out a new machine, the vast majority of the media members keep their gear in an OGIO gear bag. There's a good reason for that, as OGIO has a well-earned reputation for making gear bags that last and can stand up to the abuse that off-roaders (and airport baggage handlers) dish out.
The OGIO Rig 9800 is a 100% polyester snowmobile gear bag and is designed to be durable and long-lasting. Thanks to its SLED (Structural Load Equalizing Deck) system, the Rig 9800 can safely withstand even the harshest of conditions.
An extra-wide mouth makes accessing your snowmobile equipment is an effortless affair. The Rig 9800's interior is lined with handy compartments to allow for organized storage. Once inside, it's easy to find exactly what you need without having to dig through all of your belongings.
The internal dividers are adjustable, so you can make them accommodate your gear in a way that best fits your needs. There is even a padded helmet chamber that keeps your snowmobile helmet safely separated from the rest of your items.
The Rig 9800 sports plenty of insulation, too, thanks to its iFOM (integrated foam) construction. Transporting your gear is also a cinch due to the addition of oversized wheels. What's more, there's a compression strap system that ensures your belongings stay securely in place during transport.
At 14.2 pounds, the Rig 9800 is one of the heavier snowmobile gear bag options in our guide. However, the extra weight never gets in your way or slows you down due to the bag's easy operation and telescoping pull handle.
Klim Drift Gear Bag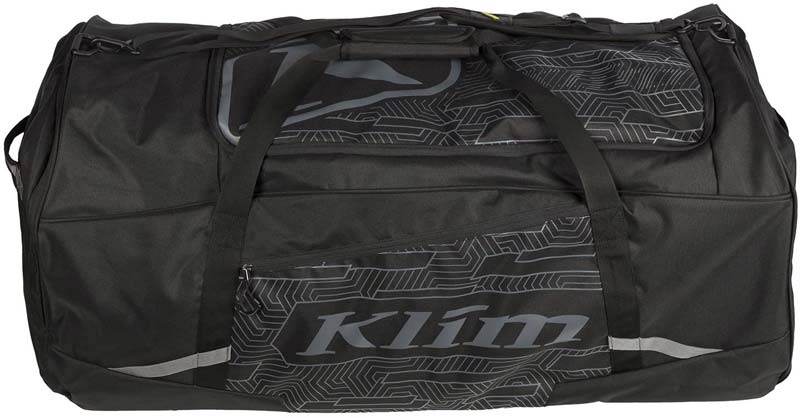 The Klim Drift snowmobile gear bag is large enough to carry your boots, helmet, gloves, jacket, bibs, and more. You'll even have leftover room for extra clothes. Inside the Drift bag is a liner pocket that's designed to accommodate boots, keeping them safely separated from the rest of your gear.
What's more, there's also a padded interior wall that serves to keep your snowmobile helmet separated from the rest of your gear. The layout of the Drift makes it easy to access all of your belongings, which is exactly what you want is a gear bag.
Although the Drift is already a large bag, it's deceptively spacious on the inside, providing you with plenty of storage room to carry your must-have snowmobile gear. The build quality and construction is top-notch, as well, ensuring that it will withstand lots of use.
If you've struggled to find gear bags big enough to house all of your snowmobile items, the Drift won't disappoint. It's incredibly roomy and offers more than enough storage. And as big as it is, the Drift is very lightweight and versatile. It's a breeze to maneuver, even when packed to full capacity.
Fly Racing Roller Grande Gear Bag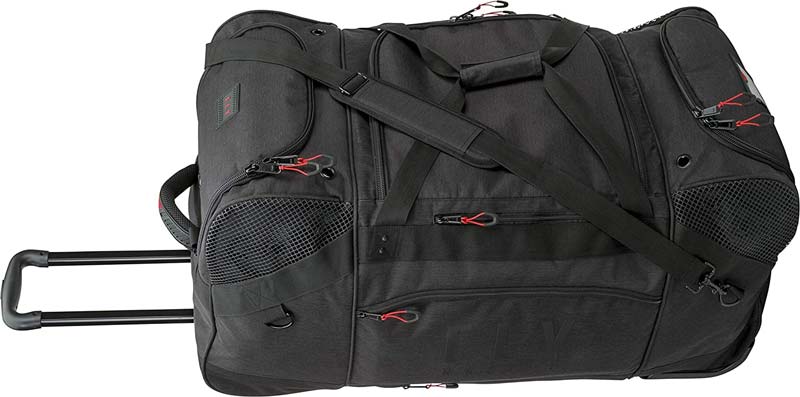 While Fly Racing is not exactly the first brand that comes to mind for snowmobilers, ATV and dirt bike riders are very familiar with this company. It's Roller Grande gear bag may be designed for dirt riders, but it would be a great option for snowmobilers as well.
Built out of PVC backed nylon, the Roller Grande comes with two large separate pockets on each side of the bag, so you can keep your boots and your dirty gear separate from the rest of your stuff. There's also a large center compartment for your helmet or any other larger items you like to take with you.
Nobody likes a smelly gear bag (hockey players know this all too well), so Fly Racing added large mesh panels and vent grommets to allow your dirty gear to breathe and dry.
Other features include rollerblade-style wheels, adjustable shoulder strap, fleece-lined goggle pocket, tool storage pocket, inside pockets, telescoping handle, and a mud mat that is accessible from the outside of the bag – perfect for changing into our out of your boots.
The Fly Racing Roller Grande is available in black or dressed in Rockstar energy drink graphics. We have little doubt it will make for a solid snowmobile gear bag option. And if you want a smaller gear bag, you can check out Fly Racing's Tour Roller Gear Bag.
Best Hemet Bag: FXR Ultimate Helmet Bag

FXR unsurprisingly makes the cut with its Ultimate Helmet Bag. If you need a separate bag for your snowmobile helmet that you can trust to offer plenty of protection, FXR won't let you down. At just a little over 3 pounds, the Ultimate Hemet Bag is easy to carry and won't weigh you down during transport.
Even better, this bag accommodates more than just a helmet. There are exterior pockets designed to carry your snowmobile goggles and other odds and ends. If you like to keep a helmet camera with you to record your adventures, there's a pocket for that, too.
You don't have to worry about damaging your gear thanks to a special water-drainage system built into the Ultimate Helmet Bag. The construction is such that water and moisture are kept out at all times. You can therefore ride in confidence, knowing that your gear is safe from the outside elements.
Accessing your belongings and carrying the bag is made easy with the addition of a durable rubber handle. It's comfortable to grip onto and makes transporting your helmet and gear effortless.
FXR is known for designing high-quality snowmobile gear and accessories, and the Ultimate Helmet Bag is no exception. It's well made, durable, and sure to hold up to plenty of wear and tear.
OGIO ATS Gear Case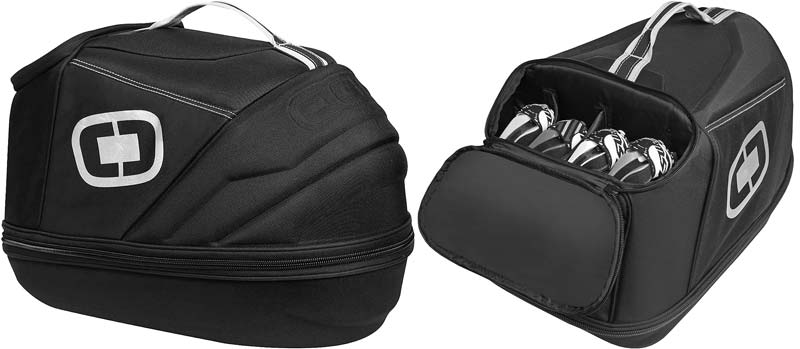 OGIO's ATS Gear Case is sporty, sleek, and stylish. Best of all, though, is that it effectively protects your snowmobile gear and equipment. Thanks to OGIO's spacious ATS Gear Case, you can carry your helmet, neck brace, and goggles. There's even additional storage for various smaller items, such as a helmet cam.
The layout of this snowmobile gear bag keeps your belongings organized and secure. Molded EVA/PE offers a protective shell with an adjustable padding thickness to accommodate a wide variety of helmet types. You can trust that your snowmobile gear will stay protected during travel and sledding.
The interior of the ATS Gear Case features compressed foam that serves to hold your helmet securely in place at all times. The extra visor storage can accommodate up to four pairs of goggles or other gear of your choosing.
At just 2.5 pounds, the durable ATS Gear Case is lightweight and easy to carry, yet it provides ample protection from damage. The sleek design of this bag even allows it to fit in overhead storage compartments on airplanes.
Although compact in design, there is a generous amount of interior space. Looks are quite deceiving with this one, and that's a good thing. You can easily transport your most-used snowmobile gear without taking up a lot of room.
What is the best gear bag?
Choosing the best snowmobile gear bag is not a simple thing. After all, we all have different needs out of our gear bag. If you plan to fly with your gear bag, you need one that can absolutely stand up to some serious abuse, as airline baggage handlers are not exactly known for their gentle touch. That's why you see so many people in off-road media with OGIO bags – the 9800 in particular. Most of us have never used a more durable gear bag than an OGIO.
However, an OGIO bag is not cheap and if all you need is something that you can toss in the back of your truck or in your enclosed snowmobile trailer, most any water-resistant bag with a big, open pocket will do the trick. We do prefer separate pockets so we can keep our wet and dirty gear separate from everything else, but it's not a necessity.
We are committed to finding, researching, and recommending the best products. We earn commissions from purchases you make using the retail links in our product reviews. Learn more about how this works.