Best Snowmobile Shovel Options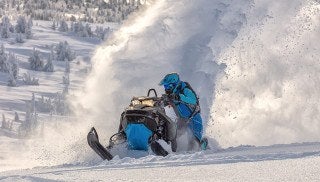 We look at the best lightweight and portable shovels for deep powder snowmobilers
Backcountry and mountain sledders would be wise to never head out without snowmobile shovel that carries light and compact. Having a shovel on hand as you explore untouched snow can get you out of a tight spot or even help dig out a friend who got in (literally) over their head.
A good snowmobile shovel is much lighter than your run of the mill shovel you use to clear your driveway in the winter and it needs to be small enough to be easily carried while you ride.
We've done the research into the best possible snowmobile shovel options in the industry so you can find the right one for your needs
Lead photo courtesy Wlad Go/Shutterstock
1. Editor's Choice: Backcountry Access T3 Rescue Package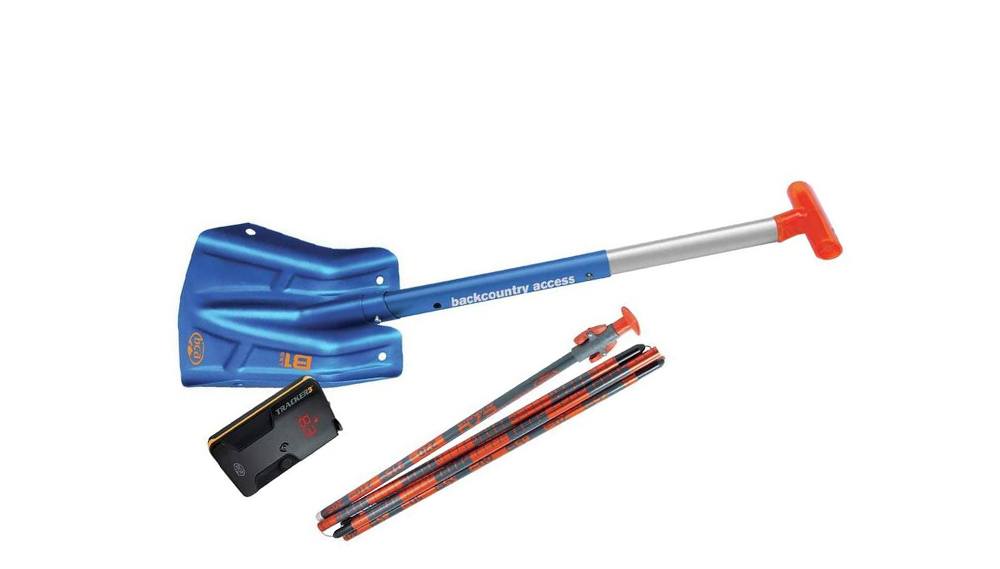 BCA earns the top spot on our list of best snowmobile shovels with their T3 Rescue Package. Not only does the package come with the B-1 EXT avalanche shovel, which is a simple yet highly-effective tool that is well-made and constructed to withstand extended use, but is also comes withBCA's Tracker3 avalanche transceiver, but also their quick deploying avalanche probe. At 1.3 pounds, the B-1 is a reasonably lightweight shovel but with that said, there are lighter options available.
But the slight added weight serves to ensure that you're investing in a high-quality snowmobile shovel made of 6061 T6 aluminum that will be up to the task when the time comes. As for dimensions, the B-1 shovel has a collapsed length of 22 inches (56cm) and an extended length of 26 inches (73cm). If you're in the market for a rescue package and not just a shovel, this is the hot ticket to have.
2. Best Multiple Use Snowmobile Shovel: Klim Backcountry Shovel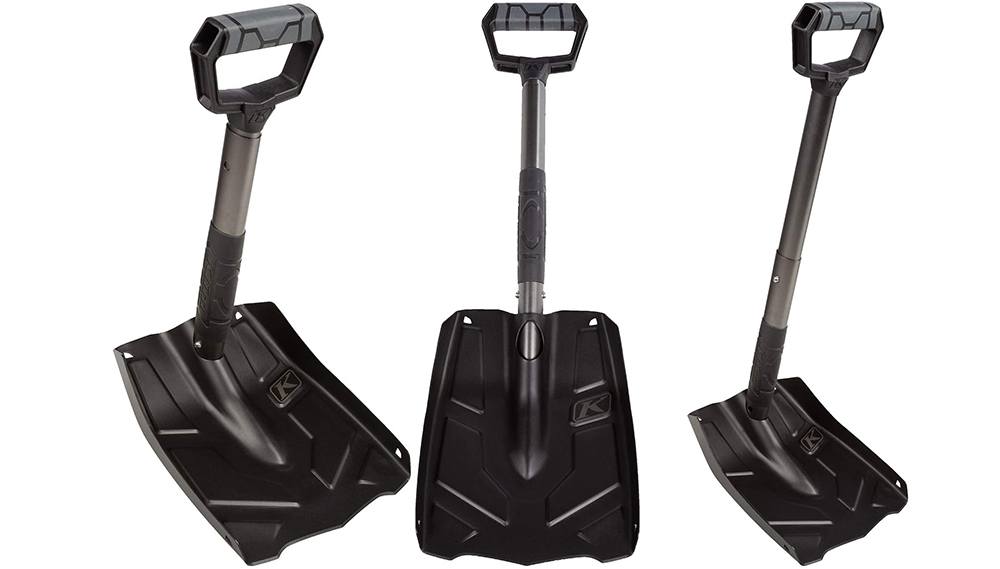 When it comes to snowmobile gear, Klim is one of the best companies that you can turn to. This just doesn't apply to their outdoor wear though. Their backcountry snow shovel is one of our favorite snow shovels that you can take with you for those days you want to explore remote powdery mountains. The Klim Backcountry Snow Shovel features  quick-deploy, self-locking system for quick readiness when you need it in either shovel, chop, or hoe mode. The durable matte powdercoated shovel blade features a chiseled edge to easily cut through snow and reduced deflection and the anodized aluminum handle/shaft ensures that this snow shovel will be reliable for years to come. The compact design makes the shovel easy to store in a wide range of avalanche backpacks and integrated deadman anchor holes allow you to use the shovel as a snow anchor if the need arises. Priced under $80, you definitely get great value and performance out of a simple yet quality product.
3. Best Snowmobile Shovel Storage: Backcountry Access MtnPro Tunnel Bag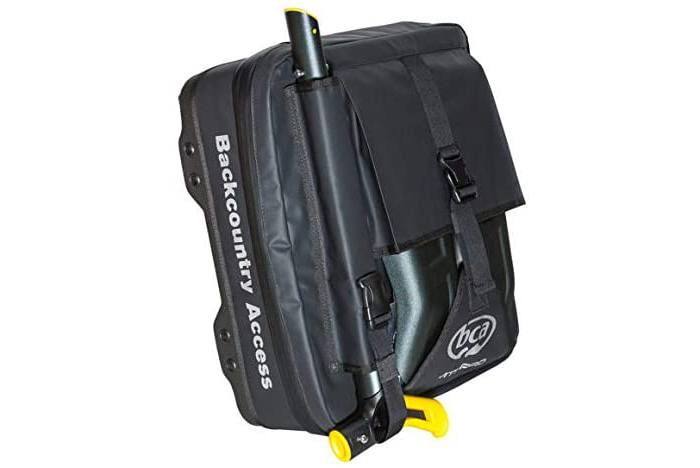 BCA is at it again with its MtnPro bag, which is designed to keep your avalanche shovel easily accessible.
The construction is waterproof, so you never have to worry about your gear getting wet or damaged. The durable outer shell offers durability and protection, and thanks to its integrated shovel, it's easier than ever to haul around your gear.
Inside the MtnPro Tunnel Bag is 21 ounces of extra storage space. Protecting the bag is 500D polyester and PU coating. You can trust that your stuff will be safe and dry throughout your sledding adventures.
Yes, it's a bit costly. But when it comes to protecting your snowmobile gear, it's hard to argue with the price.
4. Yukon Charlie's Yukon Sport Utility Shovel

Yukon Charlie's Yukon sport utility shovel makes an excellent addition to your snowmobiling adventures. Made with lightweight materials that are both durable and effective in removing snow, you will appreciate having this useful tool with you.
It's also adjustable, making it easier to carry on your person or haul on your sled. You can rest assured that this snowmobile shovel will perform well thanks to its 6000 aluminum body.
For added convenience, a slip-proof ABS handle ensures that your grip stays secure as you dig yourself out of the snow.
The Yukon measures just 14 inches when it's being stored. While in use, however, you can extend the shovel from 26 inches to 33 inches.
5. Lifeline Aluminum Sport Utility Shovel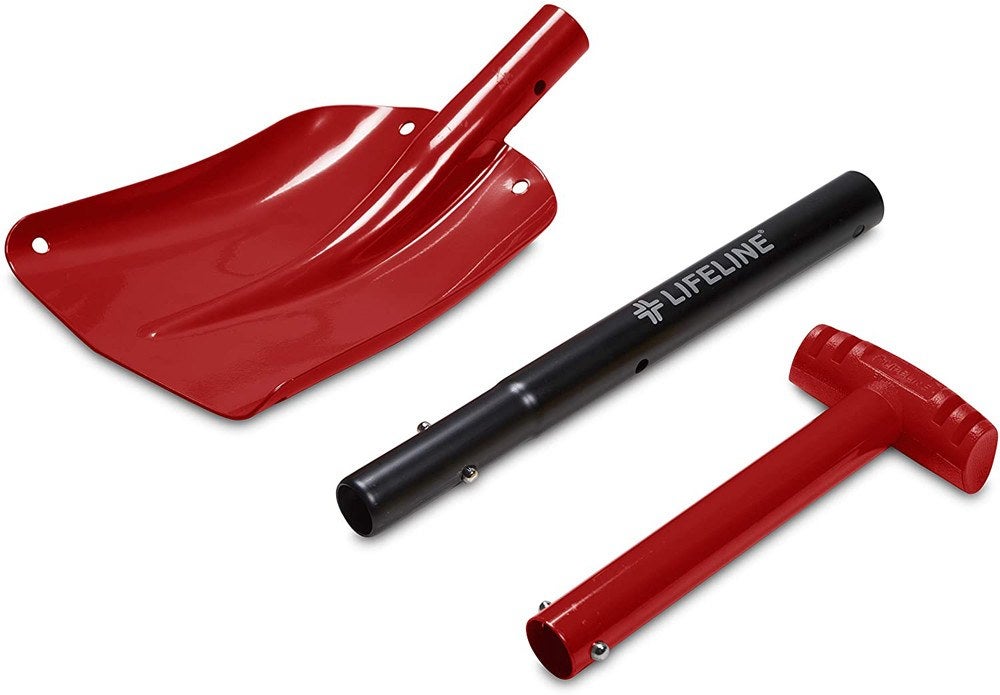 Lifeline's Aluminum Sport Utility snowmobile shovel will serve snowmobilers well. This tool features a handy three-piece collapsible design that makes transporting and handling the shovel a piece of cake.
The durable aluminum body gives you a shovel that is both lightweight and dependable. At just 1.3 pounds, you will be able to easily pack your shovel with you.
The adjustable design gives you three different lengths to choose from, so you can trust that you'll always have the most comfortable size shovel to work with.
Adjust to either 21, 26, or 32 inches. Select the short size of removing snow packed around your sled. Choose the longer lengths to dig the deeper snow that's keeping your snowmobile stuck.
6. Backcountry Access A-2 EXT Shovel With Saw

At just a little under 2 pounds, BCA's A-2 EXT Shovel is one of the heavier entries in our guide. It's also one of the most durable and long-lasting. The incredible build quality consists of tough 6061 T6 aluminum.
Like other BCA snowmobile shovel options, the A-2 comes with a nice bonus in the form of a saw that stores in the shovel's handle. Thanks to this handy addition, you can safely and effectively cut bothersome brush and branches from your path for safe passage.
For dimensions, the BCA A-2 EXT shovel is just 16 inches long when collapsed and can extend all the way out to 30 inches. Meanwhile, the saw measures 16.3 inches in total length.
How Do You Mount a Shovel on a Snowmobile?
Your best bet is to invest in a trustworthy tunnel bag to mount your snowmobile shovel to your sled. Tunnel bags offer the storage needed to safely carry your shovel as you ride.
For those of you that ride with a backpack, it is also possible to tie down a snowmobile shovel to the outside of your backpack. However, that does add more weight to your shoulders and back while you ride, which is not an ideal solution.
Additional Resources
Recent Updates
2/3/2022: Ranked products, updated product descriptions, updated product links, removed out of stock product, added new product (Klim Backcountry Snow Shovel), added additional resources
---
We are committed to finding, researching, and recommending the best products. We earn commissions from purchases you make using the retail links in our product reviews. Learn more about how this works.