Best Snowmobile Suit Options for Cold Weather Riding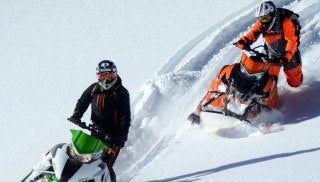 We look at the best snowmobile suits available
Whether you're cruising on a nicely groomed trail or ripping through deep backcountry powder, wearing a snowmobile suit that keeps you dry and warm is key to ensure you have a fun and comfortable day of riding. Nothing is worse than a cold or wet rear end, or getting snow up the back of your pants while digging your sled out. We've got you covered (literally) with our top recommendations for snowmobile suits. While researching and deciding what snowmobile suit to wear, take into consideration the type of riding that you do, the terrain that you ride in, and overall feel, quality and wear of a suit.
1. Editor's Choice: KLIM Railslide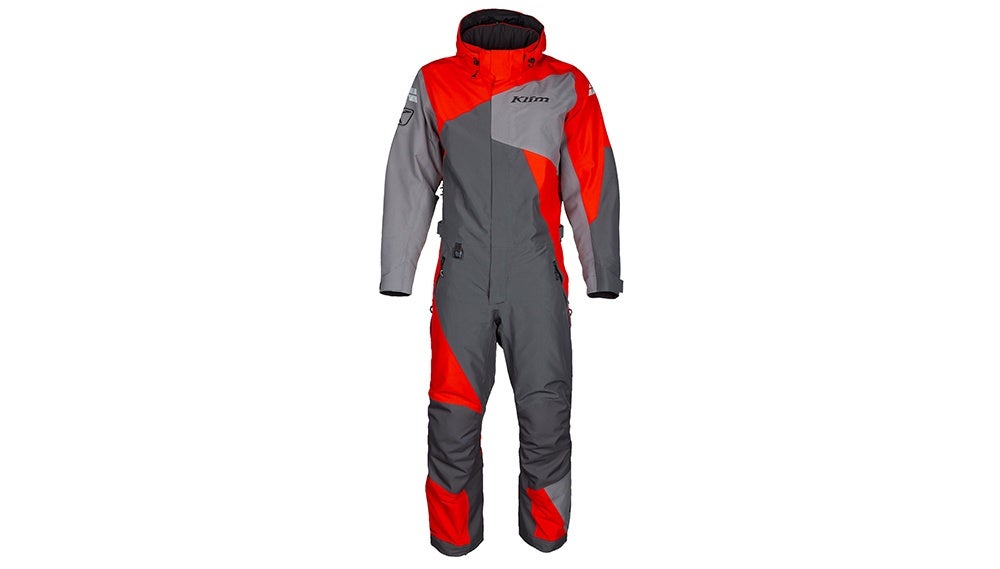 This Klim men's snowmobile suit screams quality, from it's breathable and durable GORE-TEX shell to it's waterproof and windproof outer materials. Klim guarantees that this suit will keep riders dry and comfortable with full pit vents as well as side leg zips that also double as vents. To ensure a perfect fit as possible, the Railslide one-piece features an adjustable collar, adjustable cuffs with thumb holes, adjustable waist straps, removable knee pads, velcro boot gaiters and boot retention loops that keep the cuffs in place to prevent snow from getting in when you don't want it. This was the top choice of our staff for being a suite loaded with features at a reasonable price.
2. Runner Up: Polaris TECH54 Monosuit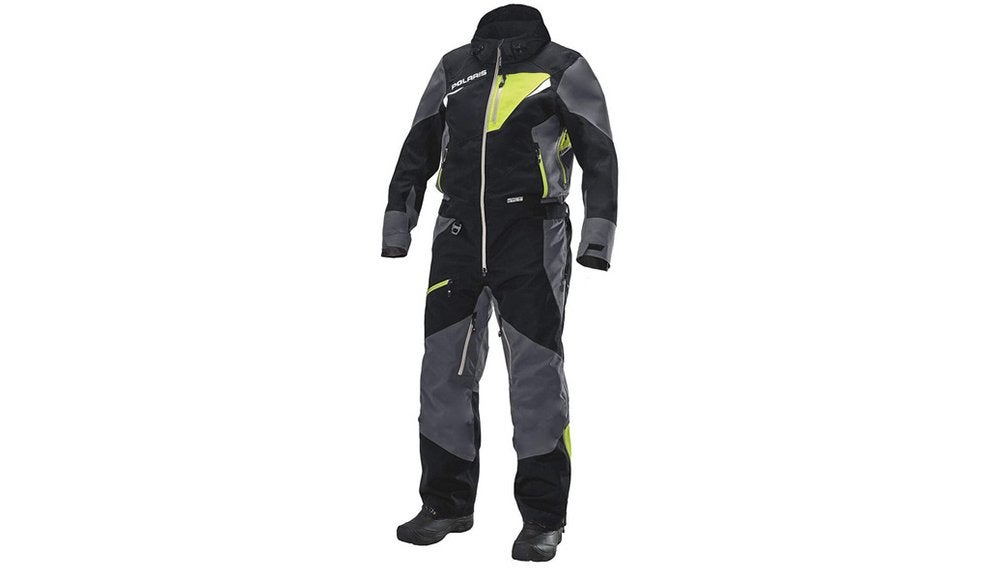 Being a leader in the snowmobile industry, Polaris also has their own line of apparel to keep you warm when you're playing in the powder. The Polaris TECH54 Monosuit features waterproof TECH54 fabric to keep moisture out, and a breathable membrane that allows both heat and moisture to escape so you stay comfortable. To ensure you stay cool and comfortable while you ride, the Polaris Monosuit also features back and leg venting to provide cool air circulation, and a removable/adjustable hood to keep the chill off of your neck while an interior snow skirt and hand gaiters prevent snow from getting in your suit.
3. Castle X Freedom Monosuit
The Castle X men's monosuit is a one-piece design featuring a durable, insulated shell made of polyester and nylon materials. The suit is made of 3M Thinsulate insulation that is water resistant, and a Ven-Tex 2.0 shell with windproof, waterproof and ventilated materials allowing moisture to escape while keeping heat in. It also has padded kneepads, sealed seams and 2-way waterproof zippers, in addition to backpack friendly ventilation.
4. Joe Rocket Men's Snow Suit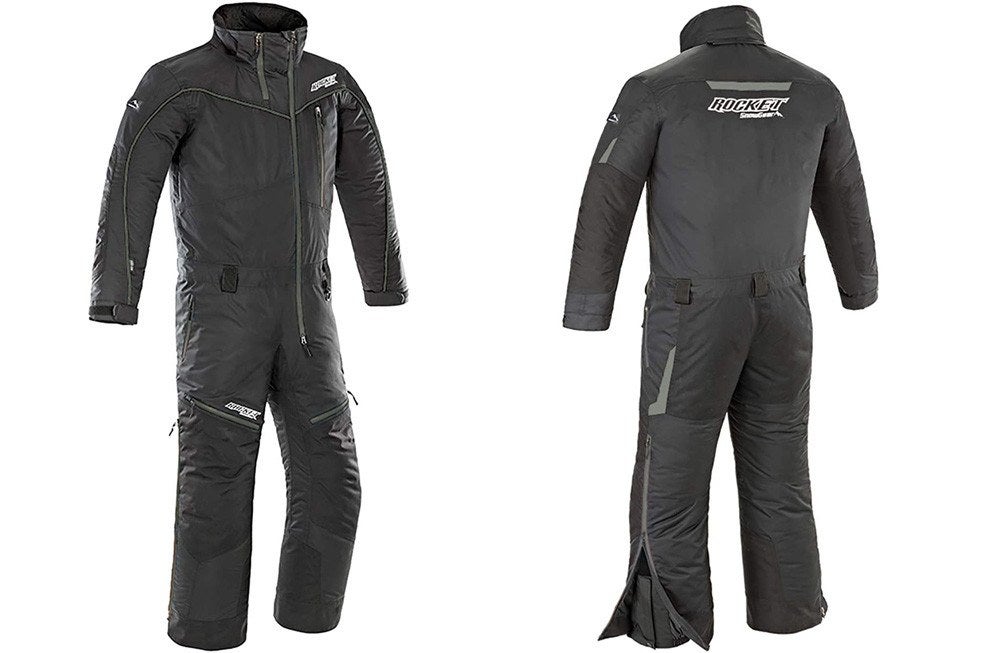 For those who are looking for simplicity, this is the snow suit for you! Sure this one may not have all of the bells and whistles of other suits, but it still features a windproof, waterproof and breathable shell, along with a sealed seam, reflective zippers and enough insulation to keep you warm on the trail.
5. RefrigiWear Men's Iron-Tuff Insulated Coveralls with Hood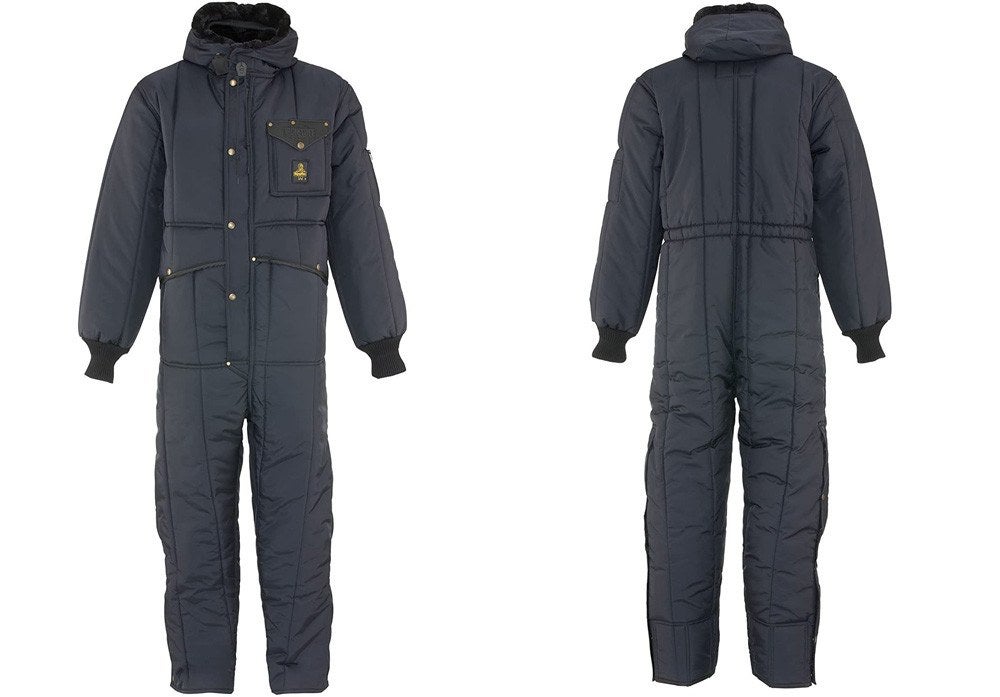 This men's snow suit is definitely not your typical sporty, high viz suit, nor is it marketed specifically to snowmobilers. However, it offers a unique design that may suit your style, and is a great all-around suit that you can wear while riding on the trail, chopping wood at your cabin, ice fishing or more. These coveralls are incredibly warm, and rated to keep you warm in up to -50-degree temperatures. The outer shell is water repellant and will work hard to block out wind, and the exterior is made of tough nylon material to prevent wears and tears. Plus, it has extra pockets for all of your gadgets and tools that may need while out working or riding!
6. DSG Outerwear Women's Snow Monosuits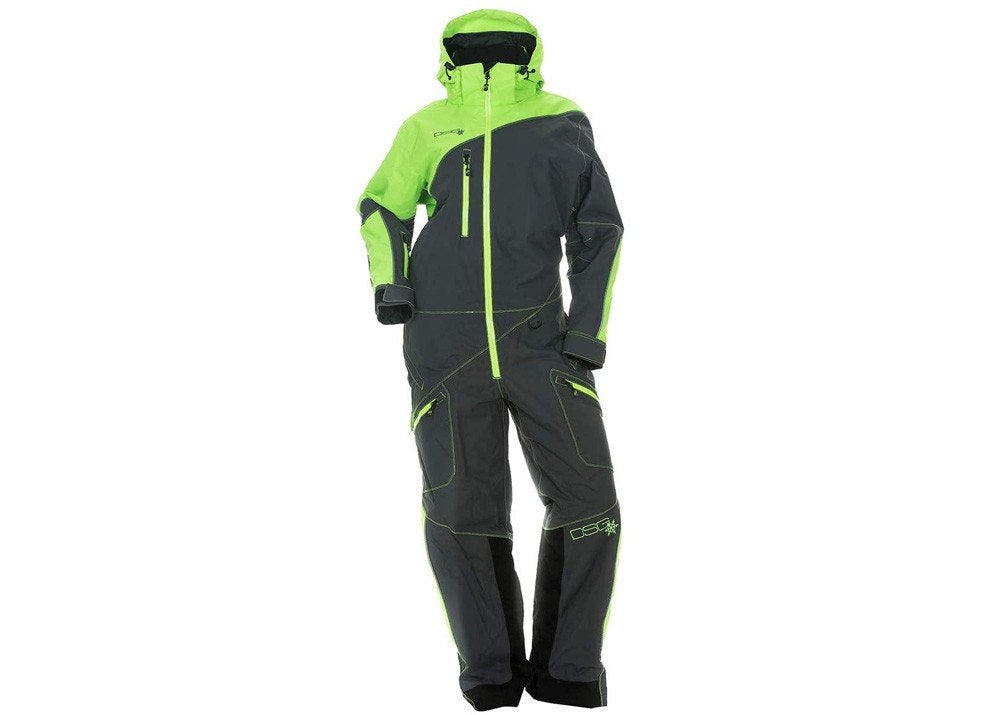 Diva's Snow Gear (DSG) offers this one-piece women's snowmobile suit that has a feminine fit, yet is functional and durable while out riding on the trail. Appreciated by many women, this monosuit features a drop seat option which is often not found in one-piece suits, along with fashionable colors and reflective piping for added visibility at night. Other features include a number of vents to ensure ultimate breathability, and it also has a waterproof coating to keep riders dry while riding. Add in adjustable suspenders, waist, cuffs, and removable hood for an all-around great monosuit option for women snowmobilers.
Should I buy a monosuit or a two-piece snowmobile suit?
In the past several years the monosuit or one-piece snowsuit has made a major comeback and many snowmobilers are trading in their bibbs and jacket for the one piece wonder. The decision to go one piece or two really comes down to personal preference. A monosuit is great because it eliminates snow getting into your pants and adds additional warmth as there aren't additional exit points for temperature to escape or wind to enter. However, some riders don't like the idea that you can't separate your top and bottom, complaining that its difficult to use the restroom, or that it's tricky to manage the top half if you get warm (i.e. its awkward to tie the top part of a monosuit around your waist vs. just removing a jacket). In addition, you can't wear just the top half of your monosuit separately like a jacket. So again, it depends on your preference, the type of riding you do, and whether you plan on wearing your jacket on occasions other than snowmobile riding.
Why does everyone buy brightly colored snowmobile suits?
While bright colored snowmobile suits look really cool, they also serve a functional and practical purpose as well. When out in the backcountry, it's much easier to see a riding buddy on a mountain, through trees, or worst case, if carried by an avalanche, when they are wearing bright colors. Riders who wear white or light colored snowmobile suits, or suits that match the terrain (i.e. black, brown, green) can be harder to spot, and so, to ensure safety it certainly can't hurt to throw on a fluorescent snowmobile suit. Again, it's your preference!
Additional Resources
Recent Updates
10/19/2021: Updated product descriptions, ranked products, replaced OOS product FXR monosuit with Polaris  TECH54 and Klim Railslide monosuit, added Additional Resources, updated product links.
---
We are committed to finding, researching, and recommending the best products. We earn commissions from purchases you make using the retail links in our product reviews. Learn more about how this works.