First Impression: 2018 Fly Racing Title Glove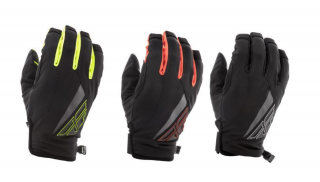 After reaching out to Fly Racing for some marketing photos for our last Title Glove review,  the Team promptly sent us the 2018 Fly Racing Title glove. Thank you to Tim, Ron, and Nathan, and congratulations on 25 years.  Moving forward we at Snowmobile.com would like to provide more reviews of trail and mountain gear and today we're giving you our first "First Impression" of the 2018 Fly Racing Title Glove.
As soon as we slipped on the gloves we noticed some immediate updates in material, weight, and features. We called Nathan Titus and he educated us on the changes. Nathan, we miss hearing you rip triple pipes!
The Materials
The topside of the Title glove has changed from a Neoprene type fabric to a new Ballistic Nylon.  They received feedback from the sledding community that the old Neoprene would absorb water, allowing the inner layers to absorb moisture, and in extreme conditions, freeze.  Nathan states that the new material is more waterproof and wind resistant.  Fly continues to employ HIPORA technology which is claimed to be waterproof, windproof and has a breathable membrane, and they continue to use Thinsulate in their construction.
The Title's palm material is Clarino, a synthetic microfibre leather.  This material is used on the palm of most motocross gloves.  This material will hold some water but genuine leather will hold more.  Clarino allows for a super-thin palm while retaining durability and reducing moisture.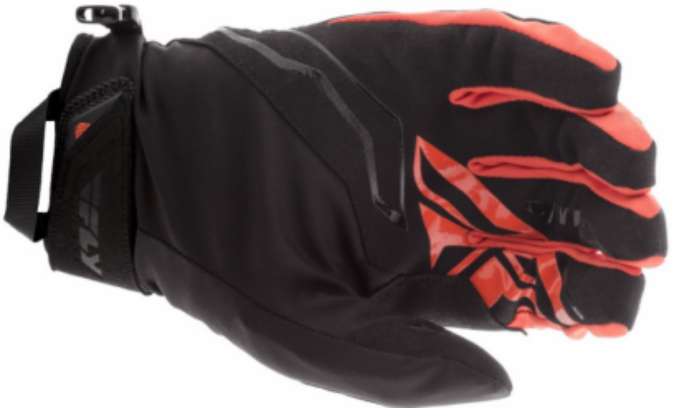 The Weight
Our first impression was that this glove is lighter than the last model.  We got out our digital scale that we normally use for weighing pistons & rings, connecting rods, and other engine parts for balancing.  Low and behold, the new Title glove is only 1.86oz, whereas the last model was 2.11oz.
Other Features
We instantly noticed the material changes and weight reduction, but we also noticed there isn't a goggle lens wiper anymore, sad face.  When testing the Touchscreen technology at our desks we couldn't get it to work on an iPhone 8 with a screen protector or an iPhone 7 without a protector. Maybe we need more "electronics education" at 40. Fly has added a handy, well-placed pull loop at the cuff. The silicone grip on the palm and fingers feels good but has less silicone than previous models. The tough thumb stretch panel was retained.  They've added little clips to keep your gloves together as a set. There is now reflective material for safety. And we noticed that the fingertip design has changed for even more durability.  This is a well thought out, featured, and designed glove.
Fly's Full Glove Line-Up
Nathan and the Fly Racing Snow Division are very passionate about how important gloves are, and we agree.  While on the phone he took the time to educate us on the full line, so when you check them out, refer back to our  quick Coles Notes education from Nathan Nitus, WPS Snowmobile Product Manager:
Ignitor Pro Heated
Thin leather palm
Knuckle protection
Extreme cold riding glove
Great for multiple uses from feeding the cows, to shovelling snow, or the long ride back to the trailer at the end of a riding day
Ignitor II Heated Glove
Insulated gauntlet style glove
Aurora glove + same heating system as Ignitor Pro
Aurora Glove
Great for snowmobiling and cold weather motorcycling
Neoprene gauntlet for added protection from the elements
XPLORE Glove
Title glove with a cuff
A little heavier than the Title
Boundary Glove
Not waterproof but windproof
Genuine digital goatskin water resistant leather palm
Thin material with injected knuckle protection
Great for boondocking through branches
Not bulky, also great for UTV/Dual Sport
Lite Windproof
Super thin
Race glove
Windproof back
These are gloves I personally own and wear on warm days for backcountry or track riding
907 Cold Weather
Between Boundary and Title
Media Glove
Super thin and light
Based off the Fly Lite moto glove
Media finger
We'll report back on the 2018 Fly Title glove (and hopefully more models) in our "Mid-Season Update".  We'll let you know if they feel as confident on the bars as the last two models.
To study Fly's Gloves and their whole line and find a dealer, click here:  Fly Racing