First Impression: Motorfist Carbide Glove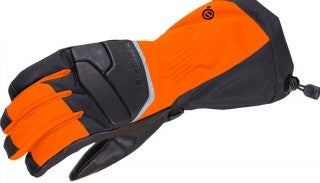 We have taken on the "First Impression" review of gear because we feel it represents how snowmobilers shop for new gear. We all have different body types, wants, and needs with our gear, so please consider this when you're reading, researching, and making a purchase decision. Today we're giving our First Impression of the Motorfist Carbide Glove.
Our immediate first impression when assessing these gloves is lightweight, snug fitting without the use of a removable liner, and immediately flexible.
Construction and Materials
The Carbide uses eVent Fabrics to make this glove waterproof and breathable. 200g of PrimaLoft Gold insulation is used underneath the genuine leather on the back of the hand, and 133g of PrimaLoft is used underneath the leather palm. Motorfist has employed a new "bonded palm construction" which we'll have to get more information on and report back on when we've worn and used the gloves and offer a full review. The genuine leather palm is seamless and includes the wraparound fingertips. The balance of the material is 300D polyester and offers some reflective material as well.
We have compared the wraparound fingertips versus fingertips that have a stitched seam. We've found that the stitched fingertips sometimes offer a better or quicker to conform "curl" on our handlebars, but we have also seen those fingertip seams get damaged if gloves aren't cared for or are used for other uses besides snowmobiling. Of course, cutting and tossing firewood should be dedicated to gloves other than your snowmobiling gloves.
Features
The wrist strap and gauntlet pull are both easy to both tighten and loosen. The wrist strap is mounted on the underside of the glove, making it less likely to get caught on anything. The lens wiper is mounted on the thumb and we're used to having it on our pointer finger, so we'll report back on its placement and ease of use. We prefer a one-piece glove over a liner, but what we found is that the Carbide's built-in inner liner is not stitched or glued into the fingers. On days when our hands sweat we find that inner liners built like this can pull out of the glove. Again this is often personal preference or experience, and maybe we should be wearing a lighter glove on those days, or switch gloves while we're digging ourselves out, causing us to sweat.
Overall
The genuine leather is soft, feels good, and grips well on the bars. The gauntlet fits snugly on over our coat sleeves. The stitching and panels are all very well placed for flexibility and durability.  We look forward to testing these on colder days.