Snowmobile Helmet Choices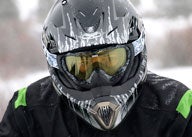 Snowmobilers have more and better helmet options than ever before
In the good old days of the mid-1950s, pioneering snowmobilers such as Polaris legend David Johnson raced their prototype models wearing whatever headgear would keep them warm. Frequently the protective headgear of choice consisted of a trapper's fur hat with long dangling flaps to keep the ears warm. By the mid-1960s snowmobile maker Ski-Doo offered yellow and black styled open face helmets made by Kangol, a British hat and motorcycle helmet maker. Today we have an incredible selection of helmets specifically designed for snowmobilers.
Early snowmobilers suffered through snowmobile helmet designs that oftentimes fogged faceshields and goggles and leaked frigid air, which could lead to frostbitten areas around the chin, nose or neck. Thank goodness that's the past. No longer do we get slightly modified motorcycle helmets with single-pane faceshields. Today we get helmets thoughtfully engineered to minimize fogging and ice buildup. The helmets are sealed and interior padding is designed for fit, comfort and warmth. Yeah!
Not only do we have exceptionally functional snowmobile helmets, but also we have them in a wide assortment of color and style choices. When looking at helmet choices for the season ahead, rest assured that your preferences will most certainly differ from mine. As a seriously veteran snowmobiler who actually wore one of those Ski-Doo-branded Kangol helmets, my preferences still run to open face styles. Fortunately there are significantly safer open face styles than what we had back in the day.
Open Face
While there are colorful replica and vintage-styled helmets, for riding modern high-speed capable sleds, we go for the wrap-around modern style that has been used by some NASCAR drivers. The Bell Sport Mag helmet offers a side wrap that gives you lower jaw protection while maintaining great outward visibility. Priced at less than US$250, the Sport Mag has a Snell SA2010 rating with its lightweight composite shell. The helmet features a visor peak to help shield your eyes when wearing goggles.
The Bell Sport Mag is versatile and will suit you for sledding, ATVing, street bike cruising or even boat racing. Versatile and comfortable, the helmet comes in white, gloss black and orange and is available online at various outlets. When ordering, be certain to check the Bell helmet-sizing chart for proper fit.
Although we have used a "shorty" helmet for hot weather ATVing, we don't recommend this style for use with modern sleds. Even though a Shorty with a leather side curtain closely resembles some of those early Kangol helmets, this helmet style offers little protection to anything other than the basic skull area. If you can't find an actual period style helmet to match a pre-1975 vintage sled, you could have a Shorty painted to match your sled. And, this would be where we feel comfortable suggesting one of those open face replica styled helmets. Since many of those 1960s and early 1970s vintage sleds maxed out at 50-horsepower, this helmet style should offer enough base protection.
Full-Face
For maximum protection you want a full-face design. Even within a helmet maker's helmet line you'll find a variety of styles. For example, HJC offers different levels of its helmet that range from the CL16 in a variety of colors and graphic styles to a modular design with BlueTooth connectivity.
The HJC CL16 features a polycarbonate composite shell that offers lightweight ruggedness and superior fit. The helmet's integrated face shield provides 95 percent ultraviolet protection from its optically corrected construction. Keeping the view fog-free is helped along via HJC's Advanced Channeling Ventilation System that uses front to rear airflow to effectively flush your body heat and humidity up and out. The lining is comprised of a special removable SpeedCool fabric that is said to be moisture wicking, odor-free and anti-bacterial.
This Snell and DOT approved helmet is available in XS to XXXL and can be found online and at many snowmobile dealerships.
If you want the ultimate-plus in full-face helmet protection, take a look at the HJC IS-MAX BT or Nolan's N104 modular helmets. The HJC BT designation stands for BlueTooth communications. This special design not only features a single button tip-up release for the chinbar/faceshield, but also integrates recesses for using a Chatterbox communicator or other speakers.
Retailing for about US$270 with an electric shield, the HJC IS-MAX BT also comes with the company's signature Advanced Channeling Ventilation, an integrated smoked sunshield, UV-protective face shield, and SilverCool fabric interior. The helmet is available in XS to XXL sizes.
Nolan Helmet's claims that its N104 design "reinvents the modular helmet." The company states that the N104 "…is the synthesis of all the innovation that Nolan was able to introduce in the field of modular helmets, starting with the first and original N100 in 1998."
Made from a lightweight and aerodynamic Lexan shell, the N104 features a built-in spoiler for improved stability. It is offered in sizing from XXS to XXXL in two shell sizes to keep the weight and volume of the helmet proportionate to the size of the rider.
You'll find this helmet gives you a very wide and tall eye-port with a correspondingly large, optically correct visor. There is also an internal scratch-resistant and fog-resistant sunshield that can be positioned via a slider and retracted instantly by a button on the lower trim of the helmet.
The pivoting chinbar has a stainless steel latching mechanism and a patented elliptical trajectory that places the chinbar closer to the helmet to reduce wind resistance when riding with the helmet open.
Nolan's proprietary Airbooster system channels air from the helmet's front intakes to exhaust vents in the back, dispersing it efficiently along the crown of the helmet. You can also independently open the forehead vents to customize the flow of air in the helmet.
There is a fully removable and washable four-piece Clima-Comfort padding that is treated with natural silver salt to be antibacterial and antifungal.
To be competitive in this day of instant communications, like the HJC BlueTooth design, the new Nolan N104 modular is equipped to accommodate Ncom B4, which the company says is the easiest to install all-in-one BlueTooth communication system.
Moto-X Style
While full-face protection suits many riders, another choice is a motocross-style helmet; popular with backcountry and big bump riders. One such style that is typical of the genre is offered by Klim.
The popular Klim F4 Snowmobile Helmet, which retails for around US$400, has been updated to make it one of the most comfortable helmets on the market. This newest version features fit and sizing improvements permitting a better fit on a wider variety of head shapes. The EPS liner shape has been modified and the cranial shape at the top of the helmet has been altered, which helps keep the helmet positioned correctly.
Klim significantly enlarged intake and exhaust ports to allow more air to enter and exit the helmet. The company notes: "The three large air channels that run laterally through the helmet were already some of the deepest offered in any helmet, but we have made them deeper in this version, allowing even more air to pass over the head and out of the helmet."
The F4's comfort liner was completely redesigned and represents the latest technologies in moisture-wicking fabrics with its moisture-wicking foam offering strategically placed perforations to allow a much greater volume of air to pass through the liner to enhance comfort. The helmet design changes have resulted in what Klim calls "…a dramatically cooler and drier riding experience."
Available at dealerships across the snowbelt, Klim's F4 exceeds Snell M2010 and U.S. DOT standards.
Youth
And, of course, we can't overlook the youthful riders, who can enjoy a variety of styles in specially featured and sized helmets. Just as it does for adult snowmobilers, HJC brings its same quality standards to its HJC CS-Y Hellion design. These full-face youth helmets retail for around US$100 and meet or exceed the DOT standard DOT.
The HJC youth helmet shell is made of lightweight polycarbonate and features an integrated ventilation system, Nylex plush comfort pad interior material, a large eye port and visor designed to provide maximum visibility. Available sizes range from S/M to L/XL.
Even the kids get in on the modern benefits of having snowmobile-specific snowmobile headwear. We've come a long way from fur trapper hats and Kangol helmets. And, as those of us who lived through the old days can attest, we are much better off in this modern gilded age of snowmobiling.
Related Reading Sizing Up Your Helmet Ski-Doo Goes MX with Pro Sno Cross Helmet No Fog Mask Helps Riders See Clearly