Best Snowmobile Tie Down Systems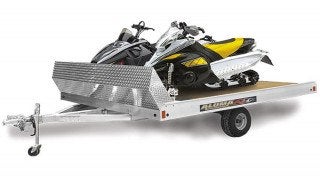 Keep your sled secured while you travel
Good snowmobile tie down systems are designed to keep your sled securely in place on your trailer during transport, and if you're not using the proper straps or clamps to secure them, your day could come to an abrupt end before you even get to your favorite ride spot.
Our team of snowmobile enthusiasts found some of the best snowmobile tie down systems available so you can rest easy knowing that your sled is properly tied down when you haul it to trailhead. After all, snowmobiles are expensive and damaging your machine on the way the trail is just about the last thing you want. From clamping systems, to heavy-duty tie-down straps, and the anchors to secure them to, we've found everything you need to safely and securely transport your favorite sled.
1. Editor's Choice: SuperClamp Rear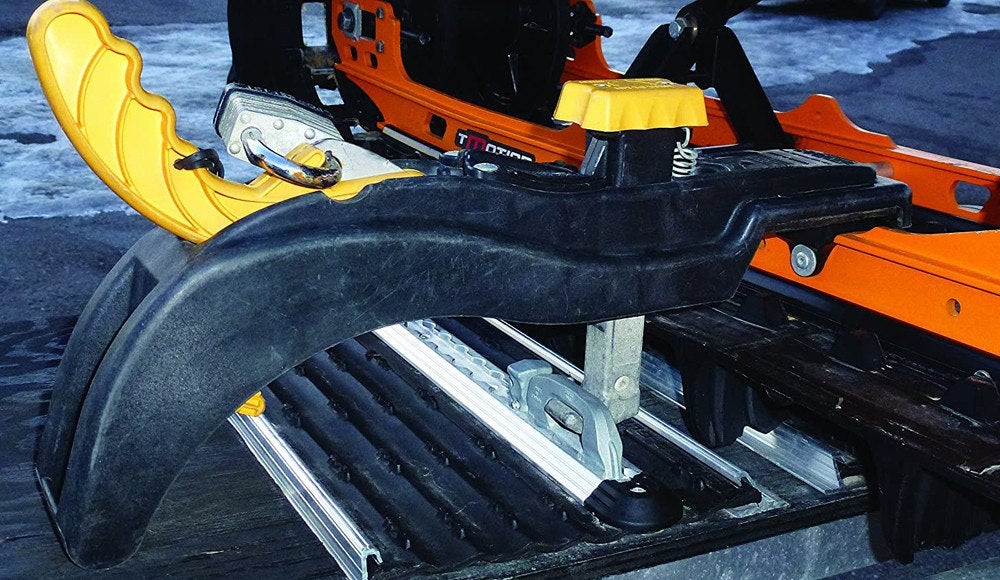 Using the outstanding SuperTrack system, the SuperClamp rear is designed so that you can quickly and securely clamp the rear of your snowmobile to your trailer or truck bed. As an added bonus, it also accommodates a padlock, so you can deter would-be thieves from stealing your beloved sled.
Once the SuperClamp Rear is in place, securing your snowmobile to your trailer or truck bed is dead simple.
With this rear clamp snowmobile tie down, you get a deck hook and mount screw. The strength of this clamp is excellent, so you can count it to serve as a reliable companion as you transport your sled.
2. Best Tie Down Strap Kit: Rhino USA Ratchet Straps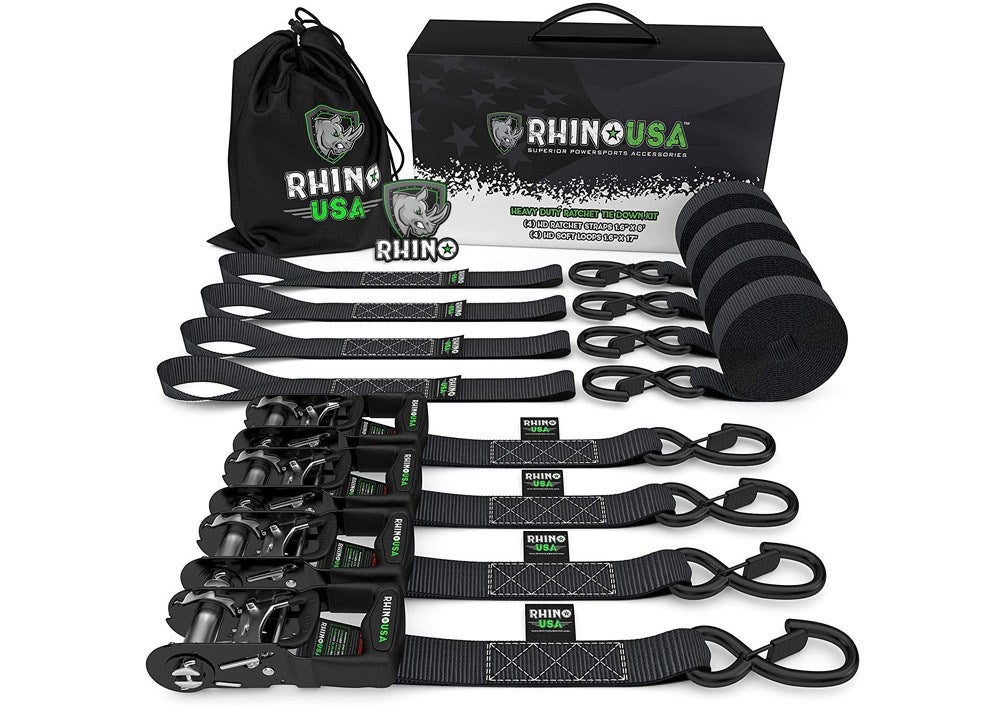 A good set of ratchet straps is always worth keeping in your kit and is essential if you using traditional anchor points to lock down your snowmobile to your truck or trailer. This package from Rhino USA is one of our favorites.
Included in the package are four 1.6" x 8" ratchet tie downs and four 1.7" x 17" soft loop tie downs. While you can find cheaper ratchet straps in some big box stores, these Rhino straps are next level. They feature padded handles, coated S-hooks, Rhino USA's exclusive poly/silk webbing for added toughness with a soft touch, and an impressive 5,208-pound break strength.
Rhino USA is a father-son business based out of California and they've got a great reputation for making some of the best ratchet straps and tie downs in the industry.
3. Editor's Choice: SuperClamp II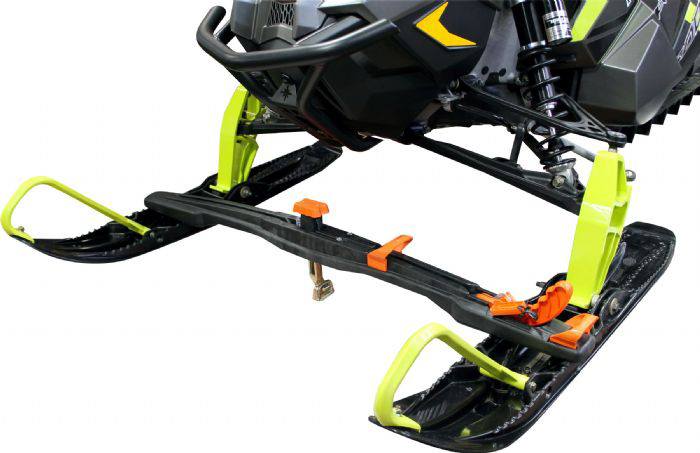 Much like the SuperClamp Rear, the SuperClamp II snowmobile tie down system provides you with a fast and secure snowmobile mounting solution.
Where the SuperClamp Rear secures the back end of your snowmobile, the SuperClamp II is designed to lock down both of your skis in just a couple of seconds. And you can use a padlock to offer some extra security to deter thieves.
4. Best Trailer Anchor Kit: SuperClamp SuperTrac Kit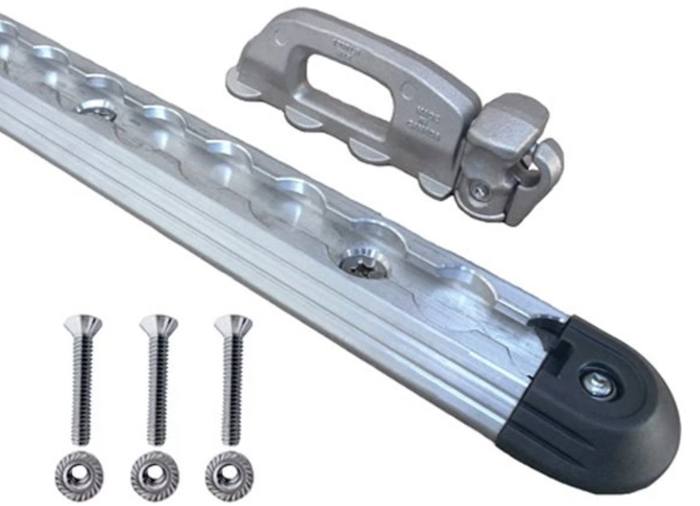 The biggest name in snowmobile tie down systems is SuperClamp and everything is built around the Canadian company's SuperTrac system.
Simply put, the SuperTrack system is a fully lockable tie-down anchor system for use on a trailer or even in the back of your truck. It is an aluminum track (available in 12", 24" and 48" lengths) that you attach SuperClamp's Deck Hook to. With the Deck Hook, you can take advantage of the SuperClamp's different tie down systems to hold the front and/or rear of your snowmobile securely in place. The Deck Hook can move up or down the SuperTrack track and be locked in place.
This is a remarkable affordable and useful product and the ideal starting point if you want to take advantage of either the SuperClamp Rear or SuperClamp II systems, which we will discuss below.
5. SBN Snowmobile Trailer Hold Down Bar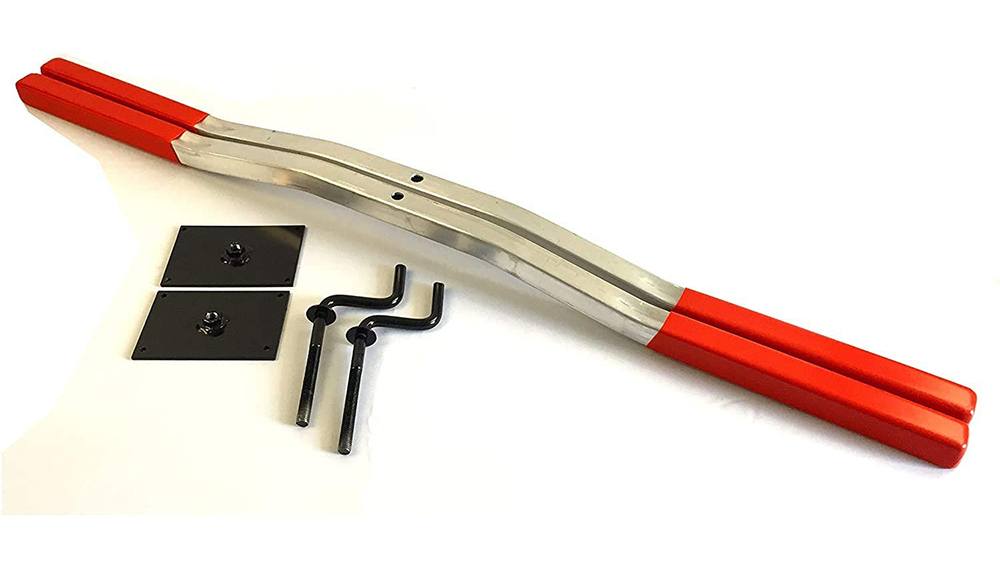 This aluminum ski bar from Northbound is, essentially, the old school version of the SuperClamp II. It is very simple in design, as it lets you hold your skis securely in place on your trailer using a single screw .
What's good about this design is the aluminum construction is strong enough to last you many years of regular use and you don't need any other parts to lock down your skis.
On the down side, you have to manually tighten and loosen the screw every time you load and unload your sled. That can take a bit of time and effort – especially at the end of a long day of riding.
However, there are very few parts to this snowmobile tie down system, which means very few things that can go wrong. Keeping it simple has its advantages.
6. US Cargo Control L Track Tie Down System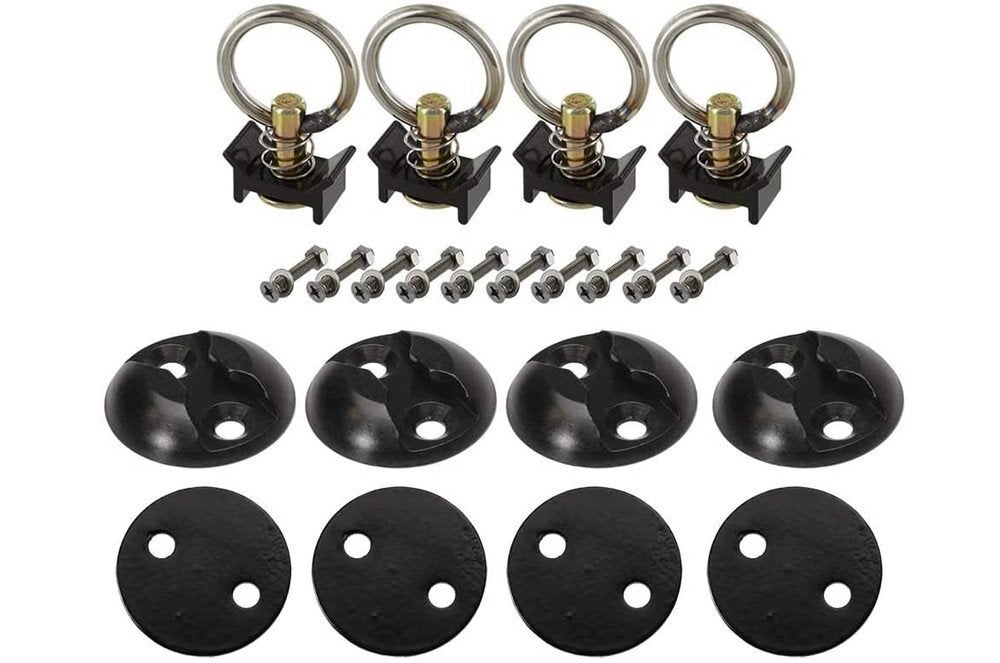 With this versatile snowmobile tie down, your sled will stay securely in place on your trailer or in the bed of your pickup truck.
Essentially, this kit provides you with four anchor points you can use to strap down your snowmobile, motorcycle, or ATV. This is a low-profile system that will largely go unnoticed when you aren't using it.
Installation is simple and straightforward. Fasteners are included with your purchase that serve to assist in installing the anchor points. Each included bolt plate and L Track piece come with two pre-drilled holes. These help to speed up installation so you can put the tie-downs to work.
The straight pull limit of this system is 1,333 pounds, so you can rest easy knowing that your sled is sufficiently supported.
With this kit, there are 22 pieces in all. You get four 2-inch round aluminum L track pieces that are coated in powder black for added durability. Also included are four 2-inch bolt plates, four 2-inch single stud fittings with a round ring, and 10 ¼-inch bolts, nuts, and washers.
How do you tie down a snowmobile on a trailer?
How you haul your snowmobile is very important. You don't want to have to worry about your sled while you're driving, so you must make sure that you secure your snowmobile correctly.
You first need to safely load your sled using a quality, reliable ramp. Once you have your snowmobile on your trailer, it's time to start securing the sled. Quality ratchet straps and front tie-down bars are necessary to get the job done.
By using mounted ratchet straps, you can effectively create a solid mounting position. In doing so, you can trust that your snowmobile will stay securely in place as you travel.
It's best to utilize ski guides and mats for your sled tracks, as they will help protect your trailer from getting damaged by carbides and studs.
Which are better? Tie down straps or track clamps and ski hold down bars?
This really comes down to personal preference, but our consensus is that the more secure you can make your cargo the better off you are. While straps are good because of convenience, they do require you to check on them intermittently when you're traveling because the material can stretch and loosen up, allowing your ski to move around. If you're using systems like track and ski clamps, these are much more solid and don't allow for excess movement. The downfall is that A. you need to have a spot to install the mount and B. loading your sled needs to be a bit more precise.
Additional Resources
Recent Updates
1/27/2022: Ranked products, updated product descriptions, updated product links, added new products (SBN Snowmobile Trailer Hold Down Bar), added FAQ and added additional resources
---
We are committed to finding, researching, and recommending the best products. We earn commissions from purchases you make using the retail links in our product reviews. Learn more about how this works.