Tested: Klim Rohn Collection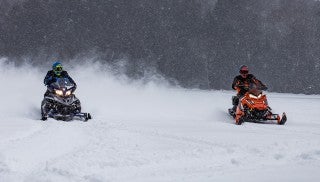 We had the opportunity to test the Klim Rohn Collection in Northern Canada.  Even when temperatures plummet below -20 Fahrenheit, we go snowmobiling.  The Klim Rohn Collection is engineered for those extremely cold temperature days when nobody wants to sit around looking out the window.
The Rohn Parka
This parka/jacket is heavily insulated using 350-400 grams of 3M Thinsulate Platinum insulation, offers a very thick and durable 200D Nylon outer material with 600D nylon in high wear areas, and of course has a Gore-Tex Performance Shell.  When you first slide into the Rohn Parka you'll think it feels bulky but you'll get past that.  Our experience is that you don't notice the bulk while you're riding, or wearing it by the bonfire.  Make no mistake, you'll never be cold even when just hanging out, standing or sitting still in this gear, and your cell phone battery will never die in cold weather.
The Rohn Parka is very well optioned.  It has 4 well-placed exterior pockets and 4 interior pockets including a very handy large goggle/other pocket.  The 6 exterior vents are well thought out and placed; 2 on your biceps, 2 on your chest, and 2 on your back, all with a snow mesh barrier.  The zippers are high quality, always work well, and are all well protected from the wind.  The heavy-duty dual-head/two-way center zipper is protected by the double storm flap and the exposed YKK zippers are weather resistant.
Other notable features include; integrated silky silicone-treated insulation, welded zipper flap treatments, adjustable snow dust skirt around your waist, 3M Scotchlite reflective material, helmet-friendly adjustable collar, hand gaiters with thumb hole, internal fleece collar and shoulders, beard flap, waist adjustment in pockets, internal headphone routing port, and a high quality D-Ring for your tether cord which is near and dear to my heart.
The Rohn Bib
Sometimes we snowmobilers experience a cold feeling on our thighs, our ankles, and our bum.  These were not present in the Rohn Bib.  In fact, once it warmed up during the day we opened the 2 thigh or side leg zipper vents a bit.  This is a very comfortable bib.
The Rohn Bib's construction materials are very similar to the Parka yet Klim proves how much thought they put into their gear.  The bib also offers a three-layer Gore-Tex Performance Shell, silicone-impregnated 3M Thinsulate insulation in the thighs for a less-restrictive range of motion, 2 exterior pockets (where we put our cell phones), and 2 interior pockets.  The boot gaiter is very well thought out, and the option to strap your bib to the D-Ring on the Klim boots is a awesome and very welcomed.  We have never gotten snow or water in our bibs or boots using this system.
Many of us have 2 sets of gear for warm and cold weather riding.  The Rohn Collection can be considered a  go-to option for extreme cold weather riding for both lakes and long trail rides.  Hopefully, this winter will afford us more of those deep cold riding days.
To compare Klim's insulated outerwear and other offerings, click here:  Klim Snow