2016 Snowmobile Engine Grid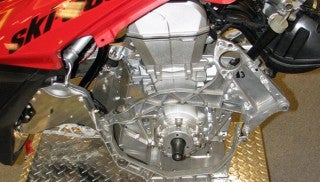 Who's got what under the hood for 2016?
If you think shopping for a new 2016 snowmobile will be easy, think again. Unless you know exactly what you want to ride heading into the next snow season, your shopping world could get complicated.
First is that little conversation you should have with yourself about what kind of rider are you – really! We are all the best riders to ever put a snow boot on a runningboard. That's obvious, but we still need to dig inside our psyche and ego just a bit and deal with the reality of our being.
Maybe we're ready to dial it back – or up – and go for a more trail-friendly or big bump conquering ride. What suspension package do we want to pay for: the big bump premium one or the notched back smoother riding one? What track length do we want to deal with? Trail riders have choices between 120-inch lengths up to 140-something. Mountain riders can stretch out their track options all the way to 174 inches and points in between.
That doesn't take into account which brand(s) we might consider. Do we go with our tried and true brand that our grandparents rode or something aimed at a young charger?
What really matters is what do we want in power under the hood. Do we want quiet running with above average fuel efficiency? How about the brute horsepower of a turbocharged engine?
For the 2016 model year you will have 26 engine options from which to choose. These engine choices, which range in displacement from 500cc to 1056cc, will give you power levels that start in the mid 50s to a power peak of 180-plus horsepower.
Those 50-horsepower two-strokes feature basic technology that dates to the 1970s, but got updated over the decades with smooth operating Mikuni slide carburetors, nicasil cylinder linings, revamped transfer porting for improved reliability and performance, and modern ignition systems for quicker starts.
Maybe not at Polaris, but the era of the 500cc fan-cooled two-stroke is coming to an end. Polaris retains its Fuji-built 544cc twin to power a myriad of Indy and utility models. Ski-Doo and Arctic Cat also feature select models with 500cc fan-cooled twins, but the future is bleak for them at those two snowmobile manufacturers.
Arctic Cat just introduced a Series 3000 four-stroke engine to power various Bearcat and Pantera models. With horsepower in the same range as the Suzuki-built 570 fan-cooled two-stroke, we expect the new fuel-injected 700cc Series 3000 to replace the carbureted two-stroke in coming seasons. Designed by Arctic Cat but built by Kymco, the 700 comes from the four-wheeler side of Cat's business. Cat engineers are adamant that the Series 3000 liquid-cooled twin is snowmobile-specific and not an ATV engine fitted to a sled. Whatever. We did find the 700cc Series 3000 twin quite palatable for budget touring or utility purposes. It was quiet and smooth. Plus, it should get much better fuel economy than the two-stroke.
Ski-Doo's 550F fan-cooled twin hangs on for this season, but in fewer models. The replacement for this fan-cooled Rotax is the much more efficient and technologically superior advanced combustion 600 ACE. This twin-cylinder four-stroke engine offers similar power but greatly enhanced fuel economy and expected life cycle. This is one of two advanced combustion designs from which to choose, the other being the 900 ACE with a claimed 90 horsepower and an extra cylinder.
Ski-Doo really stepped up in the four-stroke segment of its model mix in recent seasons. Added as an option for serious four-stroke buyers is the nicely revamped 1200 4-TEC. As with the ACE 600 and 900 engines, Ski-Doo brought a multiple-performance mode and fly-by-wire throttle control setup to the 1200 triple. Officially that feature is called Intelligent Throttle Control (ITC) and it offers an incredibly light throttle pull and activation of three different modes of operation: economy, sport and standard. Your options run from modest performance to very good with the updated 1200 4-TEC.
While Yamaha no longer offers any two-stroke powered sleds, the company reworked its Vector series 1049cc mid-performance engine and added a three-performance mode feature to compete with the Ski-Doo four-strokes. The main difference is that with the Ski-Doo you can change modes on the fly, but must come to a stop before making a mode shift with the Yamaha.
There are 13 four-stroke options from the three companies. And 13 two-stroke choices from the four snowmobile manufacturers. Both Ski-Doo and Arctic Cat offer eight individual engine options. All of Ski-Doo's engine choices are produced by its Rotax engine partner, with some Evinrude influence used to develop the E-TEC two-stroke system.
Arctic Cat also offers eight choices, but utilizes three other engine builders to supply them. The new Series 3000 700cc four-stroke may have been spec'd out by Arctic Cat, but it is built by Kymco. The fan-cooled two-strokes and the impressive 800cc two-stroke twin are both produced by Suzuki, which also supplies the 1056cc four-stroke twin used in Cat's 180 hp turbocharged Series 9000 models. Yamaha's three-cylinder four-stroker powers all Arctic Cat Series 7000 models. Plus, Arctic Cat's own 600cc direct-injection two-stroke twin now powers a greater number of models for model year 2016.
When it comes to two-stroke choices, three of the sled makers basically hone in on two power ranges: the 100 to 130 horsepower range and the top range of 150 and up. Ski-Doo pioneered the clean burning two-stroke when it evolved its popular 600cc and 800cc Rotax twins away from conventional carburation and over to emission reducing, fuel efficient E-TEC technology. These have been among the most popular designs used on today's sleds.
Not to be outdone, Polaris developed its Cleanfire injection system along with its own engineered and manufactured series of Liberty engines. The latest Cleanfire two-stroke, the 800 HO Cleanfire, was first offered last season in the AXYS Rush and Switchback. For 2016, the 800 HO powers a new series of lighter Pro-RMK mountain sleds. As noted, Arctic Cat features a strong running Suzuki-built 800 and its own 600cc clean injection twin.
Although the four snowmobile manufacturers offer 26 different engine options, the reality is that snowmobilers really only care about two main segments – the 600 category made up of two-strokes and four-strokes producing between 100 to 130 horsepower and the 800 class comprised of engines generating 150 horsepower or more. Obviously Polaris recognizes this reality and makes due quite well with basically two engine options: the Cleanfire 600 and Cleanfire 800.
As a snowmobile consumer, it's nice to have choices, but chances are that Polaris is correct. You'll choose a power point in the 600 or 800 classification, regardless of whether the final choice is two-stroke or four-stroke power. That's the reality for model year 2016.
Manufacturer

Engine Type

Horsepower Range

50-95
105-125
130-145
150+
Arctic Cat
2-Stroke
Series 2000 565cc Twin Carbureted, fan-cooled SuzukiSeries 4000 499cc Twin Suzuki
Series 6000 599cc Twin Arctic Cat
Series 8000 794cc Twin Suzuki Series 9000 Turbocharged 1056cc Twin Suzuki
4-Stroke
Series 3000 700cc Twin Arctic Cat/Kymco
Series 5000 1056cc Twin Suzuki
Series 7000 1049cc Triple Yamaha
Polaris
2-Stroke
544cc Twin Carbureted, fan-cooled Fuji
600 Cleanfire Twin Polaris
800 HO Cleanfire Twin Polaris800 Cleanfire Twin Polaris
Ski-Doo
2-Stroke
550F 544cc Carbureted Fan-cooled Twin Rotax
600 HO ETEC Twin Rotax600 Carb Carbureted Twin Rotax
800R ETEC Twin Rotax800R PowerTek Carbureted Twin Rotax
4-Stroke
600 ACE Twin 3-mode EFI Rotax900 ACE Triple 3-mode EFI Rotax
1200 4TEC Triple 3-mode EFI Rotax
Yamaha
4-Stroke
499cc Sport Performance Twin Yamaha973cc Mid Performance Carbureted Triple Yamaha
1049cc High Performance Triple Yamaha1049cc YCCT 3-Mode
998cc High Performance Inline Four YamahaTurbocharged 1049cc High Performance Triple Yamaha