Add-On Pieces for Your Polaris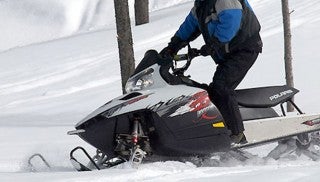 Upgrade your Polaris this summer
One of the most popular snowmobile brands with aftermarket builders is the Polaris line of snowmobiles.
The fact that Polaris was the Number One selling brand for more than a decade helps keep the market fresh for add-ons. In addition Polaris has proven to be one of the most proficient sleds in deep powder, making it a popular platform for upgrading everything from suspensions to engines.
During these non-snow months, serious Polaris owners can scan a number of aftermarket catalogs and web sites as they think about what they can add to make their Polaris sleds suit them better in the winter ahead. We offer a few suggestions from some of the top names in snowmobiling aftermarket products.
Lefty's Dual Throttle
And we thought it was just us that suffered the occasional throttle bind problem going from left to right. Apparently not, as a small northern Idaho company, Lefty's DTC, developed a user friendly, bolt-on left hand throttle control kit. Started in 1999 by Dr. Jim Miller, a Dentist who loved to ride snowmobiles, but preferred to stay with dentistry, the company was sold so that the product could undergo necessary refinement and proper promotion.
Today Lefty's is owned by Jason Meyer, who has developed the unique throttle to fit all popular snowmobile brands. The latest iteration, Lefty's Side Hiller-2 Dual Throttle Control kit is both affordably priced and designed as an easy to install universal kit.
The kit comes pre-assembled with easy-to-follow color photo instructions. To fit this universal throttle kit, you bolt the two-piece Lefty's Throttle Block over the handgrip, route and secure the Lefty's Cable over to the right hand side of your snowmobile, then insert two screws to secure the Lefty's Bell Crank to the sled's stock throttle lever. Once you've done this, all that's left is to check that the device works freely.
Lefty's latest throttle kit features a newly designed Billet Aluminum Cantilever Right Side Bell Crank, which mounts behind the OEM throttle pivot pin on the bottom side of the OEM throttle lever, then points out towards the front of the sled. Mounting the piece behind the OEM throttle pivot pin creates reduced pull on the Lefty's throttle lever.
The kit includes a new billet aluminum Left Side Throttle Block that securely mounts over any size handgrip and features a new throttle lock out pin. The kit is designed so that it is not only simple to install, but can be installed without needing any modifications of the manufacturer's stock right hand throttle set up.
Lefty's also fashioned a unique new cable made to the right length to fit all OEM mountain sled handlebars. Sealed to keep moisture out, the cable simply routes from the Lefty's Throttle Block straight over to the Bell Crank.
Specifically designed for left hand use, the throttle lever sticks straight down and can be easily operated with one or two fingers — or used with your left thumb when trail riding. The kit retails for a suggested price of US$99.95 and is available directly from Lefty's.
For more information, contact: Lefty's DTC PO Box 107 Kootenai, ID 83840 Telephone: (208) 255-5800 Web: http://www.leftysasap.com/
Hi-Performance Engineering, Inc
Editor's Note: Though Hi-Performance Engineering did carry radiator kits when this article was published back in 2009, the company no longer carries these products.
Although owner Glen Follet has a strong Arctic Cat heritage, his company, Hi-Performance Engineering, caters to Polaris enthusiasts with a line of special Polaris kits. If you are looking to upgrade an older Polaris Indy chassis, you'll find that HPE offers an aluminum radiator kit to fit the EDGE.
This radiator kit is designed to increase the sled's cooling capacity, making it perfect for use on ice or in limited snow conditions when snow isn't getting to the sled's runningboard-mounted heat exchangers. This kit can be a real benefit for hot-running, high performance trail sleds. The HPE kit includes a custom built radiator, hose, mounting hardware and comes with easy-to-follow installation Instructions. The kit retails for US$274.95.
Boondockers will appreciate the snow blocking action of HPE's Powder Snow Pre-Filter Kit that's designed for the Polaris IQ Switchback and newer RMK models. HPE states that while the kit increases intake surface area for increased performance, it also eliminates the stock Polaris foam filters.
The pre-filter securely fastens to the hood, providing a more positive seal for improved cold air intake with less chance of snow ingestion through intake vents. Featuring a brushed aluminum grate and pre-filter material that repels snow and water, the HPE Powder Snow Pre-Filter Kit retails for US$41.95.
Another airflow kit is HPE's Polaris High Flow Intake Kit that converts the top of the sled's airbox to increase intake air velocity. Engineered to push more air volume into the airbox, the design is claimed to improve atomization efficiency of fuel, thus improving throttle response and delivering as much as an additional three horsepower peak. The kit retails for US$42.95
For more information, contact: Hi-Performance Engineering 2415 Pilot Knob Rd Mendota Heights MN 55120 Telephone: Order Department, (800) 451-5268 Technical or Product Information: (612) 746-7307 Web: http://www.hiperf.com/
Starting Line Products
A pioneer among performance companies, Starting Line Products (SLP) has earned its reputation for offering high quality products. Because Polaris is popular with western riders, SLP offers an exhaust system for the Polaris-built Liberty 600 Cleanfire twin. The SLP 600 HO Cleanfire Single Pipe is said to increase power output by seven horsepower while reducing overall weight by more than seven pounds.
The SLP pipe utilizes the company's new Era 2007 Silencing Technology, which provides weight savings while boosting horsepower. The new pipe is designed to deliver a rich, full sound.  The pipe kit includes a ceramic-coated pipe and silencer. SLP claims that there is no ECU modification required. The SLP pipe retails for US$560.
To add ease when sidehilling, SLP offers its 2-Wheel Kit that changes 1997 to 2009 Polaris RMK and Switchback models from a 3-wheel rear idler setup to a 2-wheel setup. This kit moves the outside idler wheels to the inside of the rails, eliminating the extra idler from the center. SLP claims the kit's benefits include lighter weight and easier sidehilling. The suggested retail price is US$69.95.
For more information, contact: Starting Line Products 743 Iona Rd. Idaho Falls, ID   83401 Telephone: 208/529-0244 Web: http://www.startinglineproducts.com/
Related Reading Creating a Mountain Sled on a Budget Arctic Cat Bolt-Ons Ad-Ons For Your Ski-Doo Get Your Yamaha Ready This Summer