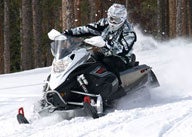 Help your sled get a grip
Most snowmobilers rarely give their sled's skis a second thought, until that day when the sled seems to have a mind of its own and begins to dart into the grooves in the trail. Then we think about the effect our skis might have. Maybe we find the steering effort is a bit heavy. Maybe our front end washes out when we push into a corner. Then we give our skis a thought or two. But, what are our options?
Generally speaking, the skis on your snowmobile are designed to match the habits and usage the sled maker expects of the average rider. The base ski is designed to be all things to all snowmobilers and to fit most all sleds in a manufacturer's model line. Okay, that's a bit general, but isn't it interesting to note that the plastic skis on a sport performance sled might be the same as the ones on a lower cost sled?
In the real old days, metal skis were stamped out by the thousands and fitted to virtually every leafsprung model in a manufacturer's line. Heck, the same ski Yamaha used on its top of the line Enticer series was identical to the one used on its low buck SnoScoot. It kept costs down and on sleds with leafsprings ski design wasn't terribly important. The main criteria were cost, basic function and durability.
When independent front suspensions – be they trailing arm, A-arm or struts – came on the snowmobile scene, the game changed. Snowmobile racers knew right away that the old skis weren't good enough. Oval track sled racers discovered that independent front suspensions, combined with engines mounted between the ski spindles and very sharp and short carbide wearbars, caused the racing sled to "dart" from one grooved ski rut to another. To a less severe extent, this darting phenomenon began appearing on trail sleds. Even today, some snowmobiles exhibit various degrees of darting due to specific trail conditions.
Ski Options
The solution is complicated and isn't going to be solved just by opting for new skis. But ski performance does enter the picture. Other considerations include the type of wearbars you have on your sled. Some aftermarket wearbars come with a flat, tongue-like design that seems to be effective. You can use less aggressive wearbars with reduced carbide length. But, if you want to change out your sled's stock skis, there are options.
For more than a decade, Yamaha has worked with various aftermarket snowmobile parts suppliers to create plastic skis that enhance the front end performance of its 4-stroke sleds. One of those suppliers, Ultimate Sports Inc. (USI) takes ski design very seriously, breaking the ski down into several component parts.
USI owner Kevin Metheny engineers each USI ski model to provide specific characteristics for the snowmobiler. A high-performance rider wants different characteristics than a touring rider, but they both want maximum performance for dollars spent. If you explore the USI line of plastic skis, you'll note some similarities like the use of high-tech plastics that allow the USI ski to flex and help grip the trail. Metheny and USI have been creating snowmobile skis since the late 1980s.
Veteran trail riders will appreciate the VX-301 Super Trail Ski with its unique V-tunnel design. This design is said to give the ski superior snow penetration, which means it will bite better than a stock ski for aggressive turn-ins. Even so, the design provides easy steering with minimal darting effect. This ski also features USI's Super Flex Rubber Handle linkage that is claimed to minimize ski tip feedback when running over a series of stutter bumps.
Aggressive Bite
The aggressive sport rider will want to check the X2 Triple Threat design with interchangeable fin design. According to USI, you can actually fine tune the ski by changing the front and rear 'Sno-Eater' fins. There are a variety of front keel fins that can be matched to a selection of tail fins to make the ski respond better in turns, perform better in loose snow and reduce ski to snow friction for enhanced top end speeds. The shorter tail design on this ski quickens the sled's overall turning ability.
USI's SS Railer Ski is a 'speed' ski developed to assist top end running while still providing ample cornering capability. It is a smaller ski with a 'stepped' keel design, which effectively reduces the drag from the front of the wearbar and seriously reduces the front end's tendency to dart back and forth on trail grooves. USI claims up to a four mile per hour gain in speed versus its own earlier ski designs.
The USI ski models not only provide an upgrade in performance, but can be color-matched to give your sled a custom look. You'll find models in red, yellow, white, blue, and black. For more specific product information, go to the company's web site at http://www.usi-skis.com/.
Powder Skis
Obviously, USI isn't the only maker of snowmobile skis. If you are a deep snow rider, you aren't interested in small, narrow skis to reduce on-trail darting. You want wide, high-flotation skis that keep you on top of bottomless powder. Today's sled makers looked at what the serious powder hounds were running and added that ski style to their premium mountain machines.
Companies that cater to the western rider created specialized designs. One company, Starting Line Products (SLP) of Idaho Falls, Idaho, promotes its SLP Powder Pro Ski as "…the ultimate in loose snow performance for maximum flotation and precise steering control." What deep snow riders want from a powder ski is agile steering and ski flotation that lifts the sled's front end to reduce drag from the belly pan and front suspension
SLP claims that its Powder Pro ski uses an exclusive Compaction Control Technology (CCT) to direct snow under the ski, compacting it for maximum lift. Because such skis increase both flotation and steering control, they have become 'must have' components for today's super-extended track length mountain snowmobiles.
For more specific information about SLP products, check out SLP online at http://www.slp.cc/.
Whether you are a long distance trail rider, a speed racer or a powder fanatic, you don't have to settle for one-size fits all stock skis; you can shop around for a ski set that better fits your snowmobiling lifestyle.