Yamaha Upgrades You Want to Make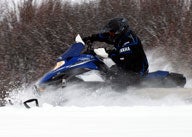 Improve your Yamaha snowmobile with these add-ons this season
When it comes to making your Yamaha "special" via customization, you'll find that unlike the other brands, Yamaha itself has a few very unique and very proprietary add-ons that you won't find in the aftermarket. While all sled makers have unique accessories, the fact is that many of the items in the manufacturer catalog may have started out as a design advanced by an aftermarket supplier, which proves it successful enough to warrant space in the sled maker's catalog. That has been the case with products like plastic skid plates, specialized skis and storage gear. Of course, since the sled makers realize that there is money to be made in offering its own branded specialty accessories, the aftermarket has been left out to some degree, although many aftermarket companies actually still are used to manufacture some of the accessories sold as being OEM branded.
And, even though Yamaha offers a vast array of accessories conceived by aftermarket partners, there are at least two Yamaha add-ons that you won't find in any catalog or online accessories store other than Yamaha's own. These are specialty products uniquely designed and engineered for Yamaha snowmobiles using Yamaha's rigorous engineering and testing before making the products available to the public. As far as we're concerned, these are "must have" accessories, because they will improve and enhance your enjoyment of your Yamaha. The last item won't have as big of a need, but comes as a result of a partnership necessitated by a demand from "flatland" performance riders
"DuPont" Slides
The first of our list of "official" Yamaha must-have add-ons is the brand's new "DuPont" Slides. Actually the slides were available last year in limited availability. The product's popularity made them very hard to get and very much in demand even at the US$60 price. What makes the DuPont Slide such a "must-have" item is how the slide's construction from super slippery DuPont Vespel solves a long-standing hyfax situation, which could have your sled's suspension rails effectively sticking to the track or, at least, overheating.
Vespel has properties that make it harder than standard hyfax and actually stronger than hardened steel, aluminum or titanium, which means exceptional durability. Plus, Vespel is a proven space-age polymer composite that withstands heat and extreme friction, both very common in the life cycle of a suspension's hyfax slide.
Of course, as you might expect pure Vespel slides would be very expensive, but adding this DuPont product to hyfax rails as material inserts provides a good value at fair pricing, extended slide life and a more slippery rail that may add a bit of performance, but Yamaha won't officially confirm that benefit.
This add-on won't make your sled look more stylish, but it will save you from replacing your hyfax as often as you did in the past.
You can order the DuPont Vespel slides through your local Yamaha dealer, which may be a good idea as the pieces only come in 144-inch segments and you may want the dealer to cut them to fit any rails less than that length.
Dual Runner "Tuner" Skis
Again this is a product engineered by Yamaha. Actually Yamaha engineering spent a great deal of effort in creating this ski. First it had to review existing snowmobile ski patents, of which there are many! Once they could be assured that they weren't violating any pre-existing design criteria, the engineers had to figure out what kind of ski design they could create to use on future Yamaha models – while still being able to retrofit past year's four-stroke models. The ski needed to be easy to steer, yet it needed to reduce darting while maintaining a good "bite" for cornering.
The answer is the Tuner ski, a ski that features a 20mm wide base and accommodates two runners. Designed with two keels and a slightly angled profile to allow a smooth under-ski flow to minimize build up and gathering of other on-trail debris, the Tuner ski comes out of a compression-molding process that ensures a gloss finish and strength as well as minimal weight.
The Tuner ski will bolt onto 2003 and newer Yamaha snowmobiles, including various Apex, Nytro, Vector, Phazer and Venture models. The ski is called the "Tuner Ski" because it leaves the final ski handling up to you. You can go super aggressive and fit the ski with dual heavy carbide runners or go super light and add a pair of flush mount runners. In the real world you'll be somewhere between those extremes depending on your riding preferences. If you put on lots of miles, you'll find a fit that gives you bite on the outside runner with less bite on the inner runner to help with tiresome darting and lighter steering effort. Or, something like that. Here again, you might want to work with your Yamaha dealer on getting your initial set up as he has the product and Yamaha-provided charts for recommended set ups. This product will be a welcome upgrade and it is completely designed to improve your riding enjoyment.
Nytro Supercharger
This power bolt-on seems s-o-o un-Yamaha, especially as an authorized in-the-catalog accessory! After all this is a company that tests, tests, tests and then retests before it allows anything with the Yamaha logo to escape into the hands of the consumers. Don't misunderstand; the partnership between Yamaha and the manufacturer of the add-on supercharger, Mountain Performance, Inc., did most definitely include much test time. Enough that Yamaha showcased its Nytro Genesis triple-cylinder as a "boosted" engine for mountain usage first. But, this past September, Yamaha and MPI teamed up to provide "flatland" riders, or those who ride at elevations below 6,000-feet, with a product that adds an immediate 45-hp and maintains a nearly pure stock outward appearance and utilizes the stock exhaust to keep the sled trail legal in noise sensitive areas.
To support the quality of the partnership with MPI, Yamaha backs this kit with a one-year limited warranty. And you'll want that, as the kit's basic price is US$4400.
This specific supercharger set up relies on a fairly modest amount of boost, stated to be about 5-psi. We say modest as Arctic Cat is said to use about 7-psi on its turbo one-liter Cats. And, many "boosted" modern small displacement automobiles, such as the Subaru WRX uses 13 psi while Chevrolet's turbocharged 1.4 liter Cruze runs about 16 psi of boost to get its 140 horsepower. The Yamaha Nytro three-cylinder gets upwards of 180-hp from its light air push of 5 psi versus the turbo Cat at 177-hp.
Indeed, aside from this Yamaha-specific partnership, MPI offers turbo kits for the Nytro-engined MTX models that can push out 220-hp with 11 psi of boost, plus more serious modding. But for Yamaha-backed bolt-on power the 45 extra horses from the MPI/Yamaha partnership makes for a nice on-trail upgrade.
Of course, there is an independent aftermarket happy to supply you with gear for your Yamaha snowmobile that ranges from performance clutch kits, to handlebar storage bags, to handlebar risers and specially sized and fitted sled covers for towing and storage. Don't think that Yamaha's accessories catalog is the only place to get gear for your Yamaha snowmobile, but it is the only place, at least this season, to get the add-ons we've showcased here. These are unique and developed specifically for your Yamaha.
Related Reading Upgrades for Your Yamaha Snowmobile Do-it-Yourself Ideas for Your Yamaha Get Your Yamaha Ready This Summer Personalize Your Ski-Doo Customize Your Polaris Snowmobile Add-Ons for Your Arctic Cat