BRP-Made Upgrades for Your Ski-Doo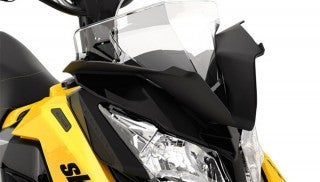 Bring your current Ski-Doo up to spec with bolt-on accessories
No company knows Ski-Doo snowmobiles better than Ski-Doo. Engineers and hands-on technicians in research and development continually look at how to enhance "Ski-Dooing" as a winter lifestyle. Yes, it's about selling product. But it's more as many of these Ski-Dooers breathe and experience the product on a personal level.
Whenever we've been at a Ski-Doo function, the folks from Ski-Doo want you to enjoy the products they've created and want to show you how their products aren't merely to be ridden but to be experienced. They do this with a fervor rarely matched by any other snowmobile company we've ever encountered.
Maybe it's a French-Canadian joie de motoneige thing that comes from being one of the pioneers of the sport and the de facto creator of recreational snowmobiling as we know it. Ski-Doo snowmobiles date back to 1959 when Bombardier, the Quebec-based maker of heavy-duty winter snow coaches and vehicles for forestry needs, launched its light-footed snowmobile with a front-mounted engine, twin wooden skis and a rubber belted track. That original Ski-Doo concept took snowmobiles from rear-engined lumbering hunks to sporty winter play toys. And it helped move Bombardier from snow vehicles to trains, trams and commercial aircraft.
Over the course of the sport's history, more than three million Ski-Doo snowmobiles have been manufactured for a worldwide market. From the original light-footed Olympiques to the current rider-forward REV-based models, Ski-Doo has led the sport with innovation and creativity. While that creativity frequently shows up in new deep powder and trail models, the company's engineers go beyond the newest sleds to keep Ski-Doo riders on board with the brand. For example, you can find the pieces to upgrade your current Summit to the same specifications as the new T-3 models. The innovative LinQ system enables riders to customize their sled for touring, off-trail or deep snow activities. While Ski-Doo dealers would prefer to sell you an all-new model, they can offer you products to personalize, update and extend the life cycle of the one you have now.
If you are looking to upgrade your Ski-Doo for the 2016 snow season, look to Ski-Doo for the right stuff that fits and adds a bit of style to your ride. Start with the Ski-Doo online store and check with your local Ski-Doo dealer to answer any questions you might have.
LinQ
Polaris has its Lock & Ride system and Ski-Doo has its LinQ system. Both provide mounting points for specially configured accessories. The LinQ system is Ski-Doo's sturdy full-lock mounting system that adds great versatility and range to your Ski-Doo snowmobile. Since its introduction in 2012, LinQ products include a complete accessory line of luggage, trail bags, racks and a very handy fuel caddy that can be used by itself or with a stowage bag. What we like about this system is how securely and quickly you can attach or remove accessories. The LinQ accessories are designed to enhance various models. As flatland tourists, we wouldn't worry as much about running out of fuel as a backcountry rider might. While we would consider the fuel caddy, we would probably add a tunnel bag to stow gear for a day's tour.
The LinQ fuel caddy, depending on the sled, can be used by itself or in conjunction with an accessory bag. Mounted on the rear of your sled, the fuel caddy has a low profile design to maintain the sled's low center of gravity to retain handling. Available for US$129.99, the LinQ Fuel Caddy will fit most REV-XP, XS and XR models, but you should check with your dealer to be certain.
Customize Your Ski-Doo Snowmobile
The LinQ Tunnel Backpack, which retails for US$149.99, is a nifty and versatile piece that features a quick-disconnect system to instantly transform the bag into a backpack. It has a soft strap for mounting to the LinQ. Mountain riders will appreciate the backpack as it includes a compartment for the Ski-Doo Shovel and Probe.
While we flatlanders may not recognize the thrill of backcountry snowboarding, Ski-Doo does and accommodates adventure boarders with a unique LinQ Snowboard/Ski Rack solution that mounts to a Summit's LinQ system and makes getting your snowboard to the top of the hill easy. This accessory requires the addition of a heavy-duty rear bumper, but the kit itself includes all necessary hardware that lets you convert it to quickly fit boards or skis. Because the rack can be detached quickly, you can stow it when you want to ride or fit it to the sled when you want to go downhilling. Retailing for US$329.99, the system can be used on REV-XP and REV-XM models with track lengths from 146 inches to 163 inches. You can also use the rack with other LinQ accessories, such as a bag or the fuel caddy.
Suspension Updates
Ski-Doo understands that deep powder riders might want to keep their current sled, but would like to update it to the latest backcountry specifications. So if you want to ride high with your buddies, you can upgrade an older Summit to T3 standards with the 36-inch front suspension kit. The package retails for US$799.99 and includes all the parts you need to enjoy the agility of the original S-36 handling package, plus gain the benefits of the new RAS2 for improved straight line tracking on big bumps. In addition to the revised styling of the T3, you'll benefit from lighter weight and new HPG shocks. You'll also have a ski stance that can be adjusted from 35.7 inches to 37.4 inches.
If you want to go all out, add the tMotion suspension conversion to your Summit or Freeride. Update the SC-5M suspension with the US$350 kit to get the latest swing action motion of the new tMotion models. If you go that route, you should consider adding the PowderMax 2 Flexedge track, which will add more than US$1000 to your upgrade.
If you make these changes, think about adding the quick change of a lever-actuated tMotion Adjustable Limiter Strap. Introduced as an accessory for model year 2016 Summits, you can add this feature to pre-2016 models but will need to replace the front suspension arm. Flipping the lever allows you to induce more or less chassis transfer to affect ski lift.
Add Performance to Your Ski-Doo
The slim design fits tightly along the runningboard to give your foot plenty of room for in-snow maneuvers.  The limiter strap is effectively shortened or lengthened by the action of a spring-loaded cam that gives you the equivalent adjustment of moving two hole positions on a conventional limiter strap. The kit is a bolt-on accessory for model year 2016 sleds with tMotion rear suspensions, but must be retrofitted with a new front suspension arm for pre-2016 configurations. The kit for 2016 sleds retails for US$149.99 with the retrofit for 2015 and prior retailing for US$219.99.
This cam-action adjustable limiter strap is a clever idea that might make sense for active on- and off-trail riders, but we'll have to wait to see if Ski-Doo goes in that direction. It could be handy for Renegade riders who like to frolic in open play areas.
If you've had your share of powder blow back" when cutting up an open meadow, you might like a Powder Plow for your Ski-Doo's windshield. Retailing for US$124.99, this accessory is specifically designed for powder running as it deflects snow off to the sides, diverting the snow away from the center of the vehicle, effectively keeping you drier while increasing overall visibility.
During these non-snow months, you should take the opportunity to check out the latest Ski-Doo product offerings online and preview the upcoming 2016 Ski-Doo catalog, which comes out in September.