In Search of the Versatile Trailer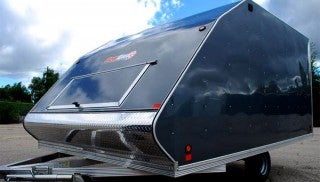 In search of the versatile trailer
We aren't going to pretend that we've got it all figured out when it comes to transporting our favorite power toys from trailhead to trailhead, though we know that a versatile multi-purpose trailer would make life easier. But, how to get it and what do we really need?
For starters our needs differ from yours. Generally speaking, while a snowmobile trailer works for most of us, after a while carting sleds around, we begin to think of better ways to get the job done. In our personal experience, that need has led to owning multiple trailers. One for two sleds. One for a single ATV. One to haul the riding mower to clear the lawn at the lakeside getaway.
That can add up to a lot of trailers and a quick shortage of space. Not to mention the anguish that comes from the "significant other." That leads us to consider a consolidation of trailering utensils and a sell off of extraneous ones. In our case we have two one-place sled/ATV trailers that easily could be replaced by one. One has an eight-foot all-metal deck with attached poly ski slides to accommodate our sled's carbide skis. The other is a 10-foot wood-decked, single-place ATV/Sled hauler with nifty wooden sides that can be trailered to a location via pickup and then hitched up to an ATV for increased utility. The wood deck unit has a narrow stance axle, while the metal trailer features a wider stance and taller tires. They both tilt and can accommodate yard equipment if necessary.
Read about How to Improve Your Snowmobile Trailer
The two-up aluminum sled hauler makes sense in most cases, but since we tend to travel to a trailhead to meet up with other riders, it's rarely necessary to carry two sleds. Either of the single-place units are easier to handle, take up less storage space and can be sheltered in our lakeside garage, which is already packed with other toys – golf cart, small fishing boat, and a couple of vintage Ski-Doo Olympiques.
With the need to consolidate growing more urgent, we've begun searching out trailers with greater versatility. But, we can't go crazy. Except for the narrow axle stance of our Floe All-Terrain Pro trailer, we really like the versatility it provides. It measures 10 feet in length, which can accommodate most modern crossover sleds, such as Ski-Doo's Renegade or Polaris' Switchback. It can handle up to about 1,500 pounds, but with a 54-inch width it's too narrow to carry a 58-inch wide Polaris Ranger 400 side-by-side. It will accommodate Polaris' new ACE sit-in four-wheeler, though! But, what happens when we have to tell the Domestic Engineer that she can't come along because there's only room for one?
Based on our existing experience with various trailers over the years, including our current fleet, we appreciate the qualities built into our Floe single-place. Built in central Minnesota with an aluminum frame and a wooden deck, it can readily accept a sled or an ATV. It also features adjustable sliding tracks that allow us to move the tie-down bar or quick-loop hold-ons. Plus, once on site, we can hitch the trailer to our ATV for various cleanup chores around our acreage or at the lake. It is versatile.
Still, though, versatility remains limited, as we need to cover our powertoys for protection. That's where the advantage of an enclosed unit comes into play.
Featherlite, the "official trailer of NASCAR," builds snowmobile trailers that are famous for their durable all-aluminum construction, which contributes to their smooth tow-ability. This Iowa-based firm builds customized race trailers for snowmobilers and auto racers alike. If you don't have a powertoy garage, you could use a Featherlite as one. These units can be fitted with a front-mounted V-nose ramp, halogen load lights and an assortment of storage options, including overhead cabinets.
Read our The Practical Guide to Enclosed Snowmobile Trailers
Featherlites are among the powersport industry's premiere trailers and with their customizable options, you could design the ultimate toy trailer. Whether you go with a Featherlite or not, you should consider seriously getting a trailer with moisture-resistant flooring, especially helpful when storing your power toys. Obviously aluminum construction offers weight savings, which makes the unit easier and more efficient to tow. But, do not cut corners on the underpinnings, as you'll want rust and corrosion resistant construction. The electrical system should be a priority and you'll want watertight harnesses and connections, too.
Featherlite offers both an ATV and a snowmobile version of its Model 1610 trailer. These units come in various lengths and offer an inside height up to 6.5 feet. The front and rear cable-assist ramps provide easy entry and exit. For more information and options check out Featherlite at http://www.fthr.com/.
Maybe the super deluxe trailer isn't what you want, but a protective cover is. Check out Alcom Inc.'s (http://www.alcomusa.com/) all-new Hybrid Snow trailer. Made in Maine, these hybrid trailers are based on the company's flat trailer chassis but have been fitted with a fully enclosed housing and a rear ramp door. These new Hybrid trailers feature a .030 in. exterior skin, a tapered-nose and front access door. They are designed to be aerodynamic, lightweight, and versatile.
Alcom's hybrid trailers are available in three sizes: 101-inch width in 12- or 20-foot lengths and a narrower 7.5-foot width on a 16-foot trailer length. They include wood decking, interior dome lighting, louvered venting and spring-assist on the rear ramp door.
Pennsylvania-based Worthington Trailers established a loyal following of owners over the years and is banking on that loyalty to complete a successful new era as Worthington Aluminum Trailers LP under ownership that lists new principals with more than 120 cumulative years of success in business, engineering, and manufacturing.
Read our Simple Snowmobile Trailers Are Often the Right Choice
Based on 25-plus years of experience, Worthington trailers build everything from small utility, landscape, snowmobile, motorcycle, and car haulers to large custom trailers. Of interest to modern multi-powertoy enthusiasts is the company's line of Drop-Door Enclosed Trailers, which are enclosed trailers designed specifically for hauling ATVs or snowmobiles.
Equipped with a spring-assist rear drop ramp door, these units are very similar in concept to the Alcom design. Available in lengths stretching from 10 to 24 feet in length, the Worthington models can accommodate up to four ATVs or multiple sleds, keeping them secure and protected from weather.
These trailers use rubber torsion axles with EZ Lube hubs, an aluminum skin, marine-grade plywood decking, interior lighting, and a five-year warranty. For more information, visit http://www.worthingtontrailers.com/.
Now that we've found these options for powertoy hauling and storage, we'll need to be very careful that we actually consolidate and don't simply add a new hauler. At least we should be able to drop one unit – maybe two – if we upgrade to a new, improved one. Or, we could add accessories. Or…