Clutching Ideas For Your Artic Cat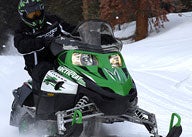 A quick look at some specific drivetrain upgrades
The cool, crisp air that signals early autumn also suggests it's time to get your sled out of storage and think seriously about how you want to improve its performance for the winter ahead. We're going to be quite specific to Arctic Cat here as we look at three specific product manufacturers who offer upgrades for Arctic Cat's clutching.
As you go to snowmobile shows this fall, you may find dealers or the aftermarket manufacturers themselves hawking their products at various snowmobile shows. If you are serious about adding some relatively easy bolt-on performance, these suggestions should get you started. Remember, if you aren't handy with wrenches and screwdrivers or don't know the difference between a helix and a spring, buy the parts but leave the actual install to a knowledgeable dealer.
Although we decided to see what's new and available to hot rod Arctic Cat's F-Series, you'll find that these same aftermarket manufacturers also make kits or drivetrain products for other sled brands as well.
Black Magic Powersports
Based in Thief River Falls, Minn., this performance shop not only resides in the same hometown as Arctic Cat, but also draws its lineage from what was the first super power among Arctic Cat aftermarket parts makers. Today Black Magic Powersports concentrates on giving its customers Cat-specific components to draw maximum performance from motor to track.
Designed to let the Arctic Cat drivetrain operate at full efficiency, Black Magic offers a selection of 'Super Shifter Weights' specifically engineered for the wide roller Arctic Cat drive clutch. Black Magic notes, "Super Shifter Weights are very aggressive, but will also maintain the desired RPM on a long pull."
In addition to the Super Shifter weights, Black Magic has designed 'Big Guy' Super Shifter weights specifically for Arctic Cat's highest horsepower models. Black Magic explains the difference, "The outer curvature of the weight has the same profile as our popular Super Shifter weight less the engagement notch to be used on the wide clutch.
Big Guy Super Shifter weights have additional material on the under side of the arch to cause the sled to upshift more aggressively, yet maintain a backshift that is acceptable."
Black Magic claims that these weights allow sled tuners to do more with less with the Big Guy weight. The company feels that its Arctic Cat specific clutch weights make the Cat's clutch system more responsive and puts less load on the drive clutch. The weights are available in two-gram increments from 70 grams to 80 grams.
As anyone who has lifted a snowmobile hood after a few miles of fast-paced riding knows, there's a lot of heat built up from the engine and exhaust system. To help your drive clutch operate more efficiently, you need to cool the drive system. Black Magic engineered a simple, yet effective, vent kit to get cool air to the clutches. Fabricated from aluminum, the kit is designed to be installed quickly and easily with hand tools. The company claims that its product testing has shown an increase in airflow to the clutches, which considerably lowered clutch temperatures. The vent kit is available for US$59.99 while the weights vary in price according to specific application.
For More Information:
Black Magic Powersports PO Box 331 Thief River Falls, MN 56701 Phone: 218-681-1150 http://www.blackmagicracing.com/
Fett Brothers Performance
When we first came across the Fett Brothers many seasons ago, they were successfully racing Yamaha snowmobiles in cross-country events. Very active in performance snowmobiling this Frazee, Minn. family of snowmobilers graduated to full-on, professional sled racing status and uses that knowledge to create some fine hot rod pieces for everyday Arctic Cat fans.
The Fetts learned over the years that successful performance can only come when the engine delivers maximum power to the track. To achieve this seemingly simple goal, the Fetts devised what it calls the 'best value in clutching' — the Fett Brothers Accelerator Clutch Kits.
These kits include Fett-design Heavy Hitter arms that they claim maximize clutch performance. The kit is designed to be an easy bolt-in installation. Aware that their customers are everyday riders, the kit was developed to work in everyday trail type snow conditions as well as in 500-foot ice drags.
Depending on your level of expertise the kits can satisfy the need for a simple setup or allow precision tuning for those who want the option of tuning for rider weight and sled characteristics which may be dependent on the track, studs, engine mods, specific drag or radar run needs. Each Accelerator Kit contains Heavy Hitters, fastener kit, spring, helix assembly, complete instructions, and baseline setting. The Fetts insist, "If it doesn't improve performance, it won't be in the kit!"
"We are constantly working on complete clutch kits that use Heavy Hitter clutch arms," explain the Fetts, "Each kit is designed and tested to individual models so all components may not be the same in every kit." That explains why some kits cost more than others.
Using quality materials and extensive testing convinces the Fett Brothers that their clutch kits offer the most bang for the buck of anything available.
"We have spin tested the Heavy Hitters up to 18,000 rpm with no failures" the Fetts state. "We also offer the ability to tune for low, mid, and top end in a quick and easy fashion… setups we offer are not what a snocross or drag racer would use, but those racers are using the same arm with different settings to match their need for performance. That is the benefit and advantage of the Heavy Hitter, it can be adjusted to match your type of riding."
Fett Brothers Accelerator Kits are priced at US$400 and up, depending on sled model and components.
For More Information:
Fett Brothers Performance 11684 Woods Drive Frazee, MN 56544-9120 218-334-FETT (3388) fax: 218-334-3723 http://www.fettbrosperformance.com/
Speedwerx
Like the Fett Brothers, the folks at Speedwerx have a prestigious track record. The key figure behind this Forest Lake, Minn. performance company is Steve Houle, an extremely successful, factory-backed, former snowmobile racer. His company supplies many of the top-rated snocross, oval and cross-country racing teams in the snow belt. Using that expertise, Speedwerx offers a series of specialty clutch kits — and much more!
Speedwerx' 'Arctic Cat Hypershift Clutch Kit' is based on six years of hard work establishing a performance clutch kit utilizing titanium springs. Although the titanium springs and complete clutch kits worked perfectly, Speedwerx found that due to the steep cost of titanium, the kit's price became too expensive for many everyday performance riders.
Finding a way to keep the cost acceptable, Speedwerx developed a new spring material that it calls H5 Alloy. According to Speedwerx product developers, "The new H5 Alloy has a lot of the same characteristics as a titanium spring (with the exception of the weight loss) but at a fraction of the cost. We thought that would make it a little easier on our customers."
Speedwerx has tested the new H5 springs for more than two years. But, note, Speedwerx explains that not all Hypershift Clutch Kits currently come with the new H5 Alloy material. If you want to make sure your kit includes the new H5 Alloy spring, you must specifically request it when ordering.
If you specify the new H5 Alloy drive spring, the kit will include a set of Speedwerx machined weights that feature a black oxide coating to prevent corrosion, one of Speedwerx' compound secondary helixes and a new H5 Alloy secondary spring. The kits are specifically designed to give your Arctic Cat a smooth, yet aggressive holeshot, excellent back shifting and great throttle response.
If you go to the Speedwerx site and don't find a kit for your sled, don't worry.  Ask for a Speedwerx staff member to help locate the right kit for your sled and riding needs.
For More Information:
Speedwerx Inc. 20195 Greystone Ave. N. Forest Lake, MN 55025 Phone: (651) 982-6020 Fax:      (651) 982-0630 Email:   [email protected] Website: http://www.speedwerx.com/
Related Reading: 2009 Arctic Cat F6 Sno Pro Review 2009 Arctic Cat F570 Review