Upgrading an Arctic Cat M8000 Through Porting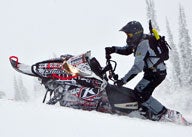 A Clean Project That Makes Sense
For many of us, a new $10,000 to $13,000 snowmobile busts our budget; very little, if any, greenbacks are available for enhancements such as aftermarket skis or a tuned exhaust. If there is some residual money, in our opinion, avalanche prevention and rescue equipment should be purchased ahead of engine mods, but that is just us.
This winter season we've discussed, in short, Rob Kincaid's and Dave McClure's M8000s with a Speedwerx Supercharger with a wholly different method to boost a motor out from sleepy thin air performance, and a big-bore XM Summit X with a Sled Head Racing 880 kit. Now we move away from boost and big bore to discuss porting, which is a different way to build horsepower without adding components like a turbo or supercharger, or without boring out a motor's cylinders to throw in large pistons.
We wanted to feature a mod sled that delivers the biggest bang for the buck. To accomplish that we solicited the help of Dustin Pancheri of Idaho Falls, Idaho. Dustin currently works as a Klim Regional sales manager, but some of you may remember him as a technical consultant with Starting Line Products (SLP).
Pancheri and Snowmobile.com believe that some of the greatest performance gain for minimal dollar output comes from porting. But it has to be engineered to work efficiently with other performance upgrades to be effective. Pancheri agreed to allow us to chronicle his 2014 Arctic Cat M8000 Sno Pro Limited as it received a Stage 3 kit from SLP.
So why did Pancheri choose an Arctic Cat M8000 Sno Pro Limited 162? First, Pancheri stated that he "can't leave anything alone," especially anything stock. "I find it a personal challenge to make something better."
Pancheri believes the engine inside the M8000 has "tons of potential." He said the motor has the strength to handle power and in whole, the M8000 has the greatest potential to lose weight and thus in turn, receive the greatest power–to-weight ratio gain. Pancheri calls the M8000 a "blank canvas."
"The Cat is a great sled stock and it's fun to take something 'great' and make it even better," says Pancheri.
The Stage 3 Performance Edition SLP kit for the M8000's Suzuki two-stroke twin consists of a Power Commander V EFI controller with preprogrammed SLP map, a single tuned SLP exhaust, SLP Performance Edition porting, SLP High Flow Intake Kit, and SLP clutch kit. Total for all parts and porting labor is approximately $1995.00, considerably cheaper than a turbocharger or supercharger, and about $100 to $200 less expensive than a big-bore kit.
Part of the M8000 update includes capturing Pancheri's engine disassembly and re-assembly, discussing EZ Ryde's new front shocks, and the M's sick sled wrap. We conclude by throwing in some seat time behind the Performance Edition M8000.
Disassembly and Reassemble
Pancheri is one picky fellow. His shop is clean and like a surgeon, Pancheri wore surgical gloves to tear apart his motor.
He first began by removing the exhaust system, which included the exhaust valves. After this, Pancheri vacuumed out the motor's coolant, ensuring he captured 95 percent without dropping any on the concrete floor. He then removed the cylinder head and any hoses and sensors that were attached. Lastly, off came the cylinders, which he meticulously babied to assure each were not damaged.
After removing the cylinders, Pancheri ensured the pistons and crankcase were properly preserved and protected from foreign particles by covering the two pistons and crankcase with shop towels.
After this, the cylinders, heads and exhaust valves were dropped off at SLP for the needed Stage 3 modifications. He also left SLP with the M8000's primary clutch, which we will touch on later. SLP reconfigured the head with a higher compression ratio and modified the cylinders with new porting specifications.
Porting is the process of changing the intake and/or exhaust ports air flow. For the intake and exhaust ports, this changes port opening and closing times – the time it takes for the piston to pass over and close and open each port. Many engine builders will also polish any rough spots in the ports. Cleaning up the exhaust and transfer ports allows fuel and oxygen to flow cleanly and smoothly, thus allowing a motor to speedily and efficiently receive and move its fuel and oxygen combo, be it raw or spent.
Once SLP finished the modifications and had gathered the remaining parts needed for the build, Pancheri picked up the parts and began the reassembly. "All top end parts must be washed in hot soapy water and rinsed prior to assembly," Pancheri explained.
First a new base gasket was installed with the words "up" visible from the front of the machine. Then he applied a generous coating of two-stoke oil to the rings, ring lands, piston faces and inner cylinder. Next he reinstalled both cylinders taking care not to catch a ring. With a torque wrench he properly torqued down the cylinders. The same process was repeated with the exhaust valves and freshly modified head.
Pancheri finished the motor by installing the remaining sensors, wires and spark plugs. He then double-checked all the bolts to make sure nothing was overlooked.
Next on the to-do list was installing the SLP exhaust system. "This system is a little over 20 pounds lighter than the stock system" he explained." Pancheri also stated he believed an additional 4 to 5 pounds would come off the M8000 by removing the foam from the side panels and hood and the idlers from the rear suspension. Pancheri noted the reduced weight is not just about improving power–to-weight, but also about improving handling. "You can really feel the difference in weight on the front end".
Speaking of handling, Pancheri moved to improve M8000's front. "Going to a ski like the SLP Mohawk will make a significant difference. The stock ski doesn't offer the flotation or grip the SLP Mohawk does so a ski swap is a must for me." Pancheri also replaced the front shocks using a new product from EZRyde. "It will be interesting to see how they compare to the stock Fox Float 3," Pancheri says about the new suspension.
The Ride
After several months of anticipation, we finally met with Pancheri and his M8000 for some tree running in the Green Canyon area near Teton, Idaho.
It was raining as we pulled into the Green Canyon parking, and the cloud level dropped to about 6,000 feet. We drove our snowmobiles up to 8,000 feet to find deep snow, but it had thawed and turned into surface-depth hoar. Basically, we rode on four feet of teeny-weeny icy ball bearings. As a baseline snowmobile, we brought our 2014 153er M8000 Arctic Cat Sno Pro Limited to the game.
In the less-than-ideal snow makeup, the M8000 with its well-tuned ported motor, single-tuned exhaust, SLP Mohawk skis and perfectly matched drive and driven-clutch weights and springs for the increased horsepower, was snappy. A quick devil it was.
Sometimes we receive complaint from our readers that every mod snowmobile we ride is fantastic. But since we do our homework before signing up to write about a mod, we come to the party with good confidence the modified mountain snowmobile will perform its duties well. Of course, over the years we have misjudged and have ridden some real losers.
Riders who like to modify are finicky. They want to clean up some OEM flub, if present, and take a motor and the snowmobile's suspension to a higher performance level. They make sure their money backs up their talk.
In this case, like the Sled Head Racing-motor equipped Summit X we reported on earlier, the M8000 project was an Aerosmith #1 hit, to throw in a new cliché.
When laying into the motor's "Wow!" lever, the M8000 had no mid-range blubber and its beginning Rs off launch were sweet at 4000 RPM. The opened-up intake and exhaust ports and single-tuner pipe allowed the motor to breath and burn its fuel-oxy combo with a nasty attitude. Dude, this was not your neighbor's stock M8000.
As we pushed the M8000 to the 8000-foot level, the heavily weighted primary clutch ramps/arms kept the motor at its optimum RPM band releasing horsepower and torque in fine fashion to the 2.6-inch Power Claw track.
Out front, the large-volume EZRyde nitrogen charged gas shocks provided a cushioned and much-controlled ride over the stock Fox Float shocks; nitrogen is a more stable gas than air and it showed. We have little tech information on this new-for-this-year shock, but we like how the EZRyde shocks greatly reduced front suspension impact energy up through the bars. Credit too, the SLP Mohawk skis. We've installed these skis on our stock 2014 M8000 Sno Pro Limited and they cleaned up the M's nose diving woes.
The thin air performance between a ported M8000 and a stock M8000 is huge when it comes to compressing air and fuel in a two-stroke pump, a.k.a. motor. Understand that our stock baseline M8000 is a tough sweetheart. However, the SLP Stage 3 M8000 of Pancheri takes the M8000 to a more realized self.
Bottom line for your bottom line is this, for approximately 2K, you too can take your M8000/M8 or any two-stroke mountain snowmobile of choice and kick it up a notch.
For more information contact SLP at www.startinglineproducts.com or the M8000's owner at http://www.klim.com/.