Cutler Performance Center's Monster Cat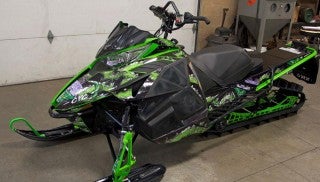 Pushing the performance envelope with 950cc Monster Cat
There are three types of performance snowmobilers. The first category is that of no performance; those who are perfectly content to ride a stock snowmobile and only make a few personal touches. The four OEMs are doing a pretty good job of cranking out snowmobiles that perform very well for the average consumer. The second is the group that wants to really improve their snowmobile. They spend time conducting research to find out what aftermarket parts will give them the level of performance that they desire. Most seem to be content with an aftermarket exhaust, some opt for engine modifications, and some choose a turbo kit. The level of performance is greatly varied in this group. The third group is a very small number of elite individuals that are not happy with purchasing aftermarket parts; they are the group that makes the aftermarket parts. They put reputations and fortunes on the line to create the best products on the market. They push the boundaries where OEMs dare not tread. Cutler's Performance Center (CPC) is one of the few in the third group.
Dale Cutler opened CPC more than 25 years ago in Orem, Utah. He started racing motorcycles in the 1970s and snowmobiles in the 1980s. In those days there were very few aftermarket snowmobile parts available. Cutler then began to design and manufacture his own line of aftermarket performance parts. He designs these parts himself, and some parts are built in house. To showcase what performance parts are available from CPC, he built a 950cc Monster Cat, which started out as a 2015 Arctic Cat M8000 SnoPro chassis with a 153-inch track.
Engine
What he wanted was a true bolt-on kit, which is exactly how he designed his 950cc big bore kit. Without removing the engine from the snowmobile, the factory head, pistons, and cylinders are removed, and the 950cc is able to be bolted on without modifying the case, crankshaft, or rods. That says a lot for Cutler's confidence in the venerable 800cc Arctic Cat bottom end; specifically the crankshaft. The head is billet aluminum and has removable inserts so the customer can choose the compression he wants. Cast cylinders are newly designed and have eleven ports for high performance. Forged pistons are 92.58mm wide and are proprietary to CPC. Cutler's in-house dyno states that a stock Suzuki-built 800cc engine cranks out 163 horsepower. The 950cc big bore kit produces 195 horsepower, which is just shy of what Cutler's pump gas turbo kit puts out.
Fuel Delivery
The stock 46mm throttle bodies have been removed in favor of 56mm cast throttle bodies.  Larger throttle bodies allow greater air and fuel flow through the engine, creating more power. But since the oil injection system is removed, the fuel must be pre-mixed.
Getting More Mountain Snowmobile Performance
To control the fuel flow for this 950cc beast, Cutler installed a Power Commander V made by Dynojet. The Power Commander piggybacks over the factory Electronic Control Unit (ECU), which allows for the correct air/fuel ratio to be achieved. A four-degree timing key was also installed to get the most performance out of this engine package.
Exhaust
No highly modified engine would be complete without a custom exhaust. The Cutler designed pipe and muffler were created specifically for the big bore 950cc engine.  Cutler's Monster Cat has a single tuned ceramic-coated pipe finished in high temp black. Cutler also designed and created his own muffler to replace the factory can. Also ceramic coated and finished in high temp black, this custom can shaves off approximately 15 pounds of front end weight.
Drive Train
To improve the customization of the primary or driving clutch, Cutler developed unique hollow weights that can be used to add or subtract up to eight grams of weight from the clutch. These eight grams can be used to maximize performance depending on the riding conditions and the weight of the rider. With the benefit of weight adjustment, these weights replicate factory weight shift characteristics. The hollow cam's weight is changed by changing or removing the set screw that is inside the cam. The kit comes with an Allen wrench, so the weights can be easily removed; but just don't drop them on the mountain.
Cutler cannot leave well enough alone and it shows, because he has a kit to improve almost every aspect of this snowmobile. He created a torsional conversion kit for the secondary clutch. Since the torsional spring twists as well as compresses, its allows for faster back shifting when coming out of the throttle. By back shifting it goes to a lower gear ratio, making the snowmobile react faster as the throttle is increased. This kit transforms the stock driven clutch into a high performance clutch. It creates faster acceleration, improves back shift, increases belt life by cooling the temperature of the clutch, and holds engine rpm, better allowing all the horsepower that the 950cc monster twin creates to the track. The kit consists of a billet cover plate, billet helix, torsion spring, torsion spring perch, and rollers. The customer can choose the helix rate to best suit their needs.
Best Performance Parts for Powder Sleds
Belt drives are gaining popularity, because they are robust and lighter than a factory chain case. Cutler installed a TKI Belt Drive kit with the oil delete. The belt drive is an 8mm cog belt system. A manual belt tensioner keeps the belt tight and comes with idler. This removes another 13 pounds from the snowmobile.
Wrap
When planning this custom Cat, Dale wanted a "signature" wrap that wasn't very common so the sled would stand out. The wrap is designed by 393 Components Inc, which is a newer wrap company also out of Utah. The custom Monster Cat wrap kit includes graphics for the hood, spindles, and tunnel.
Refinements
Anyone who has attempted to tune a high performance snowmobile knows that it is almost impossible to accomplish this task without knowing how the engine is performing. CPC worked with Redline to produce the best gauge on the market, and it is specifically made for high performance snowmobiles. The Redline gauge displays exhaust gas temperatures (EGT) and air fuel ratio (AFR); that indicates O2 readings. These numbers, along with engine rpm, give the tuner the information that he needs to get the most out of engine performance. For fine tuning, the Redline gauge has a record and playback function with minimum and maximum reading.
Inside the Garage with Straightline Performance
For better flotation and steering control, Cutler chose to install SLP MoHawk skis over the factory ski. To improve the rider's contact with the snowmobile, RDI grips were installed. The factory adjustable steering post was removed and replaced with an HCR steering post. To improve snow evacuation and better boot traction, Arctic Cat's accessory floor boards were added. To help maximize fresh air passing over the upgraded high performance engine and clutch components, Cutler also installed Arctic Cat's accessory Frog Skinz air vents.
The factory 2.6-inch Powerclaw track was replaced by an Arctic Cat accessory single-ply three-inch track. This single ply track works with the factory eight tooth drivers and is 1.8-pounds lighter than the standard track.
Cutler stayed with factory-spec Fox Float 3 shocks for the 950cc Monster Cat. The suspension is the only area where Cutler did not change anything.  A Renton Coil Spring (RCS) dual or even triple rate spring would have really rounded out this snowmobile's performance.
Performance Pioneer
Cutler truly understands what it takes to create a high performance snowmobile and shows it with fine attention to detail in the components that were improved, modified, or even replaced. In the high performance snowmobile world, those in the third group of snowmobilers – high performance builders pushing the performance envelope – like Cutler Performance continue to produce and manufacture performance parts for the second group that is always hungry for more.
Cutler Performance Center 950 Monster Cat Big Bore Kit Suggested Retail:US$2,999.95 Parts List • Big Bore Kit • Fuel Control • Power Commander V – US$379.95 • Throttle Bodies • 56mm throttle body – US$449.95 • Exhaust • Monster Cat Big Bore Y pipe and can – US$849.95 • Primary clutch weights • Adjustable cam arm clutch weight – US $159.95 • Driven Clutch Kit • Torsional conversion kit – US$324.95 • Belt Drive • TKI belt drive with oil delete kit – US$850 • Instrument Pod • CPC Redline gauge – US$995.95 • Skis • SLP MoHawk Ski – US$550 (Price depends on color and carbide desired) • Wrap • Custom Monster Cat Graphics Kit, including body and tunnel – US$399.95
For more information, visit cpcracing.com.