Eric Woog: One man, two businesses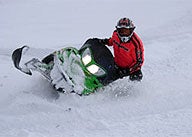 Alpine Motorsports and Vohk Performance are well known among high-altitude riders
Kremmling isn't your typical Colorado mountain town. Halfway between Winter Park and Steamboat Springs, it has none of the polish, glitz or traffic of a ski town. Most of the traffic is 'through', stopping for gas or maybe a bite to eat.
Beyond the cracked streets of the tiny town, however, waits some of the best powder riding in Colorado. And Kremmling is also home to Erik Woog (pronounced Vohk), owner of Alpine Motorsports and Vohk Performance.
Erik and his wife, Kim, run the shop today, which opened its doors for the first time in 1987 as a repair and performance business. Alpine became an Arctic Cat dealer in 1991, and to this day carries only that brand. The shop holds about 2,000 square feet of showroom and another 1,500 square feet of service area, but Erik has plans to move Vohk to another location and free up more shop space for Alpine.
Customer Service
"Alpine Motorsports as a dealership has grown every year since it began — even to uncomfortable levels at times," says Erik. "Growing pains are something you experience with any business."
The riding season of 2008-2009 will bring more change to Alpine; Erik and Kim have decided to scale back their sled offerings in order to focus on customer service. Alpine's popularity outgrew its staff, and rather than expanding to a large, impersonal dealership, Alpine will instead limit its sled sales to half the number of units it sold last year.
"We made a decision in an effort to improve customer service because of staff limitations — meaning finding enough quality seasonal help — to limit the total number of units we would sell. In doing so, our emphasis will be on better customer service.
"In 2007 we sold a little over 100 units, but when we did that we were unable to service those customers with the level of service they deserve. Customers who are spending the bit of money they are, with prices of machines over $10,000 and with mods over $20,000, deserve proper service in every respect. The ability to deliver that service when you retail that many units is severely compromised. It goes without saying that in a town of 1,800 people in the mountains, finding seasonal help capable of delivering service competently is nearly impossible."
It's an experiment for the Woogs, who aren't sure what to expect with the limits, but they're confident that the decision was the right one.
"We're not sure how it will play out. The strategy was just brought out for the 2008-09 season."
Making customer service a priority is a smart move in the snowmobile industry. Most snowmobile riders are informed buyers who know exactly what they expect out of their sled and their dealership. It's also a small industry, and with the popularity of message board web sites, word gets out quickly when a customer is unhappy.
"Prompt service is key, specifically with warranty and recalls. It's imperative that those things be done promptly," says Erik. "Customer service is a deep subject, something we take seriously. It stems from the relationship you create at the time of the sale. We consider customers our friends. That friendship is to be handled much like any other friendship—you respond with respect and you try to balance the customer's expectations into that.
"It really starts from trying to understand what the customer wants … Don't ever tell a customer what they want. Listen to completely understand, so you can embrace what they are looking for out of the experience and help them choose an appropriate model. That goes a long way to developing this relationship. It's the opposite side of the spectrum from the traditional large dealership with a hierarchy of manager, sales manager and sales staff, which can be an impersonal experience."
Land Issues
Erik stays involved with both his local community and the powersports community. He's a city council member, as well as active in land management issues — a key issue nationwide for powersports enthusiasts.
"Land closure issues that are coming about are largely driven by conflict between motorized and non-motorized users," says Erik. "That doesn't necessarily suggest the problem is rooted in environmental impact; I think what's going on is the non-motorized element seeks to extract their particular recreational experience, which is one of serenity. Even though the industry has recognized how sensitive that is, and has addressed that with modern technology employed for both sound and pollutant emissions, the sport is still recognized as being reckless and noisy. That is something we should readdress; with every mod we build here, an emphasis is made on keeping them quiet. That is done in an effort to preserve the future of the sport. Too many mods have been built with straight stingers, so loud they annoy their own users, not to mention other user groups. Being a city councilman has raised my awareness of other perspectives."
Erik waxes philosophical about the experience most riders gain from snowmobiling. That experience, he says, is both something that drives apart user groups and something that might help unite them.
"Snowmobilers are very passionate about the sport. They value recreational experience in a way other sports do not. I think they have committed to being misunderstood by people on the outside with respect to this experience, and knowing they're misunderstood only drives their commitment to an even greater level.
"Each rider extracts their — Zen, if you will — from a different experience on the snow, yet all share a core of passion for the sport. Snowmobiling is so many different things to so many different people. It might be the camaraderie of being with friends, or the serenity of busting fresh powder fields.
"There's only one jackass in the group that causes conflict. I wish that more snowmobilers would try for a moment to embrace what it is the cross-country skier is trying to derive from their recreational experience, and in return maybe that same respect could be afforded to the snowmobiler. It may allow you some insight that may affect the way you avoid them and in doing so would probably result in fewer conflicts. I don't know what the future holds but I know we need to keep fighting. We're all brothers in this."
High-Altitude Product Testing
Alpine Motorsports enjoys not only a solid snowmobile business, but also the regard and partnership from both OEMs and aftermarket companies for high-altitude product testing. Performance at high elevation and handling in dry Western powder are worlds different from sea level and heavy, wet snow. Erik takes advantage of north central Colorado's snow conditions to help develop products that will perform for the high-country rider.
"We've developed great working relationships with most aftermarket manufacturers to both test and report, and also aid in development of product specifically applied to mountain sleds. It's been fruitful for both; it's also helped the sport quite a bit."
It began in 1994 when Erik helped develop an exhaust for the Arctic Cat 580 engine. Today Erik says he helps develop products geared toward mountain riding for most of the aftermarket manufacturers, as well as Arctic Cat.
"We used to largely have developers at sea level sell us products that were wholly ineffective at altitude. They simply didn't meet the use demand. The products may have delivered performance at sea level, but certainly did not here. Take exhausts, for example; that first set of pipes back in the mid 1990s would not deliver performance at altitude — wouldn't even begin to approach performance. Punishing the motor on a dyno at sea level and coming up with a viable pipe size and dimension does not translate to real-world performance, much less altitude performance. There's a significant loss of power at altitude compared to sea level. We spend the vast majority of our time on the snow as opposed to testing on a dyno."
This work in testing and development helped spark the performance side of Alpine Motorsports, Vohk Performance.
Vohk Performance
Named for the phonetic spelling of Erik's surname, Vohk Performance is a custom modification business that's earning national recognition. Erik concentrates on building each sled to suit the rider.
"All Vohk builds begin with a consultation regarding specifics of customer's use demand. They essentially, during consultation, ask a series of questions, but I try to establish enough of a relationship with them to truly understand where passion comes from and what they expect from the performance of their sled. We take that very seriously."
This is the core of Vohk's modification philosophy; more than horsepower and torque numbers, more than scale weight, more than looks or any other physical attribute. Erik builds the sled the customer wants, and says that no customer yet has asked him for a refund with the Vohk satisfaction guarantee.
"What you're really trying to do in a nutshell is assess their desired recreational experience, what they truly want to get from it. I think that there are as many different forms of riding as there are people, and some people try to lump it into Western riding, or into subcategories like 'I'm a boondocker,' 'I'm a hill climber,' 'I'm a trail banger,' 'I just do deep powder.' All these subcategories have sub facets themselves, so more specifically when someone says they are a hill climber, I ask 'What do you do? Run the groove? First ascent chute climbs? High marking? Competitions against friends or foes?' That gives me an idea, and dictates my direction in the build. That is critical. Some individuals want it to be as flashy as it is fast; others want it to be a sleeper. We make adjustments to the chassis, power delivery, and every other aspect of the sled to give them the dynamic feel they're looking for."
For More Information, contact:
Alpine Motorsports and Vohk Performance 970-724-9655 115 Central Ave, Kremmling, CO  80459 http://www.alpinemotorsportsinc.com/ http://www.vohk.com/ [email protected]